People Top 5
LAST UPDATE: Tuesday February 10, 2015 01:10PM EST
PEOPLE Top 5 are the most-viewed stories on the site over the past three days, updated every 60 minutes
Picks and Pans Main: Song
Talking With...
Since 1988, the Tonics (brothers Raphael and Dwayne Wiggins and their cousin Timothy Christian) have helped spearhead a return to sweet soul music that thrives on live instruments. And on this album there is sweetness and soul to spare. You can feel it right from the opening notes, as the Tonies eschew state-of-the-art studio wizardry and beat-of-the-month trendiness for rhythm and blues that gets its swagger from the streets and its heart from the past.
What is soul? You can hear it in the twangy, finger-popping single "If I Had No Loot" as Raphael does his best Eddie Kendricks impression over a drum beat that does Stax Records proud. You can feel it in the Jackson Five sway of "Tell Me Mamma" when the horns kick in and the testifying takes you to the bridge in serious style. You can taste it in the achingly tender "Lay Your Head on My Pillow," which favors gentle seduction over crass come-ons, or the grand "Anniversary Suite" that lends elegance to the often formulaic slow jam.
Sexy, slammin' and totally hip, Tony! Toni! Toné! gives what may be 1993's best answer to the question. What is soul? (Mercury)
Pete Townshend
Story lines aren't Pete Townshend's strong point. Even his musical Tommy, now thrilling crowds on Broadway 24 years after he created it, needed some replotting. And Psycho-Derelict, the concept album for Townshend's latest musical, makes Tommy look like a model of simplicity.
Here we have the story of a washed-up rocker who gets entangled in a hoax-ridden comeback planned by his manager and a corrupt journalist. This melodrama, overstuffed with who-knew-what-when twists and weighed down by lyrical significance, intrudes upon the songs in the form of dramatized soundbites.
Nevertheless, these tunes glow with vitality. The riffs come at you with just the right amount of Who-like snap, Townshend's voice crackles with gusto, and he combines tenderness with sweet pop on "Now and Then" and "I Am Afraid." Townshend may have thought the play's the thing with PsychoDerelict, but he was wrong. Rock and roll is. (Atlantic)
Maria McKee
The quality that makes Maria McKee such a gifted performer is also the very quality that has, so far, kept her from breaking out commercially. Her style is a little bit country and a little bit rock and roll, part pop and part folk. Because McKee's music is a wonderful mix, it's nearly impossible for her to crack the strict formats at most radio stations. Hence, few people get the chance to sample the sounds of a woman who is among the best vocalists and songwriters in the business.
The former lead singer for Lone Justice, the country-ish rock band from Los Angeles that had a few minutes of fame in the mid-1980s, McKee has a voice supple enough to call to mind Emmylou Harris and Aretha Franklin in the space of a few breaths. This second solo album is her most satisfying work to date. It's not just the way she can slink from a soulful, horn-laden tune such as "I'm Gonna Soothe You" to a mournful country number like "Only Once"; it's also how her evocative vocals convey the pain in songs of love and loss that make this record so special.
In "My Girlhood Among the Outlaws," a moving tale of a woman who finds happiness after a series of bad affairs, McKee's voice quavers ever so slightly as she vows that "if it took those years to get me here/ I'd do it again for you." And she turns her tune "Why Wasn't I More Grateful (When Life Was Sweet)" into a lofty church hymn, making it a song of hope despite the downbeat title.
You may not find You Gotta Sin to Get Saved on a Top 40 chart near you, but the depth and diversity of this record make it well worth owning. (Geffen)
Luther Vandross
For Luther Vandross, one of the finest pop-soul singers of the last decade, love is more than just a four-letter word; it's his muse, motivation and reason for being. A sure sign that the end of the world is near will be when Luther stops singing about love. Luckily he has an ideal voice for amore, strong yet laced with vulnerability, expansive yet deeply personal. Luther's songs are not flashy emotional excursions. His strength is in the subtle, delicate shadings that are revealed with repeated playing; often, you won't "get" a Vandross track on the first go-around.
Such is the case with his umpteenth ode to the power of love, "Little Miracles (Happen Every Day)." Bolstered by carefully layered and artfully displayed background vocals, the single is quietly triumphant. Likewise the majestic waltz "Love Me Again," which purposefully builds as the lush chorus swirls in and around Luther's falsetto leaps. He can also rock the house, as he proves on the chugging "Love Is on the Way," easing in and out of the song's spaces.
Vandross is such an effortless singer that he's able to coast on the voice alone, glossing over the album's weaknesses. Part of the problem is that he continually works with the same people. After nine records, tracks sound somehow familiar, arrangements repeat themselves, and experiments become gimmicks—as on his trademark "cover" medley, this time featuring the Bee Gees' sappy "How Deep Is Your Love." Luther imbues the song with a solemnity that is puzzling. There's much to love here, but given the power of the voice and the chart success he has enjoyed, it might be time for Luther to take some risks. (Epic)
>Raphael Wiggins of Tony! Tony! Toné!
THEY'RE THE SOUL INHERITORS
"WE CALLED OUR ALBUM SONS OF SOUL because we consider ourselves to be the sons of groups like the Temptations, Smokey Robinson and the Miracles, and Earth, Wind and Fire," says Tony! Toni! Toné!'s singer-bassist Raphael Wiggins. He smiles, flashing a mouthful of braces. "If it wasn't for those people, there wouldn't be no Tony! Toni! Toné!, that's for sure."
Raphael, 27, his brother Dwayne, 32, who plays guitar, and their cousin, drummer Timothy Wiggins, 27, grew up in Oakland, close enough to Berkeley to pick up a post-Woodstock vibe, and sang together in their choir at Castlemount High School. "From day zero we set out to be a band," says Raphael of the trio, which takes its name from neighborhood slang for smooth dressing. "We do things differently not just to be different," he says, "but because that's the way we feel." Among the differences, Wiggins cites the group's no-grunge no-sneaker sense of fashion, as well as its eclectic cultural tastes: Pearl Jam, Lenny Kravitz, A Tribe Called Quest, old Dick Cavett shows and Jim Morrison. Says Raphael: "We love that funky kind of thing."
Their respect for the past keeps Tony! Toni! Toné! close to their musical roots and resistant to flashy marketing. "Every record company wants to get a group and put 'em in a Benz with a car phone and a beeper, show them dressing in three different outfits, put them in a video shot on a beach with lots of swinging bikinis," says Raphael. "You won't ever see us on a beach. We're just down-to-earth, funky, like-to-play guys."
Contributors:
Amy Linden,
Ron Givens,
Craig Tomashoff.
Tony! Toni! Toné!
Advertisement
Today's Photos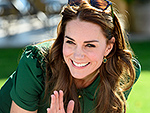 Treat Yourself! 4 Preview Issues
The most buzzed about stars this minute!