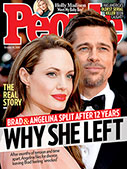 This Week's Issue!
People Top 5
LAST UPDATE: Tuesday February 10, 2015 01:10PM EST
PEOPLE Top 5 are the most-viewed stories on the site over the past three days, updated every 60 minutes
Picks and Pans Main: Tube
Laurel Avenue


The Partridges' nightmarish inverse, of course, is The Brady Bunch (ABC, 1969-74). It had a believable enough premise (six stepkids who must somehow form a family), but the result is creepily unreal. The philosophical difference between the Partridges and the Bradys can be summed up by their pop singles: Partridge David Cassidy's "I Think I Love You" is a genuine bubble-gum classic. The Brady Kids' "It's a Sunshine Day" sounds like the greet-the-dawn anthem of a communist youth camp.

Fox (Sundays, 7:30 p.m. ET)

C+

Staring solemnly into the camera and rattling off his lines with characteristic deadpan urgency, Robert Vaughn is the perfect host for this half-hour takeoff on a crime-action TV series. This is not exactly a genre that is crying out for parody, but since Airplane!, just about any piece of junk can serve as a target. Danger Theatre is actually two shows, both so-so: The first is The Searcher, with Diedrich Bader as a darkly handsome, deeply stupid. macho do-gooder. Bader is amusing, in a full-lipped, full-throated way (although, come to think of it, that description would apply just as well to Rosalind Russell). The premise, in any event, is too vague to generate very much fun. The second series, Tropical Punch, is a Hawaii-based crime segment stalling old Batman himself Adam West, as a police chief who, like Bader, is mentally opaque. At least you gel to hear West sing the Don Ho classic "Tiny Bubble's."

USA (Thurs., July 8, 9 p.m. FT)

F

More like deep disaster.

You have Robert Wagner as a grizzled adventurer-treasure hunter and Ben Cross as a kingpin of crime, battling it out in competition for more than a million dollars' worth of diamonds that are submerged just off the coast of France. This is a story that might conceivably have enthralled audiences around, say, 1910. But even they might have gotten fidgety.

The supporting cast is mostly French, and they all speak in a heavily accented form of English. An awful lot of the TV movie's dialogue is on the order of "Don' be stoo-peed! Steek to ze plan!"

Cross, at any rate, appears to be having a good time, swaggering about and barking orders.

HBO (Sal. July 10, 10 p.m. ET)

A-

Director Carl Franklin, who made his feature debut last year with the crime drama One False Move, proves again in this three-hour mini that he has an uncommon ability to capture the psychology of ordinary people—here, working-class blacks in St. Paul, Minn.—who find their world twisted out of shape by pressures they haven't anticipated and don't understand.

Laurel Avenue, originally planned as six half-hour shows but now a two-parter that concludes the following night, is about an unusually arduous weekend in the life of the Arnetts. The show, written by Michael Henry Brown, keeps track of three generations in four different households, bringing them all together for a disastrous Sunday afternoon party where one daughter, Rhonda Stubbins White, turns up battered by an ex-lover and high on drugs. Her addiction is not the family's only problem: Her son, Vonte Sweet, has turned dealer (and her twin sister. Juanita Jennings, a cop, knows what he's up to): her brother, Monte Russell, who manages a Mafia-owned clothing store, is planning on getting a cut of the illegal steroid market.

In some patches, Laurel Avenue is merely a soap opera executed with day-to-day, waxed-floor realism. Will son Woodrow join his father-in-law's funeral business? Should teenage daughter Sheila be carrying condoms in her purse? When will Yolanda (Jennings) and her while husband have children? But a flawless cast—especially Mary Alice, as the mother of the troubled yet loving brood—make the Arnetts as real as any characters that have ever appeared on TV. No fingers are pointed, and the word dysfunctional is never even whispered. But there is always the sense that something really is wrong deeply wrong—with the members of this family. What is it though? The show ends quietly on a Monday morning with nothing resolved. But, should HBO be inspired to transport us back to Laurel Avenue on some future weekend, things could well blow sky-high.

(David Hiltbrand is on vacation.)


As of July 12, cable's Nick at Nite is adding The Partridge Family (ABC, 1970-74) to its nighttime lineup of retro telecasting. As '70s family sitcoms go, this was one of the better, warmer shows, even though its plot—a widowed mom and five kids form a pop band—was on the dumb side. But sweet-natured Shirley Jones, who played Ma Partridge as a sort of flipper version of Mrs. Cleaver, helped keep the show grounded in something resembling suburban reality.
Advertisement
Treat Yourself! 4 Preview Issues
The most buzzed about stars this minute!