People Top 5
LAST UPDATE: Tuesday February 10, 2015 01:10PM EST
PEOPLE Top 5 are the most-viewed stories on the site over the past three days, updated every 60 minutes
A First-Class Hirschfeld for 29 Cents
The Famed Caricaturist Gets Five Stamps of Approval
Hidden messages, though, are taboo on U.S. postage. So when the Postal Service recently issued "Hirschfeld's Comedians"—a booklet of 29-cent stamps featuring five of the famed cartoonist's showbiz caricatures—it had to choose between policy and, well, poetry. Surprisingly, poetry won.
"You have to have some fun in this job," says Postmaster General Anthony M. Frank, who let Hirschfeld, 88, include one Nina in each of the five original drawings (Jack Benny, Fanny Brice, Abbott & Costello, Laurel & Hardy, and Edgar Bergen & Charlie McCarthy). Also suspending a rule against artists signing their work, he put Hirschfeld's signature on the booklet, an honor not even Norman Rockwell was accorded. "The Postmaster General's really sticking his neck out," says the artist with a grin containing no Ninas.
Comedians have always been the easiest characters for Hirschfeld to draw. "They've invented themselves," he says. He knew each of the subjects of his new stamp drawings personally—even the wooden McCarthy—and says they all shared one common trait: "They were larger than life."
Another Postal Service rule prevented Hirschfeld from including any contemporary comedians: To be depicted on a stamp, a person must be dead at least 10 years. But Hirschfeld is keeping current. In 1984 he was inspired to set a personal record by tucking 40 Ninas into a Times drawing of Whoopi Goldberg when her one-woman show was on Broadway. "She is a remarkable talent, completely uninhibited," he says. As a caricaturist he says what fascinates him was that physically, "whatever faults she had, she exaggerated them, she didn't try to cover them up any way. She was a joy to draw."
A native of St. Louis, Hirschfeld sold his first drawing to the Times in 1927—a sketch of comedian Harry Lauder. In those days he dreamed of making his mark as a painter and sculptor. But his passion for caricature became all-consuming during a 1931 sojourn in Bali, where the stark tropical light prompted him to set aside his color palette in favor of pen and ink. "In Bali the sun bleaches out the color and leaves shadows," he says. "You begin to think in lines." By chance, Charlie Chaplin visited Bali during Hirschfeld's stay. Watching Chaplin with a group of Balinese children, who had never seen a movie and who referred to him simply as "the funny man," Hirschfeld got a firsthand lesson in the art of gesture. "Chaplin did a little dance," he recalls. "Then he threw his hat in the air, and they screamed with laughter." The sketch Hirschfeld did that day, which remains one of his favorites, is inscribed "a man with both feet in the clouds."
In the ensuing decades, Hirschfeld has lovingly exaggerated the revealing quirk of virtually every major Broadway star. He is especially fond of glandular personalities, such as Carol Channing and Zero Mostel, who play to the back of the balcony. "He has an infallible sense of theater," says Channing.
Since Hirschfeld makes his initial sketches in a darkened theater during a rehearsal or actual performance, he uses shorthand descriptions ("so-and-so's eyes are like fried eggs, the hair is like Brillo, the arm is like a chicken leg") to jog his memory later on. He finishes the drawing perched on an old barber's chair in the top-floor studio of the Manhattan brown-stone he shares with his septuagenarian wife, Dolly Haas, the Germanborn actress he married in 1943. "Sometimes a drawing takes Al a few hours, sometimes a few days and sometimes a week," says Dolly. "The essence of a human being is not easy to translate from memory, or even if you see the human being in person."
Sometimes Hirschfeld's subjects find his caricatures of themselves instructive. "People accuse me of inventing them," he jokes. "Ray Bolger told me that he used to copy my drawings for his dances." His pictures are never malicious, and it is rare for anyone to complain that a Hirschfeld illustration did not do them justice. Candid Camera's Allen Funt is a no table exception. "He said I made him look like an ape," Hirschfeld recalls. "And I said, 'I had nothing to do with that. That was God's work.' "
The caricaturist's work is on permanent display at the Margo Feiden Galleries in Manhattan, and in November, Hirschfeld: Art and Recollections from Eight Decades, brimming with 330 drawings, will be published by Scribner's. One critic has already weighed in with his opinion of Hirschfeld's place in art history. "He's no Picasso," says George Burns. "But Picasso was no Al Hirschfeld."
DAVID GROGAN
GAVIN MOSES in New York City
Contributors:
Gavin Moses.
SINCE 1945, WHEN BROADWAY CARICATURIST Al Hirschfeld became a father, readers of the Sunday New York Times have been poring over his pen strokes to tease out the Ninas—thin arching letters bidden in the drawings, which spell his daughter's name. "Hirschfeld is the only man who can draw my attention on Sunday morning," says one avid Nina hunter, Whoopi Goldberg.
Advertisement
Today's Photos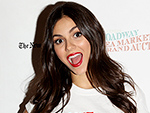 Treat Yourself! 4 Preview Issues
The most buzzed about stars this minute!