People Top 5
LAST UPDATE: Tuesday February 10, 2015 01:10PM EST
PEOPLE Top 5 are the most-viewed stories on the site over the past three days, updated every 60 minutes
Picks and Pans Main: Tube
Professional Olympians


NBC (Fridays, 9:30 P.M. ET)

B

Lisa Darr, a Baltimore prosecutor on the fast track, is an adoptee looking to find out more about her biological family. She gets more than she bargained for in a wild swamp dog of a brother (David Keith) with Elvisy scimitar sideburns and two gamey kids (Chris Stacy and Meghan Andrews). "Whoa," Keith exults at their reunion, "a sister and gun permit in the same week."

Keith goes at the role pompadour and tongs, Darr is a marvelous straight woman, and the supporting cast is sharp. The show is crisply written even if the punch lines are hit-or-miss and the setups a mite labored.

And Keith's character, tossing off those cracked but colorful country aphorisms ("I guess that's about as plain as ketchup on eggs"), clears up one mystery. Now we know who's been writing Dan Rather's ad-libs all these years.

NBC (Saturdays, 8:30 P.M. ET)

C

Here's NBC's other yokel yuk-fest. Olivia Burnette plays a sensitive 14-year-old constantly mortified by her scheming white-trash mama (Connie Ray) and her crude brothers and sisters.

The producers of this show should be paying All My Children royalties, because the sitcom's anchor, Ray's resourceful rube, is a clear clone of AMC's popular Opal character.

Beyond its derivativeness, the show bounces disconcertingly between cheap humiliation humor and cheaper sentimentality. The most interesting aspect is the casting of William Schallert as a boarder. He doesn't look all that different than he did three decades ago as Dad on The Patty Duke Show.

A&E (Sun., Sept. 22, 8 P.M. ET)

B

After a four-year hiatus, the diverting cable series based on the British mystery novels of Jonathan Gash returns. Ian McShane again stars as Lovejoy, the sharpie antiques dealer and forgery expert from East Anglia. His leery aides are played by Chris Jury and Dudley Sutton.

The proceedings are dry by American standards (in other words, not enough car chases), but McShane, England's answer to James Farentino, lends them a sly spark. After this enjoyable two-hour premiere, which features McShane's old Dallas partner, Linda Gray, the show moves to Mondays at 10 P.M. ET.

Fox (Sundays, 9:30 P.M. ET)

C-

Remember the sketch in the Woody Allen movie Everything You Always Wanted to Know About Sex in which Burt Reynolds, Tony Randall and others played the interior machinery of a man? You know, the one where Woody himself played a sperm very reluctant to do his duty. This clumsy sitcom takes that idea, then cheapens, vulgarizes and runs it into the ground. Ah, television, gotta love it!

As William (Fright Night) Rags-dale leads his life as a researcher at a magazine publishing house, we can see the warring impulses battling it out in his head—namely his anxiety (Rick Lawless), his intellect (Peter Mackenzie), his sensitivity (Molly Hagan) and his unbridled lust (Ken Hudson Campbell, doing a bad John Belushi imitation). On a crowded attic set—get it, they live on the top floor—these four argue with utter predictability about every decision.

Ragsdale has vigor, and the office scenes, featuring Jason Bernard, Yeardley Smith, Jane Sibbett and Hank Azaria, work moderately well without the intrusion of the barbershop quartet in his cerebellum. That gimmick, however, makes the show unbearably contrived.

ABC (Tuesdays, 8:30 P.M. ET)

B

Once again ABC has built a sitcom around the stand-up act of a comedian. This isn't another Roseanne, but it is a relaxed and likable show.

Tim Allen stars as a power-tool addict who hosts his own TV home-improvement show. In Mr. Fix-It's own house, his projects, such as souping up the appliances or supercharging the mower, don't inspire the confidence of his wife (Patricia Richardson) or the interest of his three young sons.

Earl Hindman is a droll creation as Allen's neighbor who hangs over the backyard fence like Kilroy, spouting men's movement wisdom: "Men need to spend more time around the campfire with their elders like in ancient days, seeking wisdom, telling stories, sharing."

Allen is one of the fall's freshest finds. But all the best punch lines in the hilarious pilot came right out of his "Men Are Pigs" stand-up routine. With the writers out on their own, the humor seems to be thinning out.

>TV MOVIE-MANIA

There is an unprecedented flood of made-for-TV network movies this week. Here's a rundown (all start at 9 P.M. ET unless otherwise indicated):

On Friday (Sept. 20) CBS presents Us, the bathos-loaded pilot from Michael Landon's final TV project. He plays a man trying to reunite his family after 18 years of false imprisonment.

C+

Married couple Gerald McRaney and Delta Burke star in a CBS mystery, Love and Curses...And All That Jazz (Sat., Sept. 21 P.M. ET).

Not available for review.

On Sunday (Sept. 22) NBC has Guilty Until Proven Innocent, a grim, fact-based movie about the campaign of a Brooklyn man (Martin Sheen) to exonerate his foster son (Brendan Fraser), who has been convicted of a drug murder.

C+

CBS counters the same night with the weepy Runaway Father, the true story of a mother of three (a brunet-dyed Donna Mills) who tracks down the husband (Jack Scalia) who abandoned them. Seems there's a little matter of 17 years of back child support.

C-

ABC weighs in with Marilyn and Me, a romanticized, antiseptic rendering of Marilyn Monroe's pre-stardom years, starring Susan Griffiths and Jesse Dabson.

B-

On Monday (Sept. 23) NBC has the pick of the litter with Dolly Parton and Gary Busey in the affecting Wild Texas Wind, about a country singer in an abusive relationship.

B+

On Tuesday (Sept. 24) Raymond Burr returns as Perry Mason in NBC's The Case of the Fatal Fashion, a standard red herring brew with Diana Muldaur and Valerie Harper.

C

CBS trumps Perry with Murder in New Hampshire: The Pamela Smart Story, based on the recent headline-grabbing crime. Helen Hunt stars as Smart, the school adviser who seduces a teenage student (Chad Allen) to kill her husband. The movie isn't bad for a rush job.

B-

>AMATEUR SHAMATEUR

AT THE 1992 OLYMPICS IN BARCELONA the U.S. basketball team will for the first time include NBA pros. This weekend (Sat., Sept. 21, 5 P.M. ET) in a live show NBC will unveil the roster, a lineup expected to include Magic Johnson, Larry Bird, Patrick Ewing, Michael Jordan, Charles Barkley and other perennial all-stars. Maybe we could extend this trading-up tactic to other international athletic events. We'll see how good those Taiwanese tykes are next year when they step out of the dugout at the Little League World Series in Williamsport, Pa., and see Roger Clemens glaring at them from the mound.


As all the promos promised, Katie's back, and the post-maternity Couric is again smoothing the Today show's rough edges. She works the camera adroitly, and her interviewing is adequate, but as a cohost she makes a vital difference. Couric's impishness casts a particularly relaxing spell over Bryant Gumbel. Her presence will make Good Morning America vs. Today into a new horse race.
Advertisement
Today's Photos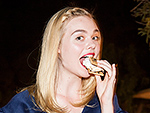 Treat Yourself! 4 Preview Issues
The most buzzed about stars this minute!