People Top 5
LAST UPDATE: Tuesday February 10, 2015 01:10PM EST
PEOPLE Top 5 are the most-viewed stories on the site over the past three days, updated every 60 minutes
A Tsar Is Born?
Exiled Grand Duke Vladimir Eyes the Russian Throne
Dressed in a navy blazer, blue shirt and striped tie, the Grand Duke—second cousin to Russia's last tsar, the doomed Nicholas II, and pretender to his throne—bounds out and announces, "Well, I suppose we should start this thing."
The press conference is one of several Vladimir has held since the failed Soviet coup in August. Tall (6'2") and lean, with deep-set green eyes, the 74-year-old aristocrat who speaks five languages responds effortlessly to questions in French, English and German. Asked if he is planning to travel to his "homeland"—on whose soil, in fact, he has never set foot—he replies, "I will return to my country if my country wants me. I am a man of hope who has never lost hope."
Three months ago such a statement would have been treated like the mutterings of a harmless eccentric. Even now, of course, the chances of a tsarist restoration are virtually nil. But lately the Grand Duke's claim to the throne has been bolstered by hundreds of letters of support, demonstrations by Romanov loyalists in Moscow and St. Petersburg (no longer Leningrad) and a small contingent of monarchists within the Russian parliament. Buoyed by these developments, Vladimir dreams of one day serving as his country's constitutional monarch. In such a capacity, he believes, he could revive traditional Russian spiritual and cultural values. "A monarch is a final arbitrator," he says. "An umpire, if you will, above politics."
In an open letter to Boris Yeltsin, President of the Russian republic, published Sept. 6 on the front page of the Russian government daily Izvestia, the Grand Duke asked to be allowed to come to Russia and throw his support behind Yeltsin and democracy. While he awaits Yeltsin's reply, he will appear, via satellite from Paris, in a town-meeting—style telecast to Russia on Oct. 20, answering questions from a studio audience in Moscow following the showing of the documentary The Romanov Inheritance. The film will explain the history of the Romanov dynasty to an expected 120 million Russian households that have previously been denied such information.
The brutal massacre of Tsar Nicholas II, his wife, Alexandra, and their five children on July 17, 1918, eight months alter the start of the Russian Revolution, has horrified the world ever since. Of particular fascination has been the fate of Anastasia. Numerous women have claimed to be the tsar's youngest daughter. Yet inside the Soviet Union the topic was suppressed until Gorbachev's glasnost era. Now thousands of Russians, learning of the exiled Romanovs for the first time, have seized on their tsarist past, and the site of their execution has become a shrine.
As the great-grandson of Alexander II, who ruled from 1855 to 1881, Vladimir is the senior surviving member of the family and has the strongest claim to the throne. Some purists on royal lineage, though, say the rules of the tsarist court forbid Vladimir from ruling because his mother, Victoria, was a divorcée. Meanwhile, Harold Brooks-Baker, the respected publishing director of England's Burke's Peerage, questions Vladimir on his merits. "True, he is very dignified and well-versed in the history of the court," Brooks-Baker says. "But his inability to identify with and know his people really rules him out as a serious possibility."
That Vladimir has survived to see communism's collapse is remarkable in itself. The Grand Duke was born in August 1917 in Borga, Finland, 80 miles from the Russian border, just one month after his father, the Grand Duke Kirill, fled the Bolsheviks with his wife, the Grand Duchess Victoria (granddaughter of England's Queen Victoria). After sojourns in Finland and Germany, Kirill settled in St. Briac
The family likely would have lived in obscurity in the three-story manor they had purchased with jewels smuggled out of Russia if Kirill had not in 1924 proclaimed himself "Tsar of all the Russias" and pronounced his home the seat of the Imperial Court of the Romanovs. Krill's action was never officially sanctioned by Nicholas II's mother and sisters from their various points of exile in Europe and Canada.
Educated at home and in French schools, Vladimir enrolled at 20 in the University of London, where he concentrated on economics. In 1938, at the suggestion of his cousin King George VI of England, he took the only job he has ever held, a six-month stint as a steelworker in a Stamford, England, mill. "I wanted to understand what ordinary life was, and the steel factory was the best university for me," he says.
Vladimir assumed the title Grand Duke shortly after the death of his father in October 1938. During World War II, Vladimir was held in France until his sudden deportation in July 1944 by German occupation forces. "That, I can tell you, was not very pleasant," he says with typical understatement. In 1946 he moved to Madrid, where the following year he met and married Leonida, herself a Princess of Georgia's exiled royal family. "I am extremely grateful that God has allowed us to be together 40 years," says Vladimir.
Financed by what he calls "careful investments," the Grand Duke has split his time between the St. Briac home, a home in Madrid and an apartment in Paris. In 1953, his only child, Marie, was born. She made a match with another royal, Prince Wilhelm of Prussia, in 1976 and has a son, Georges, now 10.
By all accounts the Grand Duke is a somber and religious man. Although related to the British and Spanish royal families, he has kept a low profile on the royal social circuit. In 1978, in a rare public outing, he attended the wedding of Monaco's Princess Caroline to Philippe Junot. Vladimir is popular among the St. Briac locals, who last year renamed the street on which he lives Grand Duke's Way. One villager says Vladimir "has always maintained the dignity of his rank, at the same time remaining simple and accessible."
Vladimir says that his preferred scenario would be to serve briefly, then pass the scepter to his daughter, who would pass it on to her son—the tsarevich, or little tsar—when he reaches age 16. "My daughter is my heir," he says. "I hope she is capable of becoming, if not a Catherine the Great, at least a Marie the Great."
MARY H.J. FARRELL
PETER MIKELBANK in St. Briac
Contributors:
Peter Mikelbank.
THE 19th-CENTURY STONE HOUSE IN THE fishing village of St. Briac in Brittany, France, hardly looks like a place to hold court. The garden is overgrown, and the lawn chairs are plastic. Yet in the doorway stands a commanding figure who steps forward as an aide announces, "Ladies and gentlemen, his Imperial Highness, the Grand Duke Vladimir, head of the Romanov dynasty."
Advertisement
Today's Photos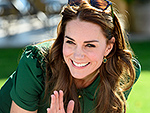 Treat Yourself! 4 Preview Issues
The most buzzed about stars this minute!