People Top 5
LAST UPDATE: Tuesday February 10, 2015 01:10PM EST
PEOPLE Top 5 are the most-viewed stories on the site over the past three days, updated every 60 minutes
Picks and Pans Main: Tube
Play by Play: a History of Sports Television
CBS (Thursdays, 11:30 P.M. ET)
USA (Sundays, 9 P.M. ET)
C
The same episode of this style-over-substance cop show airs on two channels each week: another joint venture in the new cost-cutting climate of '90s television.
Mitzi Kapture (love that name) and Hob Estes play the two hottest-looking homicide detectives in the universe, or in posh Palm Beach anyway. The title is their slang for high-society murders. Boy, do these two like to sling slang. "Look," he tells her as they work undercover in a bondage bar. "I want you to take it easy. These people are not equipped with standard wiring, and the I.I.A. are Fruit of the Loom killers." No, I don't have any idea what the I.I.A. is or what he's talking about, but it sure sounds snappy, doesn't it? And I'm no legal expert, but it seems to me almost everything they do with suspects constitutes entrapment. Ben Vereen seems to have dropped into the wrong show. He adds a jarring note of near realism as their superior officer.
Contrived? And then some. But it's shot with the kind of So-Flo art deco shine we haven't seen since Miami Vice. For CBS, this is one of the best spokes in its "crime time after prime time" wheel. For USA, this may be its best series, period. In neither case is that saying much.
CBS (Sun., Dec. 1, 9 P.M. ET)
B
Judy Davis stars in this Hallmark Hall of Fame presentation as Mary Lindell, a real-life heroine who smuggled downed Allied pilots out of Nazi-occupied France. Sam Neill plays the first flyboy she aides.
The plot is listlessly conventional, but Larry Elikann's direction is evocative, and Davis is marvelous as a woman hiding her compassion under a veneer of brisk competence, a woman whose courage is as inexplicable and obdurate as religious faith.
PBS (Sun., Dec. 1, 9 P.M. ET)
A
Before her death last summer at 83, Dame Peggy Ashcroft made her final film appearance in this Masterpiece Theatre offering as a woman who is removed from a mental institution by her affluent nephew (James Fox) after 60 years. Eventually Ashcroft and Fox's pregnant wife (Geraldine James) team up for an addled odyssey through the British hinterlands.
In an understated way, this funny, poignant, wonderfully detailed, thoroughly British and superbly acted movie points out how much we take for granted in our lives.
Showtime (Sun., Dec. 1, 10 P.M. ET)
A-
As someone who finds Julie Brown's brassy bimbette act on MTV obnoxious, I was shocked when this, her spool of
Madonna
s Truth or Dare film, turned out to be one of the funniest comedy specials of the year. It's amazing how little manipulation it takes for Brown to turn
Madonna
into an immaterial girl, an arrogant, tantrum-throwing winner. "Other patients!" she screams at her shrink. "You're seeing other patients?"
The costumes, the Crisco disco music (especially "Vague") and the tacky stage spectacle are all dead-on. Instead of Kevin Costner, it's Bobcat Goldthwait who comes backstage to tell the platinum bombshell her show was "neat," triggering Medusa's gag reflex. And Chris (Get a Life) Elliot is a scream as the tour choreographer. The humor is too obvious to threaten Spinal Tap as a satirical rockumentary. But unlike last week's episode of Blossom, which also tried to satirize Truth or Dare, this show hits with some jabs that are scathingly funny.
Lifetime (Tues., Dec 3, 9 P.M. ET)
B+
Diane Keaton directed this rural fable about a brother and sister (William McNamara and Man in the Moon's
Reese Witherspoon
) who befriend a near deaf epileptic (Patricia Arquette, another of Cliff Arquette's grandkids) kept in savage squalor in a solitary shack by her vicious step-daddy. The sibs teach her about book learning, and she teaches them and their bereft widower father (Beau Bridges) about the resilience of the human spirit.
Arquette gives a bold performance in this slow-starting but touching story. Keaton has a good eye for composition and a knack for making shafts of sunlight suggest God's sanctifying fingers.
HBO (Tues., Dec. 3, 10 P.M. ET)
A-
Curt Gowdy, Jim Lampley, Bob Costas, Pat Summerall, Brent Musburger and Jim McKay cohost this clip-crammed look at the "perfect marriage" between sports and TV, from the stationary camera used by NBC for a college baseball game in 1939 through this year's newest innovation, the helmet-cam used on the WLAF football games.
True to its title, the documentary is about television and sports, and so devotes as much attention to broadcasters as ball carriers. Big moments are well represented: the 1967 Packers-Cowboys "Ice Bowl"; the 1975 match race between Ruffian and Foolish Pleasure; gymnast Olga Korbut at the Munich Olympics in 1972; the U.S. hockey victory at the 1980 Olympics. Personally I could have lived without two super-slo-mo replays of the Lawrence Taylor sack that sickeningly snapped Joe Theisrnann's leg, ending his playing career.
Sports fans will argue heatedly about what has been left out—they take everything so personally. But this program, which concludes the following Tuesday at the same time, tackles an impossibly large subject with satisfying thoroughness.
Cable is serving up the visual equivalent of comfort foods this week: animated series based on cherished children's books with a Gallic accent. The Family Channel has Madeline in London (Thurs., Nov. 28, 7:30 P.M. ET), the sixth song-filled half-hour special taken from Ludwig Bemelmans's charming stories about Madeline, the plucky Parisian schoolgirl. (More are planned.) That same day, Babar will bob along for the first time in the Macy's Thanksgiving Day Parade (NBC, 9 A.M. ET). The King of the Elephants also has his own show, Babar, on HBO daily (8 A.M. ET), where he rules benignly over Celesteville in half hours true to the books by Jean and Laurent de Brunhoff. For a slightly more mature audience, HBO recently introduced The Adventures of Tintin, based on the internationally popular stories by the Belgian author Hergé. In this week's episode, "The Cigars of the Pharaoh" (Thanksgiving night, 7 P.M. ET), cub reporter Tintin, who's sort of a cross between the Thin Man and the comic-book character Archie Andrews, travels to Egypt. All three cartoons are anodyne asylums from the crazy, grown-up world.
Advertisement
Today's Photos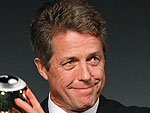 Treat Yourself! 4 Preview Issues
The most buzzed about stars this minute!