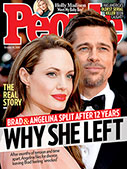 This Week's Issue!
People Top 5
LAST UPDATE: Tuesday February 10, 2015 01:10PM EST
PEOPLE Top 5 are the most-viewed stories on the site over the past three days, updated every 60 minutes
Picks and Pans: Pages
Beyond Pb&j
Patricia Wells presents the cuisine of Joël Robuchon
With the fervor of a convert, Wells divides her cooking life into B.R. and A.R.—Before and After Robuchon. Fans of her best-selling Bistro Cooking may not have found the B.R. Wells lacking, but they will want to follow her to this loftier plateau. Robuchon, owner and chef of the three-star restaurant Jamin in Paris, calls his cooking cuisine actuelle, a style that brings out the essence of ingredients, be they foie gras or mashed potatoes. In this visually exquisite book, Wells translates 125 of Robuchon's innovative recipes for the home cook and includes many tips that could transform the way you work in the kitchen. Lamb tarts are elaborate and challenging. Beef tenderloin roasted in a salt crust is unusual and easy to prepare. You'll learn on every page. (Morrow, $35)
by Janie Hibler
Hibler, a Portland, Oreg., food writer, has good cause to celebrate the region's vast bounty. Indigenous to this majestic corner of the U.S. are not just Dungeness crabs but Olympia oysters, Chinook salmon and an array of waterfowl, wild mushrooms and juicy berries. Hibler's soups are savory, her breads robust, her meal and game dishes he-man enough to fell a forest, and her desserts are like a passkey to childhood. (Knopf, $23)
by Marcia Adams
Yes, Virginia, there is a Midwest cuisine, as Adams's rosy-cheeked book amply demonstrates. A Hoosier and the host of the PBS series Amish Cooking from Quilt Country, Adams has scoured Minnesota to Missouri for heirloom "attic" recipes as well as the best from contemporary restaurants. Here are elderberry blossom fritters and wild rice soup, and wonderful surprises like a chocolate cake made with mashed potatoes and one made with, yikes, sauerkraut. Both are delicious—and much moistened by the unlikely ingredients. (Clarkson Potter, $30)
Recipes by Susanna Palazuelos Text by Marilyn Tausend
Whether you're an experto or a novice who thinks Mexican means mostly tacos and burritos, you'll love this superbly photographed, deliciously presented sampler of one of the world's grand cuisines. Recipes for a dizzying variety of items, from Caesar salad—yes, a Mexican creation—to such arcane pastry as anise-flavored Day of the Dead bread, are interspersed with fascinating chapters exploring the country's history through its food. An irresistible feast. (Collins, $45)
by Jim Dodge with Elaine Ratner
This marvelous baking book isn't exciting to read, and the pictures look like they were taken 20 years ago. But don't be put off. Jim Dodge, the former pastry chef at the Stanford Court Hotel in San Francisco, tells you all you need to know to turn out his versions of the classics—apple pies, brownies, sticky buns, sugar cookies—as well as his sensational spin-offs—nectarine meringue pie, plum crisp, anise and strawberry tart, blackberry cake with chocolate cream. The recipes are simple but splendid. (Simon and Schuster, $25)
by Br. Peter Reinhart
We want people to be amazed by the bread," says Reinhart, founder of Brother Juniper's Bakery in Santa Rosa, Calif. And they are. They voted it the best in Sonoma County. In his delightful, rather quirky book, Reinhart, a member of Christ the Saviour Brotherhood, an Eastern Orthodox order, sets out to nourish soul as well as body. The search for the perfect loaf becomes a spiritual quest. But it is his inventive breads—Struan, wild rice and onion, goat ricotta and chive, cajun three-pepper, Tex-Mex cumin—that will make you a believer. The scent of baking Struan, an ancient Celtic harvest bread, is truly heavenly. (Addison-Wesley, $17.95)
by Eric V. Copage
Nestled between Christmas and New Year's, Kwanzaa is a secular celebration of Africa and African-inspired culture observed largely by black Americans. Families gather to celebrate "the seven principles," among them Umoja (unity) and Kuumba (creativity). And they feast. To that end Copage presents a scrumptious variety of foods, including spicy fried plantains (Caribbean), dirty rice (U.S.), grouper with tomato-thyme gravy (Bahamas), ginger beer (West Africa) and other delights not only for Kwanzaa but throughout the year. (Morrow, $25)
by Wolfgang Puck
Like his namesake in A Midsummer Night's Dream, Puck brings a spritely playfulness to any scene—and to these 175 recipes from his five California restaurants. A day might begin with poached eggs on sausage patties with spicy salsa, move to a midday meal of sautéed crabcakes (loaded with cream and ground almonds) and an evening repast of roasted squab atop pan-fried noodles. This is a guide best suited to the serious cook with time, a plump budget and a well-equipped kitchen. You may not be able to mimic the master, but you can learn from his imaginative instincts, and if your whiskey fudge cake flops, you can always try to book a table at Postrio and order it. (Random House, $30)
by Patricia Stapley
Vegetarians who are simply bored with their bulgur and other eaters with an eye for low-fat, high-protein, fiber-rich fare are hereby directed to this creative little collection of 15 main course recipes that will add glitz to any grain. Stapley, a San Francisco cooking instructor, favors the piquant flavors of the Mediterranean and uses just enough text to set the mood for stuffed onion Marrakech, Egyptian eggplant couscous and café Mykonos, a concoction of barley, feta and olives. Jennie Oppenheimer's colorful drawings are worth the price of the book. (Crown, $13)
by Michele Urvater
This nutritional survival manual is aimed at the harried working person, the recovering couch potato or anyone afraid to set foot in the kitchen. Its initial chapters tell you how to stock your pantry (dried fruits don't spoil and can perk up pilafs and salads), what equipment you need (get a chopping board, a paring knife and a chefs knife and forget the food processor) and how to shop, cook and clean up efficiently. Recipes are numerous, interesting and healthy, and each includes a time estimate: Bluefish and buckwheat noodle casserole, for instance, takes about 30 minutes. And let us not forget 10 minute chili. Urvater, a corporate chef, encourages improvisation and ingredient substitution. Soon you'll be cooking on weekends too. (Workman, $14.95)
by Natalie Haughton
Admit it—if it isn't chocolate, it just isn't dessert. Haughton understands. She presents enough richness and variety to gratify even the choosiest chocophile. Most recipes utilize simple ingredients and techniques (she includes a "Quick Fixes with Mixes" chapter). There are treats for teenagers to whip up in a jiffy. But chocolate-covered potato chips? I'll take the sublime mocha-chip cookies, thank you. (HarperCollins, $16.95)
by Jane and Michael Stern
Gourmet! Has any other word slipped into such disrepute? Okay, "liberal"—but at least it started out sterling. Before World War II, as the Sterns relate in their witty and well-researched 16th book, gourmet connoted an effete snob, or an oddball who smacked his lips over chocolate-covered grasshoppers. Then postwar prosperity ushered in an adventurous "gourmet revolution" sparked by TV and jet travel and enthusiasts such as the iconoclastic James Beard; Joe Baum, creator of New York's Forum of the Twelve Caesars and other lavish theme restaurants; and Julia Child. "Those who felt part of the gastronomic rebirth were proud to call themselves gourmets because it meant that they were people who sought the best life had to offer," the Stems write.
Their book succeeds as social history (amusing chapters on the evolution of TV chefs, "continental" restaurants and food-as-sex as hyped in The Playboy Gourmet and any number of avid cookbooks). But it also works as dinner. The Sterns revive 100 bygone recipes. Turns out there really is nothing wrong with lobster thermidor, beef Stroganoff or baked Alaska—at least on an occasional Saturday night. Your friends may laugh when you tell them the menu. But watch them clean their plates. (HarperCollins, $25)
by Arrigo Cipriani
Reading Cipriani, son of the founder of this Venetian landmark, is like being in Venice sipping Bellinis (a trademark Harry's mix of peach puree and champagne) and dropping names (Hemingway, Bogart, Bacall) opposite the opinionated restaurateur. Cipriani likes his martinis frosted and his truffles pale beige. His recipes for magical sandwiches, soups, pastas and risottos call for but a handful of ingredients. And his meats, fish, veggies and desserts seem all the more delectable given Christopher (Martha Stewart's Weddings) Baker's expert lens work in this glossy bonbon. Bravo. (Bantam, $35)
>LE CORDON BLEU
THOUGH IT HAS competition, the most famous and august cooking school in the world is still Paris's Le Cordon Bleu. Founded in 1895 and named for a knightly order whose members wore blue ribbons and dined stupendously at their meetings, the school has trained generations of chefs (Julia Child is a graduate) in its nine-month Classic Cycle. Having recently opened branches in London and Tokyo, Le Cordon Bleu is expanding in other ways as well, producing its first cookbook in English, Le Cordon Bleu at Home (Hearst, $37.50), and a set of eight videos, Le Cordon Bleu de Paris ($24.95 each, $198.60 set; 800-888-4046). The tapes can be used alone or with the book.
Organizing 275 recipes into harmonious menus, the book fastidiously leads the novice through the three ascending stages of the Classic Cycle: "Pratique de Base—Getting Started," "Intermédiare—Perfecting Skills" and "Supérieure—Professional Touches." A step-by-step color photo section in the back illustrates key techniques—making pastry, piping meringue, boning a rabbit and hollowing a pineapple, among others.
Each of the tapes is devoted to a single theme—soups, salads, desserts, etc. Not all the book's recipes are on the tapes, but the instructions on both are terrific. Still, getting your dishes to look like the ones in the photos will bring to mind the old joke about how you get to Carnegie Hall: practice, practice, practice.
>JENIFER LANG COOKS FOR KIDS
WELL NOT MY KIDS. TAKE LANG'S JUICY ORANGE CHICKEN. SAID KATE, 9: "I'LL try to eat it, but it's really, like, not good." Nick, 5, on Madge Rosenberg's soup for a winter's day: "Mom, why are you making me food that is going to make me throw up? Hut parents of younger children may have better luck with these relatively easy recipes. And Lang, editor of Larousse Gastronomique and mother of a 4-year-old, calls on many of her food-establishment friends for their own feeding tips. A teething baby may enjoy chomping on a slice of fresh pineapple core. Weak mint tea with honey will soothe a tummy ache. For a healthy snack, puree fruit in a blender, mix with evaporated milk and freeze in a popsicle mold. (Harmony, $22.50)
THE GINGERBREAD BOOK by Steven Stellingwerf
Most kids like the idea of gingerbread more than the taste. But eating is beside the point in this adventurous and inspiring guide to making gingerbread shapes for every season. Most spectacular, of course, are the structures—from the traditional Hansel and Gretel—style cottage to a merry-go-round and even a haunted house. Stellingwerf's basic recipe makes a sturdy, easy-to-mold dough, and his directions are precise. Most useful are the nearly 200 step-by-step color photographs. (Rizzoli, $22.95)
Contributors:
Joyce Seymore,
Kristin McMurran,
Julie Greenwalt,
Ron Arias,
V.R. Peterson,
Veronica Burns,
Eric Levin,
Peggy Brawley,
Susan Toepfer.
The holidays arc here, company's coming. These new cookbooks offer fresh menus—or comfort after the siege.
Advertisement
Treat Yourself! 4 Preview Issues
The most buzzed about stars this minute!