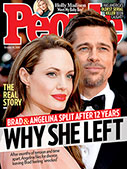 This Week's Issue!
People Top 5
LAST UPDATE: Tuesday February 10, 2015 01:10PM EST
PEOPLE Top 5 are the most-viewed stories on the site over the past three days, updated every 60 minutes
Picks and Pans Main: Tube
Critic's Notebook


NBC (Saturdays, 8:30 P.M. ET)

C

The season's first replacement series stars Brian Keith and Cloris Leachman as constantly bickering oldyweds who are watching over their grandson (Matthew Lawrence) because their sportswriter son (Christopher McDonald, Geena Davis's louse of a spouse in Thelma & Louise) is constantly on the road. This solid cast can't rise above the sitcom's thick artifice and rubber-crutch humor. Leachman suffers most, playing a woman with the most intrusive maternal instincts since Portnoy's Complaint. "There's not a blemish on his record," she squawks at Lawrence's school principal. "There's not a blemish on his whole body, and I've looked. OK, lately he's a little constipated."

The only remotely funny part of each episode comes when Keith gets together in a coffee shop to jaw with other retired salesmen. It turns out Walter and Stan and Albert is a better show than Walter and Emily.

Showtime (Sat., Dec. 7, 10 P.M. ET)

B+

We are here to discuss men's stuff," says Allen, as he takes the stage in Ann Arbor, Mich., for this stand-up comedy performance. That's right, it's a reprise of the "men are pigs" routine that earned him his own sitcom, Home Improvement.

It's still amusing to hear Allen expound on the yawning—make that belching—gulf between men and women. But be warned: The humor is a little harsher and raunchier than last time out.

NBC (Sun., Dec. 8, 9 P.M. ET)

B

John (Night Court) Larroquette plays a shifty, skirt-chasing San Francisco Realtor whose drunken vandalism gets him sentenced to 50 hours of community service coaching a group of developmentally disabled adults in basketball. This self-centered latter-day Scrooge slowly learns values and humility as he brings his team together in time for the Special Olympics—and Christmas.

This utterly predictable tale works better than it should, thanks to a fine cast (Denis Arndt, Kathy Baker, Phil Hartman, Ray Walston and Joe Pantoliano). Larroquette handles both sides of his flip-flop role—cynicism and sentiment—with verve.

NBC (Mon., Dec. 9, 9 P.M. ET)

B

Jessica Tandy stars as an elderly widow whose readings of classic children's stories on a cable-access channel enchant everyone who watches. Then some marketing sharpies decide to take her network and in the process nearly spoil everything that made her special.

Stephanie Zimbalist, Richard Masur, Ed Begley Jr. and Tandy's daughter, Tandy Cronyn, costar ably, and Charles Durning turns in a winning cameo. It's nice to see literacy get a boost, as the movie reminds one of the timeless pleasures provided by tales like Thumbelina and The Wind in the Willows. But all of Tandy's fans seem to be latchkey kids with moms and dads too busy to read to them. The emotional subtheme of this holiday family fable—the damage wrought by career-oriented parents—is clearly aimed at adults more than children.

Hey, in Miracle on 34th Street, Maureen O'Hara was a working mom. How come she didn't have to feel guilty?

>LOOK WHO'S TALKING [P] IT USED TO BE THAT TALK show hosts like Phil and [CELEBRITY_LINK "Oprah"] started as unknowns. But the stakes in syndication have grown so enormous that now a measure of celebrity is required to get a show, as is evidenced by this season's new trio: Jenny Jones, The Chuck Woolery Show and The Maury Povich Show. (Check local listings.) [P] Jones became famous as a touring comic who performed in front of women only, banning men from the clubs. Hers is a spunky though traditional show in which experts discuss female issues like shopaholism and infertility as Jones works the aisles. So far Jones has gotten the most attention for firing a series of hairdressers, but that makes sense. The way she poses and primps for the camera marks her as the most nakedly needy TV personality since Shelley Long. In one supremely inappropriate moment, she started off an interview with a child behaviorist by telling him he was her hottest-looking guest ever. [P] Woolery (far right), the host of Love Connection, runs an old-fashioned celebrity gabfest using B-listers who don't make the late-night couches. [Empty Nest's David Leisure is a big catch.) Woolery is genial but ends up talking about himself quite a lot. In one week I found out he was an unplanned child and has seven children and three bad movies to his credit. Woolery's show, the most inconsequential since Merv Griffin's, goes off the air next month. [P] Povich (middle) was the supercilious host of A Current Affair. He should never have left. His show is a desperate, unfocused mess. Compulsive eaters and adolescent Star Search winners tumble after each other. And Povich has abandoned his smirky, sardonic style—his strength—to act sincere and tender. ("She'll melt your heart," he says, gushing about a singing moptop.) Yuck. It's like seeing a defanged shark working as the lifeguard at a municipal pool. [P]
Certain actors we will always associate with television. These performers have imperishable charm, features that can bear constant close-ups, and enough stamina to become veterans of nearly as many series as the New York Yankees. A roster of these perennials would have to include Robert Young, Buddy Ebsen, Andy Griffith, Lloyd Bridges, Ed Asner, James Garner, Bea Arthur, Dennis Weaver, Peter Falk, Robert Urich, Mary Tyler Moore, the Conrads (William and Robert) and Bill Bixby. Oh, yes, and Brian Keith, who has returned to prime time with the NBC sitcom Walter and Emily (see review).
Advertisement
Treat Yourself! 4 Preview Issues
The most buzzed about stars this minute!