People Top 5
LAST UPDATE: Tuesday February 10, 2015 01:10PM EST
PEOPLE Top 5 are the most-viewed stories on the site over the past three days, updated every 60 minutes
Picks and Pans: Pages
Let There Be Clothes
For most of his career, landscape photographer David Muench has focused on the American West. His 45 books have such titles as Colorado, Big Sur and Louis L'Amour's Frontier; only three of his 14 one-man shows were held in the eastern time zone.
Now he has turned his lens on the Appalachian Trail, the 2,144-mile hiking path that runs from Georgia to Maine through some of the most beautiful scenery the Atlantic seaboard has to offer. Muench, 55, traveled for six months capturing the lush beauty and mystery of the trail with all the reverence of an Ansel Adams, the color sensitivity of an Eliot Porter—and the deep appreciation for the land of his own father, Joseph Muench, a leading photographer of the respected Arizona Highways magazine.
Many of Muench's pictures—all are in color—have startling, detailed foregrounds that lead the eye into a second zone of interest. Thus, scrawny maple and sumac trees, red with autumn, contrast sharply with the white foam of a New Hampshire river.
Muench devotes little time to wildlife. The only "animal" in the book is a white moth on some dried-out oak leaves in Maryland. For perspective Muench does include an occasional human. Often that human is his son Marc, 25, the third-generation photographer of the Muench clan and a harbinger of many more fine books like this to come. (Appalachian Trail Conference, $39.95)
by Stanley Weintraub
The saddest part of the price paid at Pearl Harbor 50 years ago this week, as these 706 fact-crammed pages document, is that the whole scenario could have been avoided or, at the least, minimized. Rumors abounded for weeks, in some circles months, of an impending Japanese attack somewhere in the Pacific. British agents had cracked Japanese codes and were aware of the plans. Yet in early December those messages were held back from military heavyweights so as not to interfere with their weekend golf games.
The American military had grown arrogant and lazy. Less than an hour before the attack, Army radar operators detected squadrons of air-craft closing in on Pearl but ignored the signals, incorrectly believing them to be late-arriving American planes. In another example, when told that one of his destroyers had sunk a Japanese sub just miles from Pearl Harbor, Adm. Husband E. Kimmel shrugged it oil and hit the links.
Weintraub's book spans the full 48 hours it lakes to complete one calendar day (taking the international date line into consideration). The author, a Penn State professor, is more historian than stylist. His stilted prose lacks the force needed to hammer home even the barest emotional points. The book is also poorly assembled, rummaging around the globe from Panama to Malaya to Washington, D.C., in a somewhat futile effort to convey the activities of all the principals.
Despite these weaknesses, Long Day's Journey is worth reading. The book answers nearly as many questions as it raises and is packed with hundreds of interesting tidbits, from the sad confusion of the British admiral Sir Tom Phillips as he watches his ships go down, to the inane predictions of American R. Adm. Richmond Kelly Turner, who was convinced the Japanese would never attack American forces. (Dutton, $26.95)
by Julie Smith
Smith's first Skip Langdon novel (New Orleans Mourning) won the 1991 mystery writers' Edgar Award—making her the first American woman since 1956 to snare that prize. Langdon, a cynical, oversize female police detective who is the scandal of her high-placed New Orleans family, returns to capture a mass murderer in a book both gritty and witty.
Even the premise has a certain humor: The strangler takes the name Axeman from a never captured 1919 serial killer who spared any citizen if he heard jazz playing in the house. Well, imagine the effect this news has on a town best-known for its parties. Except the people most in jeopardy aren't the partying types. The '90s Axeman is stalking members of the city's 12-step programs—Alcoholics Anonymous, Overeaters Anonymous, CODA and all.
Langdon is a splendid female heroine—tough enough to pursue a law enforcement career and sensitive enough to consider the nuances of career dressing: "She had had I he courage not to wear heels, but a rare moment of social insight had suggested she really couldn't skip panty hose. So at the moment her legs felt like sweaty sausages." She even, when necessary, can pull out the feminine wiles: "She stood very close to him, touching his arm, touching her thigh to his....She licked her lips, having read somewhere that men think that's a seduction signal. She'd never felt like a bigger ass in her life.
Trouble is, Langdon sees homicidal potential in nearly every 12-step regular: Di, the new-age dingbat with a history of child abuse; Alex, the onetime best-selling con man-shrink; Missy, the too perky incest survivor. And just when she zeroes in on a particular suspect, a friend threatens to blow her anonymous cover.
Remarkably, ibis dangerous mix of humor and pathos works. The Axe-mans Jazz is a mesmerizing story, from the first glimpse of its weary and rumpled detective to its jarring and deeply disturbing ending. (St. Martin's, $19.95)
by Lynn Schnurnberger
The hardest thing about writing a history of fashion is probably not the hundreds of hours of research required. The tricky part may not even be defining the sociological import of, say, Twiggy's false eyelashes or Henry VIII's padded codpiece.
In a book about fashion, tone is all: too dry, and the book will read like a tome; too flip, and it will appear merely to accentuate the subject's frivolousness. For the most part Schnurnberger neither panders nor ponders. She also manages to fill 400 pages with some fascinating factoids.
Beginning at the beginning—with the caveman's fur diaper—Schnurnberger covers everything from the origin of the veil to such failed experiments as the Zoot suit (early '40s) and the chain dress (1965). Intermediate stops include the invention of seersucker (from the Persian shir o shakkar, meaning "milk and sugar") and the origin of lace (to the Puritans a "temptation of Satan").
The author, a fashion writer (New York, Glamour, PEOPLE), occasionally ventures profitably into social history. (Her "Diary of a Greek Housewife" is particularly amusing.) But sometimes her voice squeaks—usually in too cute wordplay ("Waste Not, Quant Not" is the nonsensical heading of her section on '60s London designer Mary Quant). And the design of the book is so crammed and busy that reading it cover to cover would be overwhelming. So think of it instead as a World Book of Fashion—and keep this charming cultural encyclopedia for reference. (Workman, paper, $19.95)
Contributors:
Joe Treen,
Lorenzo Carcaterra,
Susan Toepfer,
Sara Nelson.
by David Muench
Advertisement
Today's Photos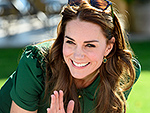 Treat Yourself! 4 Preview Issues
The most buzzed about stars this minute!