People Top 5
LAST UPDATE: Tuesday February 10, 2015 01:10PM EST
PEOPLE Top 5 are the most-viewed stories on the site over the past three days, updated every 60 minutes
Picks and Pans Main: Song
Nevermind
A more apt title might be Pressure. And who would feel more of that than Jackson, trying to compete with the best-selling album in history: his own 1982 Thriller. Jackson's task this time out was complicated by the fact that in the four years since his megaselling Bad, rap and hip-hop have radically altered dance music. On Dangerous, Jackson tries to accommodate the new "rhythm nation" (in his sister Janet's phrase) on several tracks, enlisting New Jack Swing innovator Teddy Riley to write and produce.
Actually it's kind of sad to see a trendsetter like M.J. being led around by his skinny nose, aping current fashions. On cuts like "Jam" and "Can't Let Her Get Away," he captures the outer style but not the energizing spirit of hip-hop. New Jackers know it takes a supple presentation to offset those thudding, mechanistic beats. Jackson can be many things, but loosey-goosey isn't one of them. Guest rappers are brought in, but the rap segments sound, as they did on Prince's recent release, awkward and token.
The strength of this record stems from bouncy, up-tempo pop like "Remember the Time" and "Keep the Faith." Surprisingly effective, too, are the simple, spry rock riffs that power "Black and White," "Give in to Me" and "Why You Wanna Trip on Me." That last title shows how Jackson's seclusion has cut him off from the evolving pop vernacular—"trip on me" is a weird twist on an outdated locution.
To give him his due, though, almost all the songs have appealing elements, whether it's a catchy chorus ("In the Closet") or a dizzy clutch-and-grab groove ("She Drives Me Wild"). There are no stop-the-world numbers. But containing 77 minutes of solid music, Dangerous at least gives the paying audience its money's worth. (Epic)
McCoy Tyner
If jazz had a Hall of Fame, pianist Tyner would be assured a place in it—not just for his famous work with John Coltrane in the '60s, but for all he has done since. A prolific composer, arranger and leader of bands big and small, Tyner is also a monster at the keyboard. Oceans of sound, phenomenal drive. Cecil Taylor and Don Pullen are Godzillas too. But Tyner is the only one of the three who shakes the walls without tearing them down.
Torrid but also highly lyrical and nuanced, Tyner is in top form on 44th Street Suite. So are his compatriots, bassist Ron Carter, drummer Aaron Scott and monsters of the saxophone David Murray (tenor) and Arthur Blythe (alto). Murray, who can run amok, stays focused here, and Blythe is both joyously loose and searing. In part II of the title cut the album concludes with Blythe and Tyner whipping up an epic blues storm. (Red Baron)
Steve Turre
Trombonist Turre found his album title when his young daughter, just learning to talk, would point to things she liked and say, emphatically, "Right there!"
He chose well. Invigorating and multifaceted, Turre's fourth album as a leader joins many jazz streams—Ellington, Latin music, a progressive use of shifting time signatures, unusual instrumentation and challenging rhythms—into a cohesive and superbly played suite of affirmations. A Californian, 43-year-old Turre came to New York City in 1973 with Art Blakey and the Jazz Messengers and has developed into one of the most accomplished and distinctive trombonists of his generation. On this album his front line of trombone, violin (the veteran John Blake, in fine fettle) and cello (his wife, Akua Dixon Turre, who also arranges and contributes sensuous vocals on two cuts) generates a delightful combination of heft and skittering sizzle.
Turre's artistry on his instrument is especially evident on Ellington's Echoes of Harlem, a duet with cello in which his sighs, moans and wah-wahs turn the 'bone into a creature both sinuous and insinuating, a slithering eel in a zoot suit. (Antilles)
Nanci Griffith
If you're a Griffith fan, her ninth album may not sit well at first. She and her producers, Peter Van-Hooke and Rod Argent, have taken some of the twang out of the Nashville songwriter's folksy style and replaced it with ornamental studio glosses like airy synthesizers and sentimental strings.
There's a cloying sweetness to "Fields of Summer" and the sappy "Heaven." The layers of overproduction make these and other songs sound emotionally forced. Not too promising so far, right? But by the second half of the album, Griffith salvages most of her integrity with some heartfelt tunes written with true emotion. She shows more depth and strains less on "Hometown Streets," which also features honest lyrics like "Hometown streets are paved in gold/ With faces that you've always known/ But you'll never see them/ Until you pack your dreams and leave them." On "Down 'N' Outer," Griffith takes a poignant look at the indigent. She calmly asks people to remember those less fortunate who "live right here on this corner...Just a bank account away from America."
With the jazzy, barroom feel of Tom Waits's "San Diego Serenade," she exits gracefully, singing about never appreciating something until it's gone. That applies to many things in life, but not to all the synthesized window dressing this album would be better without. (MCA)
Nirvana
Seattle strikes again! To the roster of excellent rock bands that have recently emerged from the area—Soundgarden, Mother Love Bone, Alice in Chains, Mudhoney, Screaming Trees—add this gritty trio, made up of guitarist/singer Kurt Cobain, bass player Chris Novoselic and drummer David Grohl.
Their major-label debut offers an intriguing study in contrasts. "Come as You Are," for instance, is grunge rock with melody. The mutant "Breed" is pop punk.
All the songs are built on strong rhythmic foundations thanks to Grohl, one of the most expressive drummers in hard rock. His eloquent work on "In Bloom," for example, shows a richness of tone reminiscent of Ginger Baker or John Bonham of Led Zeppelin.
Nirvana's best songs, namely "Smells Like Teen Spirit" and "Lithium," combine ferocious energy with great hooks. But they know how to landscape the rough terrain with quiet pools. These dramatic shifts make the slamming stuff hit that much harder.
Imagine a cross between the brute power of Metallica and the gawky beauty of the Replacements, and you have achieved Nirvana. (DGC)
Contributors:
David Hiltbrand,
Eric Levin,
Andrew Abrahams.
Michael Jackson
Advertisement
Today's Photos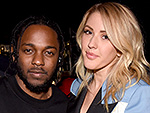 Treat Yourself! 4 Preview Issues
The most buzzed about stars this minute!