People Top 5
LAST UPDATE: Tuesday February 10, 2015 01:10PM EST
PEOPLE Top 5 are the most-viewed stories on the site over the past three days, updated every 60 minutes
Picks and Pans: Pages
New for Children
Second husband Conrad Hilton called her Georgia. Courtesy of husband No. 9, she has the title Princess von Anhalt, Duchess of Saxony. She also has been called—unjustly, she claims—gold digger, publicity monger, heartbreaker and, most recently, face slapper.
But as this artfully artless, amusing autobiography (written with Wendy Leigh) suggests, Zsa Zsa has remained, well, Zsa Zsa, the irrepressible Hungarian pastry and sometimes actress who married at 15 (unconsummated) and has not stopped marrying since. (Nine is the current count.) Gabor has been married as briefly as a single day, to playboy Felipe de Alba ("I didn't give it that long," cracked John Huston), and as long as five years. She has married for richer (hotelier Hilton) and poorer (actor George Sanders). She has married for better (industrialist Herbert Hutner, whom she divorced on grounds of "mental kindness") and for worse (inventor Jack Ryan, who had two mistresses and a taste for kinky sex). "I will never be alone," Gabor writes, "because I always have a string of men waiting.... I love being married and I've never had any trouble finding men to marry me."
Her claims would put Geraldo to shame. According to Zsa Zsa, she was pursued by Prince Philip, J. Paul Getty, Errol Flynn, Howard Hughes, Elvis Presley, Lord Mountbatten and H.L. Hunt, who proposed without even an introduction. She slept happily with Sean Connery and Richard Burton, unhappily with Frank Sinatra. She spurned Warren Beatty because he was too obvious, Marlon Brando because he drank, John Kennedy because he was "too promiscuous."
While Gabor has a rather admirable sense of self, she seems, unfortunately, to be completely without irony. She notes with utter earnestness, for example, that she was hesitant about marrying husband No. 9, Frederick von Anhalt, because he had had four previous wives. (Delacorte, $21)
by Susan Faludi
The women's movement has only worsened the lot of American women. Right?
Wrong. With painstaking research and in chilling detail, Faludi, a Pulitzer-prizewinning reporter, shows how during the past decade screaming headlines and anecdotal lifestyle features have fed American women false information, designed to discredit feminism. In fact Faludi provides evidence that your chances of marrying past 30 today are greater than at any point in history. There is—and was—no burgeoning fertility crisis: "Overall," Faludi writes, citing a U.S. National Center for Health Statistics survey, "the percentage of women unable to have babies had actually fallen—from 11.2 percent in 1965 to 8.5 percent in 1982." And mothers who remain in the work force exhibit greater life satisfaction than those who leave it, while "research...has consistently found that if day care has any long-term effect...it seems to make children slightly more gregarious and independent."
Faludi is also merciless in her critique of popular culture. The pilot's "bio" for thirty something's homemaking Hope, for example, said only, "Hope is married to Michael." CBS executives vetoed affairs for single cop Cagney, while pronouncing them acceptable for male Magnum P.I. In the late '80s, the fashion industry started its self-inflicted decline "by pushing 'little-girl dresses'... at a time when the average American woman was thirty-two years old, weighed 143 pounds and wore a size 10 or 12 dress."
Visiting various conservative organizations lobbying for old-fashioned "family values" (read: Mom, stay home), Faludi wryly counts the number of working mothers in their ranks. Faludi also relates how in 1985 then EEOC Chairman Clarence Thomas undercut his own attorneys, who were pressing a sex-discrimination suit against Sears.
Like the Thomas-Hill hearings, this book is destined to enrage the most passive women and make even liberated men squirm. It is also an important book, with Faludi's astonishing findings matched by the grace, intelligence and humor of her prose. (Crown, $24)
by David Gilmour
Rarely has a mid-life crisis been so entertaining as the one 40-year-old Bix is going through in this hilarious and touching novel by the author of Back on Tuesday.
A divorced free-lance speech writer too fond of the bottle, Bix becomes obsessed with 19-year-old Holly Briggs, a hippie-manqué whose only discernible attractions are her supple young body and the fact, of course, that she couldn't care less about Bix. But Bix can't help himself: He prowls the Toronto streets after Holly and even spies on her making love. When she deigns to sleep with him, he is transported; when she leaves him, he suffers like a lovesick teenager.
But for all this, Bix is not completely pathetic. He has too much self-awareness for that. When, early in their affair, he and Holly run into one of Holly's ex-boyfriends, Bix is sympathetic to the guy because "I realized I was watching myself, six weeks, six months, down the road." That he has been through this kind of heartbreak before (and that he may go through it again) is obvious, but it doesn't prevent his hope from attempting to triumph over his experience.
Gilmour knows his emotional territory well—right down to the sympathetic ex-wife on whose shoulder Bix cries when Holly inevitably dumps him. And while some readers might be put off by his sexual explicitness, Gilmour's "vulgarity" is not gratuitous; this character would think and talk about sex that way. The rest of Gilmour's prose is similarly direct, and he produces the occasional stunning—if visually unappealing—image: "A thick bespectacled fat man stuffed a forkful of linguini into his maw and chewed it with his mouth open. You could see it falling from the roof of his mouth, like laundry in a dryer." Lucky for us that Gilmour himself gave up speech writing to produce such knowing fiction. (Random House, $19)
by Julie Salamon
Melanie Griffith, while shooting The Bonfire of the Vanities, had her breasts cosmetically overhauled during a three-week hiatus. Her first day back on the set, Griffith pressed her newly enhanced knockers into director Brian De Palma's face and asked, "How do they feel?"
You want juicy scenes? You got 'em in abundance in Salamon's thorough account of the making of the movie of Tom Wolfe's scabrous satirical novel about '80s excess, The Bonfire of the Vanities. Salamon, a former reporter for The Wall Street Journal and now the paper's film critic, offers a you-are-there look at Hollywood hubris that is funny, biting and illuminating. In other words, it's everything the movie hoped to be but so resoundingly was not.
Salamon spent nearly a year hanging out with De Palma (smart, but an egomaniacal perfectionist), stars Tom Hanks (a good guy, but miscast),
Bruce Willis
(a spoiled star), Griffith (in need of constant reassurance) and everyone else involved with the movie.
All of the dish is fun, but the real point is the excessive size of egos and budgets—and how lightly the two are entwined. What is also apparent is how little sense anyone has about whether a film in production is going to work. Even when Bonfire was finished, Mark Canton, then a top executive at Warner (the producing studio), announced, "De Palma's a genius. This is the best movie we've ever made." Now Canton is head of Columbia Pictures. That's Hollywood. (Houghton Mifflin, $24.95)
by Carlos Fuentes
Had Voltaire been South American, his classic Candide might have come out something like this absorbing and skillful work from the author of The Old Gringo.
The novel, the first volume of a projected trilogy, begins during the 19th-century wars that freed the Americas from Spanish rule. Baltasar Bustos—a naive, ungainly young Argentinean—is compelled to action by his fervid readings of Rousseau. He dedicates himself to establishing justice and equality among the nascent Latin American republics. For his first revolutionary act, Baltasar kidnaps the white infant son of a Spanish judge and his wife (the legendary beauty Ofelia Salamanca) and substitutes a black child. Falling in love with Ofelia, Baltasar then feels obliged to seek her forgiveness.
A second plot concerns Baltasar the patriot. Severing ties with his family—especially his father, a land-wealthy patriarch—he becomes a firebrand. As he fights and spies among rebel Jesuits, Indians, and Spanish captains, Baltasar reveals his varied adventures to his friends through letters he sends them from Peru, Chile, Mexico and other war zones.
Along with a couple of plot twists (yes, the ending is a surprise) there is a variety of literary and philosophical allusions—think Diderot and Dickens—for readers to enjoy. However, what drives this novel is its author's ability to connect fine writing, palpable characters and an intriguing play of ideas to a brisk, engaging and, at times, sardonic story.
This is a work that reaffirms the special magic of Latin American fiction and should add to Fuentes's already considerable reputation as Mexico's modern master of letters. (Farrar Straus Giroux, $22.95)
>THE PENNY WHISTLE CHRISTMAS PARTY BOOK BY MEREDITH BROKAW AND ANNIE GILBAR
Brokaw's New York City-based Penny Whistle Toys stores are best-known for selections that dazzle children while satisfying parents' worrywart tendencies. (Will she learn anything? Will he break it?) The Penny Whistle books (Party Planner, Lunch Box Book) reflect the same ability to please both factions. This holiday offering is chock full of wonderful activities (build a Christmas village, put on a Twelfth Night play, make a jewelry box gift) that kids will savor. Directions, as usual, are crystal clear and benefit from Jill Weber's whimsical illustrations. The authors (Brokaw is the wife of NBC anchor Tom) draw on many rituals time-tested by friends, and there are helpful psychological tips for both party planning and channeling the excitement of the season. (Fireside, paper, $12)
Contributors:
Joanne Kaufman,
Susan Toepfer,
Sara Nelson,
Leah Rozen,
V.R. Peterson.
by Zsa Zsa Gabor
Advertisement
Today's Photos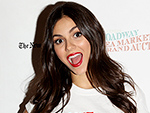 Treat Yourself! 4 Preview Issues
The most buzzed about stars this minute!