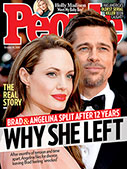 This Week's Issue!
People Top 5
LAST UPDATE: Tuesday February 10, 2015 01:10PM EST
PEOPLE Top 5 are the most-viewed stories on the site over the past three days, updated every 60 minutes


THE JUDDS
The Judds may be breaking up, but the unique mother-daughter relationship that Naomi and Wynonna share will never end. The bond between them is stronger than any obstacle that life places in their paths, and their love for each other will see them through this difficult time.
KRISTINE LITTEN, Riverview, Mich.

I remember the first time I watched the Judds' Love Can Build a Bridge video—it was the only song I have ever listened to that brought tears to my eyes. Here is a woman who is suffering from a serious ailment but still had the heart to write the song because she was worried about other people's problems. No wonder Wynonna feels that Naomi is "an absolute walking miracle."
LISA M. BEURMANN, Scotia, N. Y.

Calling Naomi Judd "an absolute walking miracle" is ridiculous. If she wants to know what a walking miracle truly is, she should read Perfect Victim, by Christine McGuire and Carla Norton, the story of a woman abducted and kept prisoner in a box for seven years, and quit feeling sorry for herself. How long will we enjoy Naomi's absence from the stage before she starts her recovery tour?
JAN FRY, Ventura, Calif.

I have had chronic active hepatitis for almost 15 years. I am a registered nurse—which is how I got my hepatitis, after scratching my hand on a traction pin—and work full-time at a local hospital. I am also going to college and taking six hours a semester. Sure, I occasionally go into relapse, but those times are usually shortlived, and I am able to return to work after two weeks. I see no reason for Naomi to quit singing, although she might want to cut back a bit.
DIANE WERNER, Portland, Ore.

Like Ms. Judd, I am a registered nurse suffering from chronic active hepatitis. My infection was the result of a needle stick while working. Unknowingly, I also infected my husband and 6-year-old son with the virus. I hope Ms. Judd, as spokesperson for the American Liver Foundation, will emphasize the importance of health-care workers being vaccinated for hepatitis B. My family's tragedy could have been prevented with a series of three injections.
LOUISE DULIN, Houston

FREDDIE MERCURY
I cannot begin to express how surprised I was to see that you actually included a story on the death of Freddie Mercury. I was equally surprised that the story was written in a positive light. It almost can make me believe that as time goes on, more and more Americans will become less homophobic, and as a result can emerge with a greater awareness of AIDS and its threat to all people.
HOLLIE. CLARK, Arvada, Colo.

Could Freddie Mercury actually have been embarrassed that he was a person living with AIDS? After flaunting his bisexuality, did he live to regret his excesses? In the end, this reclusive man seems a pitiful man who didn't have enough pride in himself to come forward and be honest. Possibly he could have made a small difference in AIDS prevention.
R. ASHER, Springfield, Va.

SARAH OWEN
Thank you for the insightful story on James Woods. I too am a graduate of MIT. When I arrived on campus in the fall of 1973, there was a big poster announcing the porno movie to be shown the corning week in Kresge Auditorium. This turned out to be a pretty regular event on the campus until about 1981 or '82, when a group of women demanded that the dean's office put a stop to this practice. Perhaps this environment produced men with the certain proclivities that Sarah Owen describes.
MARIE M. GAURON, Wilmington, Mass.

So James Woods says Sarah is lying about all the abuse he inflicted on her. Sure, Jimmy! We believe that, and we believe William Kennedy Smith and Judge Thomas and thousands more of you bozos, boobs, boors, bullies, brutes and bastards who crawl out from under rocks every day. Would that evolution would take care of your kind as it did the [male] black widow spider. Thank God most men aren't like you.
BONNIE CUSTER, Tucson

My account of abuse was not intended as an exposé of James Woods. He just happened to be my abuser. In sharing my experience, my hope is to heighten public awareness of this prevalent epidemic and encourage other victims of domestic violence to find the strength to seek help. The healing process for me has been a slow and painful one, but the rewards have been the restoration of my self-esteem and dignity. My first step was accepting the fact I was a battered woman and calling the national domestic hotline, 1-800-333-SAFE. No one deserves to be abused.
SARAH OWEN, Beverly Hills


Fans of Naomi and Wynonna Judd (PEOPLE, Dec. 9) wished them a fond farewell. Other correspondents had harsh words for actor James Woods, accused of physically and emotionally abusing his ex-wife, Sarah Owen.
Advertisement
Treat Yourself! 4 Preview Issues
The most buzzed about stars this minute!