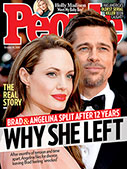 This Week's Issue!
People Top 5
LAST UPDATE: Tuesday February 10, 2015 01:10PM EST
PEOPLE Top 5 are the most-viewed stories on the site over the past three days, updated every 60 minutes
Men on the Verge (of a Nervous Breakdown)
Headaches? Heartaches? Public Humiliation? Get Out the Tom-Toms, Robert Bly. These Men, Once Riding High, Faltered and Fell Flat in '91. Who Was Closest to the Edge? Read On
When the Ironman goes to trial next month in Indianapolis for allegedly raping a Miss Black America contestant last July, the prosecution may call several other women who say they were pawed by the ex-champ during the pageant. In a separate civil suit, pageant organizer J. MORRIS ANDERSON describes Tyson, 25, as a "serial buttocks fondler." Tyson was also slapped with a paternity/ palimony suit by NATALIE FEARS and has postponed his next fight against cur rent heavyweight champ EVANDER HOLYFIELD because of an injured rib cage. Friends insist that women can't keep their mitts off the big guy, which is why Tyson complains that women are now "taking advantage" of him with lawsuits. Novel defense, that. 42
GERALDO RIVERA
There might be something resembling journalism in Geraldo's 480-page psychobiography, Exposing Myself, but the world will only remember that avowed juicy flirtation with LIZA MINNELU and those artful tales of sexual encounters, often in bathrooms, with, among other notables, BETTE MIDLER, MARGARET TRUDEAU and CHRIS EVERT Some of the alleged loved ones took issue with his reporting: Trudeau and Evert denied all and Midler hollered foul, false and "interview rape." And now it can be told: Writer KURT VONNE-GUT, whose daughter EDIE was Geraldo's second wife during some of these shenanigans, declared him a "scumbag." Geraldo, 48, is not apologizing. "Intercourse," he says, "isn't a felony yet." 29
JIMMY SWAGGART
Even babies, like this one in Baton Rouge, are backing off. In September the televangelist lost a $10 million judgment to fellow preacher MARVIN GORMAN, who charged that Swaggart had spread rumors of sexual misconduct about him. When he was stopped in Indio, Calif., in October for weaving and swerving on the road, police found a prostitute in the front seat. Confronted by the press, Swaggart, 56, wept not (as he did the last time he was caught with a prostitute, in 1988) but delivered a heavenly message to his supporters: "The Lord told me it's flat none of your business." 46
KIEFER SUTHERLAND
Understandably unstrung when his June wedding to
JULIA ROBERTS
was called off three days beforehand and the would-be bride ran off with actor JASON PATRIC, Kiefer, 25, has rebounded to fine bachelor form. In October Los Angeles police reportedly helped him out of a car that a friend was arrested for drunkenly driving, the vehicle hotly pursued by a team of lady mud wrestlers. Give him credit points, though, for keeping a sense of humor. In November the dapper actor plugged his upcoming appearance as host of Saturday Night Live by saying, "Do me a favor—don't decide at the last minute that you're not going to watch." 16
PRINCE CHARLES
Charles, 43, continued to brood through his interminable mid-life crisis, and with reason. There was scuttle that he was spending an awful lot of time at Highgrove, his country house, with old pal CAMILLA PARKER BOWLES. Already skewered for his hands-off fathering, Charles went to the opera while son WILLIAM underwent surgery for a head wound inflicted by a golf club. And during an official visit to Canada, the Prince warmed up the crowd with some rhubarb chitchat. "It is one of the few plants," he told 800 dinner guests, "which deserve a good talking-to, if only to give it encouragement and make it feel wanted." Are you listening, DI? 88
ALEC BALDWIN
On the set of The Marrying Man, costarring new love KIM BA-SINGER, the 33-year-old hunk smashed cellular phones and threw a chair across the set. Then he lost the Red October sequel to HARRISON FORD. No wonder the Hollywood Women's Press Club nominated him for a Sour Apple Award—for the year's most annoying star. " 17
DONALD TRUMP
Ivana Trump, Maria Maples, Rowanne Brewer, Maria Maples, Carla Bruni, Maria Maples, Kim "Alley Cat" Alley, sold the Trump Princess, Maria Maples, Mom gets mugged, Maria Maples. What next for the 45-year-old minimogul? 77
WARREN BEATTY
When longtime lothario Beatty made his latest flame and Bugsy costar ANNETTE BENING pregnant, people chuckled. But Warren declared himself thrilled. Hey, if having babies at this stage is good enough for buddy JACK NICHOLSON, then why not? Is Warren, 54, finally settling down? "The highest level of sexual excitement," he told NORMAN MAILER, "is in a monogamous relationship." Quick thinking, Warren, and remember, cloth diapers are now politically correct. 18
WASHINGTON EDITION
SEN. TED KENNEDY
Humiliated when nephew WILLIE SMITH was accused of rape after the two had tossed down a few in a Palm Beach bar, the normally outspoken Ted, 59, kept mum during the Thomas hearings, then confessed he's no saint to a crowd at Harvard. Later, Smith trial jury candidate FLORENCE ORBACH characterized him as "running around without his pants. The fat...the Senator." 8
SEN. ORRIN HATCH
During the Thomas hearings, the Utah Republican, 57, felt forced to say yucky words right on national television. For the nation's good, he forged ahead and suggested that ANITA HILL had picked up the pubic-hair-on-the-Coke-can idea from The Exorcist and the name LONG DONG SILVER from a 1988 court case. Bravely done, Senator. 10
JOHN SUNUNU
Was anybody surprised that Sununu, 52, wound up 1991 flying economy-class? Hauled to the White House woodshed earlier this year for hitching a ride to his dentist on an Air Force jet, the abrasive ex-Chief of Staff last month blamed his boss for "ad-libbing" an ill-timed remark on credit-card interest rates. Re-, signed to resigning, he quit on Dec. 3. The unemployment line forms to the left. 29
SEN. ALAN SIMPSON
After calling CNN correspondent PETER ARNETT an Iraqi sympathizer, the loose-lipped Senator from Wyoming groused about "this sexual harassment crap" at the CLARENCE THOMAS confirmation hearings. At his wife's birthday party, Simpson, 60, even managed to offend BARBARA BUSH. "I never imagined," he said of ANN SIMPSON, "I'd be sleeping with a 60-year-old woman." To which Mrs. Bush shot back, "That wasn't very funny." 36
MIKE TYSON
Advertisement
Treat Yourself! 4 Preview Issues
The most buzzed about stars this minute!