People Top 5
LAST UPDATE: Tuesday February 10, 2015 01:10PM EST
PEOPLE Top 5 are the most-viewed stories on the site over the past three days, updated every 60 minutes
Say Cheeeeeezzzzzzzz
They Came. They Saw. They Clicked. Thousands of Paparazzi Took Millions of Pictures, and Behind Every Photo Was a Story. Here, Some of Those Photographers Show Off Their Favorite Snapshots and Tell How They Were in the Right Place at the Right Time.
Elton John and Rod Stewart by Eugene Adebari: "This was all planned a few days in advance. Elton went shopping in London to buy tacky evening frocks and a wig to surprise Rod onstage at Wembley Arena outside London. I was with Elton while he was dressing. I did pictures backstage, but I can't publish them. Elton just walked across the stage and sat on Rod's lap. Rod looked shocked, and then he recognized who it was. It was funny to see Rod's reactions—shock, and then he laughed."
Madonna
by Paul Smith: "I took this at the Cannes Film Festival, at the premiere of Sean Penn's film Indian Runner. Perhaps she still had a soft spot for him. We found out she was going to the movie only an hour before it was due to start, so I rushed down. I shouted, 'This way, luv,' and perhaps my English accent caught her ear; she looked straight at me. Her outfit looked quite weird. Perhaps she was dressing up as a little girl because of some fantasy."
Barbra Streisand and her family by Peter C. Borsari: "This was taken at The Prince of Tides premiere in Los Angeles. It's difficult to gel four people to look just right in a single frame (from left, Streisand's mother Diana Kind, son Jason Gould, Barbra, half-sister Roslyn Kind]. Barbra's mother never looked toward me so she turned her mom's chin in a gentle way so that she was looking at me. It was a nice gesture and shows a certain tenderness between mother and daughter. Later in the evening, Barbra ran into Sean Connery and said: 'Where's the photographer? I want a picture with Sean Connery.''
Mick Jagger by Spencer Dove: "Mick and his wife, Jerry Hall, had rented a house in Richmond [on the Thames near London] while waiting for his new house to be ready. I sat outside in my car for a week in October and caught him when he came out one morning. He looked old, not the way we usually see him. When he saw me, he started chasing me. I was still in my car, and he hit the roof with his umbrella, swearing at me. I sped off."
Tom Cruise
and
Nicole Kidman
by Albert Ortega: "I took the shot in front of the Coronet Theater in West Hollywood. It was a madhouse, like the Keystone Kops. Everyone wanted the shot. One photographer tripped over another, and they both went down. It shows you what a gentleman Tom is. He just dropped everything and went down on his knees to help a lensman. He said, 'Watch out. you guys. Don't get hurl. Be careful.' Photographers are always falling down. Most celebrities laugh. I've seen Winona Ryder laugh. I tripped in front of Marlon Brando at the Santa Monica courthouse. Everybody thought he was going to help me up, but he just looked down at me and walked right by."
Prince William
by Edward Hirst: "I was at Windsor Great Park, hoping to get one of the royal family. I saw their ponies, with the two kids [
Prince William
and
Prince Harry
] cycling around. Then William got off his bicycle while one pony had his head down grazing. William tried to crawl up the pony's neck, rolled off and fell to the ground. He did this about five times. At the end he kissed the pony on his nose and made up. The Queen was watching and laughing all the time, but I couldn't get her in the frame because of a tree."
Michael Jackson and
Brooke Shields
by John Paschal: "They were having dinner together at a restaurant in Malibu. When they came out, the limo driver went to help them in the car. He left the driver's side door open, so I got into the front seat and shot the picture from there. Michael had a box of Michael Jackson toy gloves in the back, as well as a teen magazine—I think it was Big Bopper. Brooke looked a little startled, but Michael laughed that someone would do what I did."
Queen Elizabeth and the Queen Mother by Glenn Harvey: "The Queen Mother spends part of August every year at the Castle of Mey in Caithness, one of the northernmost parts of Scotland. Every year the Queen disembarks from the royal yacht Britannia at the tiny port of Scrabster, greets her mother at the quay and repairs for lunch at the castle. The meeting is mainly a private occasion, but the police at Scrabster are helpful about telling you when it's to be. I spent about an hour on my stepladder before I got the picture. They usually just embrace quickly and part. But this time they stood there for a little while together. They were very pleased to see each other. I've never seen such a close embrace."
Ronald Reagan by Lee Celano: "it was President Reagan's 80th-birthday party at the Regent Beverly Wilshire Hotel. The evening's climax came with the blowing out of 80 candles. I noticed that Nancy was laughing, while he just stood there looking kind of silly because he had leaned right into the cake. He moved away from the cake, and he blushed. Nancy was laughing hysterically. Someone got a spoon, and he started to scrape the icing off his tuxedo lapel. He was very embarrassed."
Advertisement
Today's Photos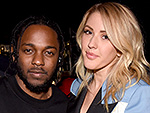 Treat Yourself! 4 Preview Issues
The most buzzed about stars this minute!