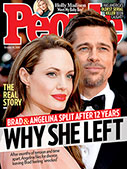 This Week's Issue!
People Top 5
LAST UPDATE: Tuesday February 10, 2015 01:10PM EST
PEOPLE Top 5 are the most-viewed stories on the site over the past three days, updated every 60 minutes
Farewell
Old Friends and Famous Comrades Pay Tribute to Those Who Touched Our Lives

—Francis Ford Coppola

HARRY REASONER, 68, newscaster "Harry was totally without guile in a business that is full of it."
—Mike Wallace

MICHAEL LANDON, 54, actor "He was the best at understanding that television is something in people's homes. They form very personal relationships with people they see on the screen. He used that to really connect with people and to touch them."
—Brandon Tartikoff

LEE REMICK, 55, actress "She played her roles with an open heart and mind, and a depth of feeling that took the play acting out of her work."
—Gregory Peck

FRANK CAPRA, 94, director "Frank had a serious personality. Funny, isn't it, because he did comedy so well. He wasn't dour—just very serious about his work."
—Claudette Colbert

MILES DAVIS, 65, musician "In the future, you hear somebody that sounds like Miles, that is Miles. He was the most individualistic stylist in jazz."
—Dizzy Gillespie

DANNY THOMAS, 77, entertainer "My father used to say there are two kinds of people: those who stop at an accident and those who drive by. He was the kind who would help. We're trying to follow his example."
—Mario Thomas

GENE RODDEN-BERRY, 70, Star Trek creator "He created a universe that had a very specific vision to it. He challenged us to live to the expectations of life in the 24th century."
—Levar Burton

EMILY McLAUGHLIN, 62, soap actress "She had a warm, loving personality and a great deal of depth. She was the heart of the show. Emily symbolized the morals of the hospital."
—'General Hospital' producer Gloria Monty

JOSEPH PAPP, 70, producer "He loved Shakespeare passionately. Joe's theater was for everyone; he nourished it as much as he exalted in it."
—Kevin Kline

COLLEEN DEWHURST, 67, actress "She had a fragility and a delicacy one doesn't identify with an earth mother, but which made her character so appealing to so many people."
—Theater director Arvin Brown

JERZY KOSINSKI, 57, novelist "When he went out at night, he tucked his private demons away and held whole dinner tables in his thrall."
—Magazine editor Edward Kosner

DR. SEUSS, 87, author "With my children, they liked to read the same stories over and over, and every time I used to read to them, I would get so sleepy. But not with Dr. Seuss. He was fun to read. I've always regretted that I never got a chance to meet him."
—Cartoonist Charles Schulz

GENE TIERNEY, 70, actress "If you think of the girls then, Betty Grable and the rest, her beauty was unusual, timeless."
—Vincent Price

DAME PEGGY ASHCROFT, 83, actress "She inspired me. She fought for funding for the arts, for new writers and new approaches."
—Vanessa Redgrave

YVES MONTAND, 70, actor "What struck me most was that beneath the Latin machismo was a man in distress, desperately anxious about his origins."
—Biographer Patrick Rotman

DAVID RUFFIN, 50, singer "What a waste. David had one of the great voices of all time, but he was constantly going off the deep end."
—Smokey Robinson

FRED MACMURRAY, 83, actor "He'd say, 'I could just as well have wound up a shoe salesman. But I'd have been a good one.' "
—Nancy Olson

RALPH BELLAMY, 87, actor "He always said, 'Actors shouldn't talk about acting, they should do it.' He made sure he could act, right to the end."
—Karl Malden

ARTHUR MURRAY, 95, dance teacher "Arthur was the first one to go large-scale and bring dancing to the general public. He proved through his studio system that everyone could dance, if they just gave it a try."
—Donald O'Connor

NANCY KULP, 69, actress "She had a unique quality of humor about her. 'Miss Hathaway' was every child's idea of a girls' school teacher."
—Louis Nye

SIR DAVID LEAN, 83, director "He was the sort of filmmaker who had an absolute, unqualified, obsessional love for cinema, to the exclusion of everything and everyone else in the world—except, of course, other filmmakers."
—Omar Sharif

JAMES FRANCISCUS, 57, actor "Jimmy was a perfectionist who spared nothing for a good show. But he sometimes used to say that he was 12 years old and he was never going to change. I'll miss his wicked humor."
—George Peppard

GRAHAM GREENE, 86, writer "Graham possessed the magic formula I of universality: humanity, wit, courage, insight. His readership has claimed him for its own."
—John le Carre

DOTTIE WEST, 58, singer "If she had a dollar, and you didn't, you got 50 cents. When I would have a problem, we'd kinda wander off together."
—Loretta Lynn

REDD FOXX, 68, comedian "The finesse Redd used, the jokes and lies he told, were wonderful. Every day there was a hug, a kiss and a laugh."
—Della Reese

DAME MARGOT FONTEYN, 71, dancer "I miss her smile and her great dark eyes. No one lit up a stage like Mar-got."
—Ballet director Jane Hermann


BILL GRAHAM, 60, rock impresario "A spirit like his must be in a more interesting realm, where he's probably setting up bigger events."
Advertisement
Treat Yourself! 4 Preview Issues
The most buzzed about stars this minute!