People Top 5
LAST UPDATE: Tuesday February 10, 2015 01:10PM EST
PEOPLE Top 5 are the most-viewed stories on the site over the past three days, updated every 60 minutes
A Lost Boy Comes Home
Actor Corey Feldman Drenched His Teen Years in Alcohol, Cocaine and Heroin. At 20, He's Finally Sober—and Says Reality Never Tasted Better
He laughs, and his eyes crinkle beneath the brim of his black fedora, recalling the spunkiness that launched his acting career in a Welch's grape juice commercial at age 3. Today, at 20, Feldman is lucky to be smiling at all. In 1990, after a string of hit films—Stand By Me, The Lost Boys, License to Drive—the teen star was addicted to heroin and cocaine, was $150,000 in debt and faced the possibility of serious prison time. But this week, after three stays in rehab, Feldman celebrates 14 months of being clean and sober. As he mends his frayed marriage with actress Vanessa Marcil, 23, and revives his career with two films later this year, Round Trip to Heaven and Meatballs IV, Feldman is guided by a single firm principle: "I don't want to live in hell anymore."
When the young actor was arrested for speeding in a seamy section of downtown L.A. in March 1990, carrying about nine grams of heroin and a bit of cocaine, he prayed that the press wouldn't find out. Released the next morning on $5,480 bail, he was relieved when no cameras or reporters greeted him at his door. But after a few hours of sleep at his Beverly Hills apartment, he awoke to his worst nightmare. "Every channel had me on the news, and I was in every newspaper," he says. "I was so embarrassed. I couldn't believe it."
The media blitz was proportional to the shock felt by his fans, but Feldman had been on the edge of emotional and physical collapse for years. His L.A. childhood, with his father, bass player Bob Feldman, his mother, Sheila, a sometime cocktail waitress, two brothers and a sister, was painful and unhappy, says Corey. He refuses to elaborate, except to say that he often felt "worthless and no good." After his parents split up when he was 11, he tried living alternately with his mother, his grandparents and his father—but always felt depressed and torn between his parents. Acting, Feldman says, "was the only way to get out of everything. That was my fix, before I started doing drugs."
By age 8, Corey, who had followed his older sister, Mindy, now 23, into acting, had some 80 TV spots to his credit, plus the short-lived CBS series The Bad News Bears. He admits he wasn't always Mr. Modesty around his Stoneridge Preparatory School classmates, who paid him back with occasional beatings. When he was 13, he took a small pistol from his grandfather's collection and kept it under his bed. "I used to hold it to my head even night and go, 'God, why am I so ugly? Why am I so fat?' I hated myself and wanted to kill myself."
Drugs provided a less final means of escape. Filming Stand By Me in Eugene, Oreg., when he was 14, Corey learned how to smoke marijuana from some local kids. "I remember rolling down the hills," he says. "It just seemed so fun." Back at school he smoked pot to impress his peers. He got their attention, he says, but also became the butt of their jokes.
His final step toward free-fall involved his legal emancipation from his parents at 15. He took the drastic step, he says, after discovering that all but $40,000 of the small fortune he had earned had disappeared. After the court declared him independent, he moved into his own apartment, "It was like being a bird let out of a cage," he says. After 1987's Lost Boys, and License to Drive a year later, he was rich again. He ran with a fast young Hollywood crowd, drinking heavily and doing coke, mushrooms and acid. "I had a BMW convertible, money, property, prestige, power, women, drugs—everything any 16-year-old would ever dream of," he says.
During this reckless period, he felt under the influence of a young man, who, as Feldman recalls with extreme discomfort, often stayed at his home and sexually abused him while Corey pretended to be asleep. "I would get real wasted," says Feldman, "and hope that I'd pass out and not remember anything the next morning." He didn't confront the man immediately—nor did feel he could confide in anyone. "I was afraid people would think I was a bad person and I was sick. Plus I didn't want to lose him as a friend because I believed he really cared for me."
After a year, he says, he finally put a stop to the abuse and eventually severed all ties with the man, but not before the man had introduced him to heroin to dull the pain of Corey's breakup with his first serious girlfriend. "I knew immediately that [heroin] was the ultimate answer," Feldman recalls. He gradually became hooked and routinely cruised downtown L.A. at 5 A.M., looking for dealers.
The one bright spot in his life was Vanessa. He had met her at a vegetarian restaurant in the summer of 1989, shortly after a brief fling with
Drew Barrymore
, who was herself struggling with alcohol and cocaine abuse. Two months after meeting. Feldman and Marcil married on the spur of the moment during a movie publicity trip to Las Vegas. "We were two people with a need for someone to love us," he says.
They were not, however, typical newlyweds. Partly because of Feldman's escalating drug use, Marcil maintained a separate residence. The time they did spend together was not exactly romantic. "It was ridiculous," Feldman remembers. "I'd leave Vanessa sitting at the dinner table in a nice restaurant for an hour while I'd be in the bathroom getting high."
It took two more well-publicized arrests after the March 1990 bust—and two aborted rehab attempts before Feldman realized he was out of control. In December 1990, he checked into Cri-Help, a strict, live-in facility in North Hollywood. "I was sitting there, and I said, 'You know, I'm real grateful to be here. Because tomorrow morning when I go into court, I could be sleeping on a cold, hard slab, and instead I've got this bed.' It was at that point I made the decision to turn my life around."
He stayed for nine months, during which he revealed his sexual-abuse secret to staff therapist Marlene Nadel. "You could see a lot of molestation issues in his behavior," says Nadel. "He didn't know how to trust." She adds, "The change in him has been amazing." Marcil joined him for therapy sessions and is planning to move soon into his Venice house.
Feldman was also buoyed in rehab by encouraging messages left on his answering machine from his friend Michael Jackson, whom he had met through Steven Spielberg. "I thought for sure he'd never want anything to do with me," Feldman says gratefully.
Now that, by some accounts, heroin has become increasingly popular in Hollywood, Feldman hopes his experience can serve to warn others. He often makes calls to other young actors in trouble. "I know what it's like crawling around on the carpet looking for that last rock," says Feldman. "I know the hell you go through and how lonely it is."
Painstakingly putting his life back in order, Feldman now wakes in the morning instead of at 4 P.M., sticks to a healthy diet and is even on good terms with his parents. Producer-director Richard Donner, who befriended Feldman on the set of 1985's The Goonies and lent him $8,000 for his Cri-Help stay, is confident the young actor's career is secure. Says Dormer: "I see now in him all the hopes that I saw in the beginning."
Occasionally, Feldman admits, he feels the urge to slide. "My brain likes to tell me, 'Oh, it's OK, you can go out one night and party.' And I say, 'Thanks for sharing, brain.' But I kinda just follow the party through—all the way to jail. It's not worth the 15 minutes of good feeling."
JEANNIE PARK
ROBIN MICHELI in Los Angeles
Contributors:
Robin Micheli.
SIPPING ORANGE JUICE IN THE TOY-FILLED GAME ROOM OF HIS little house in Venice, Calif., Corey Feldman cringes as he recalls a recent bout with the flu. "I was lying there completely dizzy and shaking," he says. "I was throwing up, I had diarrhea, my nose was stuffed up, and my throat was dry. And I thought, 'I used to pay good money to feel this way!' "
Advertisement
Today's Photos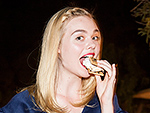 Treat Yourself! 4 Preview Issues
The most buzzed about stars this minute!