People Top 5
LAST UPDATE: Tuesday February 10, 2015 01:10PM EST
PEOPLE Top 5 are the most-viewed stories on the site over the past three days, updated every 60 minutes
Farewell Fergie?
The Palace Walls Shudder as yet Another Royal Knot Unravels
Finally, on March 19, the Palace formally announced that a separation was under discussion. London newspapers reported that solicitors for Fergie and the Queen spent Sunday at the Yorks' splashy country home, Sunninghill Park, helping them untangle the complex legal matters surrounding a separation. At issue were questions over occupation of the $8.7 million mansion, custody of Princesses Beatrice, 3, and Eugenie, 2, and financial support for the Duchess. By one report, she refused the Queen's request that the children live with the Duke but agreed to give him full visitation rights. At least one account had Sarah retaining her form of address as Her Royal Highness, but there was no word how property would be divided.
Even before the Palace statement, sources close to the Windsors did not deny the stories about a separation, the first reports of which came on the heels of the Queen's reported "grounding" of her daughter-in-law in January. Although Fergie's press secretary asserted that she had all but given up official engagements because she wanted to spend more time with her offspring, insiders said that the Queen had ordered her out of the public eye after the London Daily Mail was given photos of Fergie's 1990 Moroccan vacation with Wyatt. While the snaps showed nothing racier than the couple sitting cozily in a swing, a scheduled trip to the Austrian Alps as guest of a sports federation was canceled, and Fergie was ordered to skip the London opening of the sleek new Lanesborough Hotel—owned, coincidentally, by a group of Texans.
Royal decree or no, the Duchess "responded with a blanket refusal to cooperate with [the Queen]," according to the British newspaper Today. In January she took a spotty Bea skiing in Klosters before the child had recovered from chicken pox. Later that month she attended a dinner at Palm Beach's Everglades Club, which has been accused of excluding Jews, then downed champagne and lobbed sugar packets at her dad during her return flight to London. Later she made news by visiting the basement flat of a London faith healer known as Madam Vasso, who was said to have placed the Duchess under a blue plastic pyramid while she performed a psychic cure. Days before the separation rumors began to fly, the press reported that she had bought an $870 aquarium full of tropical fish—the better, it seemed, to calm her frazzled nerves.
All in all, it has been a trying month for the royal family, which is also contending with a scandalous—and deeply dubious—new biography of Diana by Lady Colin Campbell, 43, former wife of a brother of the Duke of Argyll. Serialized in The Sun this week, Diana in Private—the Princess Nobody Knows alleges that the Princess schemed shamelessly to land Charles and took a series of "confidants" after William's birth. At her most sensational, Campbell suggests that Barry Mannakee, a former royal bodyguard who died in a motorcycle accident, had actually been marked for death by the British Secret Service after the Palace discovered he was involved with Di. (Mannakee's father, it seems, dismissed the story as "preposterous.") At first, some disbelieving observers suggested that leaks of the Andrew-Fergie breakup might be a Palace ploy to deflect attention from the Diana book.
The fishbowl aspect of being a royal is a prime source of the Duchess' distress. When she became engaged to Andrew in 1986, the daughter of retired Life Guards Maj. Ronald Ferguson and Susan Barrantes was embraced by both the Windsors and by the country. The public, especially in America, saw her as a bracing non-conformist—a lusty tomboy who had left school to be a chalet girl in Verbier, Switzerland, and who had a long-term affair with racing driver Paddy McNally, about 20 years her senior. Said to approve of her spirit, the Queen went horseback riding with her; Charles liked her practical jokes, and Diana was grateful for an irreverent sidekick. And Andrew, of course, was besotted with her. When the two kissed on the balcony at Buckingham Palace after their July 23, 1986, wedding, it was no frugal Wales-style peck—they looked as though they meant it.
The trouble came after Beatrice's birth in 1988, when Sarah began to balk at the rigors of royal life—a life that, for all of his youthful tomcatting, Andrew accepted. "Unfortunately, since she's come into the royal family, she has rarely put a foot right," says a Palace intimate. While Andrew was serving in the navy and her sisters-in-law were devoting themselves to the family business, the Duchess was nightclubbing with the Concorde crowd and drawing criticism for her inattentiveness to her children. Saying her allowance was inadequate, she accepted free first-class air tickets, demanded payment for interviews and asked designers to give her expensive clothing. (Couturier Zandra Rhodes turned her down, saying, "I don't need the publicity.")
Fate caught up with Fergie in the autumn of 1989 when she visited Houston as a guest of socialite Lynn Wyatt, who is Steve's mother and a Ferguson family friend. Apparently renewing an old acquaintanceship, Sarah and Steve, now 36, began seeing one another often, even vacationing together in the south of France. When Fergie seated her great friend next to her mother-in-law at a dinner party, the Queen was annoyed.
While well-placed sources describe the relationship as primarily a "very, very good friendship," it has caused almost as much damage as a full-blown affair. The Queen reportedly saw copies of the Morocco photos as long ago as 1990, and both she and Andrew were said to be upset by the Duchess' indiscretion. As the Daily Mail put it, the trouble lay "not so much in the holiday itself, which the Palace knew about. It is the unthinkable and even casual way the friendship was conducted, with little concern for repercussions on the royal family." Last year Wyatt returned to the States and is now living in Alexandria, Va.
It appears, however, that Andrew has remained hypersensitive on the subject of Wyatt. "Andrew is a remarkable man who appears to be able to put up with anything except humiliation," one prominent friend has said. "He can accept that his wife has a past, but he can't cope with it being flaunted in front of him."
At a dinner party at Sunninghill recently, the Duke stunned guests by erupting when Lulu Blacker, a friend of Fergie's, mentioned Wyatt. "He stood up and flung his plate on the table," one guest has said. "Andrew looked like he was going to explode."
In recent weeks the Duke reportedly has spent as much time as possible away from his wife—playing golf and watching videos until the early morning hours. The two have not been seen together publicly since their Christmas visit to Sandringham, where the Windsors gather for the winter holidays.
It was at Sandringham that the couple reportedly broached the subject of separation with the Queen, who, according to royal protocol, must give permission for such moves. She is said to have asked the Duchess to wait a few weeks until making a final decision. In the meantime both Anne and Diana, who has distanced herself from Fergie over the last two years, reportedly tried to persuade her to reconsider.
At the moment Sarah's future is unclear. Solicitors undoubtedly will need weeks or months to hammer out an agreement between her and Andrew. She reportedly has a mountain of overdrafts, and the two must decide who will be responsible for her debts. "There will be a financial settlement on her, so she would never have to worry about anything," says a British writer who has studied the royal family. "I would think that she would probably be required to sign a quite rigid contract that she wouldn't divulge any secrets she's been privy to while she has been a member of the royal family—she couldn't write her memoirs."
As for Andrew, he will have a chance to rebuild his life. "Most people in this country like him," says the writer. "If there is a breakup, all the sympathy will be on his side."
And while the divorce of her second son would be a bitter blow to the Queen, it would not cause her to stumble. In the words of one who knows the Windsors well, "She's now seen the marriage of one of her children definitely break up, the possible breakup of another, and the mounting speculation about the [rift between] the Prince and Princess of Wales. The Queen will ignore it—she will carry on as if it never happened."
MICHELLE GREEN
TERRY SMITH and ROSEMARY THORPE-TRACEY in London
Contributors:
Terry Smith,
Rosemary Thorpe-Tracey.
Advertisement
Today's Photos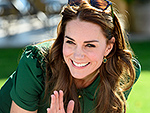 Treat Yourself! 4 Preview Issues
The most buzzed about stars this minute!