People Top 5
LAST UPDATE: Tuesday February 10, 2015 01:10PM EST
PEOPLE Top 5 are the most-viewed stories on the site over the past three days, updated every 60 minutes
Picks and Pans Main: Screen
Brain Donors
That Leaving Normal features a running joke about confusing the words "flan" and "phlegm" indicates this winning comedy-drama's offbeat mindset. Blending
Northern Exposure and Thelma & Louise
(minus guns), Normal is a movie about inadvertently finding self, home and family.
At its heart are the affecting Lahti and Tilly, strangers who become friends while pooling resources and wits on a Wyoming—Alaska trip. Lahti (
The Doctor
) mines the showier role as a foulmouthed ex-waitress—the kind of woman who advises kids to smoke when they grow up. The less flashy Tilly (
Agnes of God
) is effective too as a young woman who, despite a history of failed marriages and careers, expects happiness to be just a life choice away.
Director Edward (
Glory
) Zwick, helped by a sweetly goofy screenplay by Edward (
Bill & Ted's Excellent Adventure
) Solomon, has created a road picture that meanders but knows where it's going. (R)
Willem Dafoe, Mickey Rourke, Mary Elizabeth Mastrantonio
Early in this thriller, the son of small-town deputy sheriff Dafoe leaves his bike in a heap on the sidewalk three times, and three times is admonished. Surely, then, the bike will figure somehow in the plot. That would make sense, but nothing makes sense in
White Sands
.
Dafoe's easy routine keeping law and order in a New Mexico backwater is shattered when he finds a man lying in the desert, a gun in one hand, a briefcase holding a fortune in cash just beyond his reach. The coroner thinks it is suicide. Dafoe is sure it's murder. This belief drop-kicks him into a grim world whose citizens demand distrust. Among them are arms dealer Rourke and Mastrantonio, a rich adventuress.
White Sands
, while it looks great, is muddled. Daniel Pyne's idle dialogue doesn't help. (Dafoe: "You're not the kind of woman I'd expect to ride in a rodeo." Mastrantonio: "I'm not the kind of woman you'd expect.")
Rourke, supposedly charismatic, comes across as a thug. Mastrantonio overdoes the long, melting looks. Dafoe deals nicely with the role of a naive cop in just about over his head, but ultimately,
White Sands
is so much quicksand. (R)
Larry Fishburne, Jeff Goldblum
In this film by director Bill (
A Rage in Harlem
) Duke, Fishburne (
Boyz 'N the Hood
) plays a Cleveland cop hired by a Drug Enforcement Administration official to infiltrate the L.A. underworld and bring down a drug cartel. That's a Ramboesque order for a lone cop, especially when he's teamed with feckless attorney-dealer Goldblum. This is, however, not so much a black
Rambo
as a study of a world where politics and money blur the lines between the law and the lawless. Goldblum, at his best joking with Fishburne, is hard to buy as a heavy. Fishburne is sympathetic as a good cop who must do wrong or die. (R)
John Turturro, Nancy Marchand, Mel Smith
Executive producers David and Jerry Zucker cite Abbott and Costello in their ads for this movie, and in its credits they say that the film was "inspired" by
A Night at the Opera
, obviously hoping to suggest Brain Donors is a Marx Brothers-class comedy. In their dreams.
In this clumsy exercise in slapstick, Turturro (
Jungle Fever
) is an ambulance-chasing lawyer with a Groucho-ish name, Roland T. Flakfizer. A strong actor, Turturro is a charmless comic. His two partners are equally weak. Bob (
Kindergarten Cop
) Nelson wears a baggy, Harpo-style overcoat and even beeps a horn. He comes nowhere near Harpo's sweetness, though, and is almost as abrasive as the fidgety, vulgar British comic Smith, who helps Turturro and Nelson try to swindle widow Nancy Marchand.
The bland romantic underplot features young Juli (
Dragnet
) Donald and newcomer Spike Alexander as dancers trying to join the company Marchand is financing. Director Dennis Dugan and writer Pat (
Naked Gun 2½: The Smell of Fear
) Profit nail a few targets. When Nelson complains how boring ballet is, Turturro says, "I get twice the sleep at a Julio Iglesias concert." But most of Profit's script is way off the Marx: Turturro promises Marchand a Caribbean trip to see "that old Jamaican moon." "Though why the old Jamaican wants to moon us is beyond me."
The best chuckles come in incidental scenes, such as when Turturro and his pals wind up in jail and sing this unorthodox jailhouse medley: "Nobody Knows the Trouble I've Seen," "Alfie" and "The Lion Sleeps Tonight."
There's little comic momentum, though. As pale imitations go, this one is invisible. (PG)
Contributors:
Leah Rozen,
Joanne Kaufman,
Mark Goodman,
Ralph Novak.
Christine Lahti, Meg Tilly
Advertisement
Today's Photos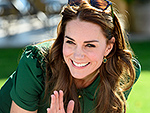 Treat Yourself! 4 Preview Issues
The most buzzed about stars this minute!