People Top 5
LAST UPDATE: Tuesday February 10, 2015 01:10PM EST
PEOPLE Top 5 are the most-viewed stories on the site over the past three days, updated every 60 minutes
Picks and Pans Main: Song
Here I Go Again
Here is a band that definitely has had its share of misfortune. In 1984 drummer Rick Allen lost his left arm following a New Year's Eve ear crash. Then, last January, guitarist Steve Clark, to whom this record is dedicated, died at age 30, after years of chronic alcoholism. Nevertheless, these British rockers—singer Joe Elliott, guitarist Phil Collen, bass player Kick Savage and a one-armed Allen—soldier on. Loudly.
The fifth Leppard album in 12 years hits the usual spots with such stadium razers as "Tear It Down." But the band has refined its crash-boom style as well. "Let's Get Rocked" is a pure pop melody with a dash of funk flavoring. "Heaven Is" sounds like one of Bryan Adams's earnest power ballads. Ironically, the album's slowest song, "Tonight," may be its most impressive.
In Clark's absence, Collen does a pretty good job of handling the work of two guitarists, slamming enough sturdy rock riffs into songs like "Make Love Like a Man" and "Personal Properly" to keep the head-bangers appeased. (Guitarist Vivian Campbell has recently been added for the band's upcoming tour.) The biggest change on this record may be the replacement of Robert John "Mutt" Lange, who has produced all the group's previous hits. (Lange still cowrote all but one of the songs on Adrenalize.)
New producer Mike Shipley doesn't have Lange's heavy touch for symphonic metal. But on Adrenalize he adds his own embellishments by overdubbing Elliott's voice until it sounds like a large chorus or by arranging an intricate intro for "White Lightning."
With this LP, Def Leppard's brand of rock—always rather formulaic—is a little more cheery, clean and delicate, though it lacks the volcanic power of their best work nearly a decade ago on High 'n' Dry and Pyromania. Still, Adrenalize is superior to Def Leppard's last release, 1987's Hysteria, and that one sold 14 million copies with the help of flashy videos and constant touring. So, maybe this is a band that knows how to make its own luck. (Mercury)
Tori Amos
Male sensitivity seems to be today's hot topic. Women demand it, men try it, but fie on Robert Bly. All it takes for a guy to get in touch with what women really want is 57 minutes with Tori Amos's debut disc.
All too often, these kinds of gentle, thoughtful tunes get peremptorily dismissed as "girl music." Yet there's something about the engaging melodies and introspective lyrics from this North Carolina singer-songwriter, who now makes her home in London, that brings "boy music" hero Bruce Springsteen to mind.
At first, Amos bears a resemblance to another girl music queen, Kate Bush. Amos's voice—one moment a sexy whisper and the next a diva's belt—and her austere piano-and-percussion sound sometimes seem an echo of Bush's earlier work. But it's Amos's highly personal stories that make her sound like a sex-changed Springsteen.
In "Silent All These Years," she tells of a woman learning to assert herself in a suffocating relationship. In "Girl," Amos examines someone who "has been everybody else's girl." The chilling a capella "Me and a Gun" describes a rape scene straight out of Thelma and Louise.
With her gift for masking blunt lyrics with lush melodies. Amos ought to tame all but the grisliest macho man. (Atlantic)
Glenn Jones
This album serves notice that Jones merits inclusion in today's temple of powerhouse soul tenors, joining the likes of Jeffrey Osborne, James Ingram. Howard Hewett, Aaron Hall of Guy and Stevie Wonder.
During the slow, smoky groove of "Call Me," Jones's voice is so strong, supple and insistent that it seems as if he might reach out of the speakers and pull you back through just for a face-to-face serenade.
On the album's highlight track—the insinuating ballad "I've Been Searchin' (Nobody like You)." which the singer wrote with producer Bernard Belle (brother of singer Regina Belle)—Jones's wife, Genobia Jeter-Jones, offers some sweet background harmonies. On songs like this, when Jones mixes passionate improvisations with repeated melodic phrases, his gospel background is most evident. (A native of Jacksonville, Fla., Jones, 31, signed a recording contract at 16 with gospel legend Rev. James Cleveland. By then the precocious youngster had already recorded two gospel albums with a group called the Modulations.)
There's only one overtly spiritual entry on Here I Go Again, the dizzying song "Say Yeah," which presents the gospel according to New Jack. More interesting are the Olympic-caliber vocal gymnastics Jones displays on the lavish love song "In You" and on the more up-tempo title track.
The material on this recording isn't consistently enticing. But Jones's voice is so vibrant and impressive that when he's singing, it's hard to concentrate on the notes in the background, or on anything else for that matter. Jones is that rare kind of singer who can make the whole world disappear. (Atlantic)
Contributors:
David Hiltbrand,
Craig Tomashoff.
Def Leppard
Advertisement
Today's Photos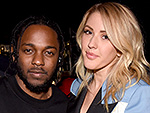 Treat Yourself! 4 Preview Issues
The most buzzed about stars this minute!