People Top 5
LAST UPDATE: Tuesday February 10, 2015 01:10PM EST
PEOPLE Top 5 are the most-viewed stories on the site over the past three days, updated every 60 minutes
Designing Women's Man
In the Eye of the Storm, Meshach Taylor Knows the Art of Diplomacy
Given his diplomatic maneuvering through Designing Women's highly publicized behind-the-scenes mine field, Taylor, 45, might just as easily qualify for the Legion of Honor. He emerged untainted from the bitter fight between Delta Burke and the show's producers, which ended in the star's departure last summer. ("It's sad it had to end that way," he says.) He weathered the cold audience reception given Burke's replacement, Julia Duffy, who left the show after just one season. ("She worked really hard and was always professional," he says.) He also scotches rumors that actress Jackée, who played Taylor's fiancée in the show's season-ending cliff-hanger—and may return in the fall—has already shown prima donna tendencies. Says Taylor, a longtime friend of the actress: "It was nice to work with her after all these years."
Through it all, according to costar Alice Ghostley, Taylor has been the show's "Rock of Gibraltar." Dixie Carter, DW's matriarchal Julia Sugarbaker, couldn't agree more. "It's so nice to have a man around the set," says the actress. "Especially a good man who is confident and strong. He's absolutely grounded."
As he has been for some time. The eldest of three children of two former college professors, Taylor, a precocious child, first learned acting technique as a survival skill. "The kids called me the Professor, and I got beat up a lot," he says. "So I dummied up until I got into the 11th grade."
After an early marriage (which resulted in the birth of daughter Tamar, now 22) collapsed, Taylor plunged into local theater work in Indianapolis and Chicago before his make-or-break move to Los Angeles in 1978. There he spent several lean months living part-time in his 1973 Mercedes. "He went from my house to his car because he was too proud to stay any longer," says actor Joe Mantegna, a friend from Taylor's early theater days in Chicago. "But even when he didn't have any money, he always had style. He was on the cutting edge of men's colognes, and he was always buying yachting magazines and GQ."
Taylor supported himself with a string of minor film and TV roles until 1986, when he walked onto the Designing Women set as a mouthy deliveryman whose upward career track has kept apace with Taylor's own expanding role on the show. "Meshach is as strong as any of the women," says David Steinberg, who directed the show's most recent season. "He never spills over into shtick—and he never misses a laugh line."
Nor does he miss a chance to keep a friend. "Years ago I wanted him to be my boyfriend, but he wouldn't give me a tumble," says Jackée, another pal from the Chicago acting circuit. "I still like him, though," she adds with a laugh. "He's a real sweetheart."
A sentiment shared, no doubt, by Taylor's wife of eight years, Bianca Ferguson, an actress who played a longtime role as Claudia Phillips on General Hospital. As father of the couple's three children, Yasmine, 7, Estmé, 4, and Tariq, 21 months, Taylor "took care of all our babies better than I did," says Bianca. "He bathes them, clips their nails, buys all their shoes. It's the big brother in him. He knows how to take care."
Among Taylor's other charges are the kids of Five Acres, a home for abused children in the family's Altadena, Calif., neighborhood. This summer he's also looking forward to a move with his brood to a spacious two-story Egyptian-style home—as well as his appearance in the upcoming Kid N' Play comedy, Class Act.
Next season on Designing Women, if further fireworks develop, he promises to remain unfazed. The name "Meshach," after all, is taken from an Old Testament character who entered a fiery furnace—and emerged miraculously unscathed. "All I want to say about my name," says Taylor, pausing for effect, "is that I like the metaphor."
SUSAN SCHINDEHETTE
LOIS ARMSTRONG in Los Angeles
Contributors:
Lois Armstrong.
ON A PARTICULARLY TENSE DAY LAST season, there was a knock on the dressing-room door of Meshach Taylor, Designing Women's ex-con turned law student, Anthony Bouvier. It was new cast member Jan Hooks, in tears over a disparaging remark from a crew member about how nervous she had seemed on The Tonight Show the night before. Taylor invited her in, then disappeared. "Within 30 seconds," says Hooks, who plays guileless girl Friday Carlene, "that crew guy was literally on his knees before me, apologizing. Meshach had gone out and said to him, 'You know, I think you hurt somebody's feelings, and I don't think that was a very nice thing to do.' That's when I knew: This is my hero."
Advertisement
Today's Photos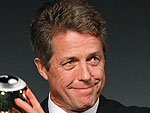 Treat Yourself! 4 Preview Issues
The most buzzed about stars this minute!