People Top 5
LAST UPDATE: Tuesday February 10, 2015 01:10PM EST
PEOPLE Top 5 are the most-viewed stories on the site over the past three days, updated every 60 minutes
Picks and Pans Main: Tube
Taping Tips
USA (Wed., May 20, 9 P.M. ET)
B
A college student (Gremlins' Zach Galligan) has clairvoyant powers. Let me tell you, this psychic racket is terrific for picking up babes. All Galligan has to do is touch an article belonging to someone he's interested in and—boom—suddenly they have a lot in common. "I like Dostoyevski and Bach, and I'm addicted to Chinese food," he tells a very impressed Catherine Mary Stewart (Hearts Are Wild). Whaddya know? Those happen to be her passions too.
So far it sounds like a script in development for Scott Baio. But Galligan is also having visions of the crimes of a serial killer before they occur. When Stewart pops up as the victim in the middle of one of these nightmares, Galligan must take desperate action.
Director George Mihalka lays out the action in an economical, unadorned and, given the subject matter, almost plausible way up until the hectic climax. The movie is presumably set in Boston. If Galligan can drive from Beantown to the mountains of New Hampshire to rescue Stewart in the negligible time elapsed, this has the makings of a spin-off series: NASCAR Psychic. You can almost hear the après race interview: "Well, Jerry, I went wide on that third turn because I just had a feeling Dale was about to blow a tire."
MTV (Thursdays, 10 P.M. ET)
B+
Never a tight ship to begin with, MTV continues to loosen up the mix with shows like Hangin' with MTV, with its romper-room revelry, and this new program, which is like a '90s version of the Loud family epic. MTV calls it a reality-based serial. Place seven young strangers (ages 19 to 26) together in a fabulous Manhattan loft for three months and turn on the cameras. As they live in this glasshouse, the group members hang out, develop intra- and extramural relationships and pursue their individual interests (music, modeling, etc.).
As a social experiment, this project fizzles because of the imposing scrutiny (even the phone is tapped) and because of the artificial relationship foisted on these instant loftmates. But as television, it's rather intriguing. The more you get to know the seven, the greater your curiosity to see what happens to them. (Each of the 13 episodes will be repeated four times over the weekend.) For young adults, this show offers a more accurate reflection of how their contemporaries really talk and think than previous generations have gotten from TV.
ABC (Tuesdays, 10 P.M. ET)
C
The first of the networks' summer series, this weak six-weeker stars Hal (Barney Miller) Linden as the proprietor of the bar-restaurant of the title. Finola (General Hospital) Hughes is a cocktail waitress, and John (Campus Man) Dye is a bartender. Each week they and a rotating cast of special guests (Linda Purl, Robert Guillaume, Denise Crosby, Mickey. Rooney and others) fall in and out of relationships.
Yes, love is all around in this show, which plays out like a cross between those dumb Tasters Choice freeze-dried romance commercials and Finder of Lost Loves, Tony Franciosa's old series. The stars are appealing, and Hughes in particular is a revelation of charm and range. But the series is much more syrupy than sweet. In one episode, special guest
George Clooney
, haunted by his dead wife, plays Olivia Newton-John singing the sound track from Xanadu to summon up his dearest's memory. Now, that's sappy.
CBS (Tuesdays, 11:30 P.M. ET)
C+
The final spoke in CBS's Crime Time After Prime Time late-night action-wheel stars Geriant Win Davies as a Toronto homicide detective who comes out only at night. You see, he's a 700-year-old vampire. But he's a good-guy vampire, valiantly fighting crime and his own bloodthirsty impulses. Davies drives an old Caddie so he can jump into the roomy trunk whenever he gets caught out in the daylight.
John Kapelos, Catherine Disher and Gary Farmer costar in the series, which is a good three time zones beyond farfetched but at least maintains a ghoulish kind of style. If the show seems a little familiar, it may be because with a different title (Nick Knight) and a different star (Rick Springfield), this same concept served as a failed pilot for CBS in 1989.
PBS (Fri., Mar 22, 9 P.M. ET)
C+
If Maya Angelou weren't a successful author (I Know Why the Caged Bird Sings), she'd make a pretty good preacher, as she demonstrates in this special, a kind of sacromercial about the redemptive power of faith. "Each one of us is edge-walking all the time," she tells a church group. "Every minute, every second...I believe it is faith which allows men and women to love each other and to dare to have children. I believe faith and faith alone can be credited with those miracles."
The program is also about community, highlighting two charismatic congregations: the Glide Memorial Church in San Francisco's Tenderloin district and the Mount Zion Baptist Church in Winston-Salem, N.C.
It's a rambling, unfocused hour, but when you see all these people in church, hugging and singing, their faces shining, it is obvious that our capacity for faith does stem from the finest part of human nature.
>TV MOVIES SUCH AS INTRUDERS AND this week's Psychic (see review) often delve into the mystic. But as far as series go, there are only two devoted to the supernatural. USA's Beyond Reality is a cheesy but improving drama that stars Shari Belafonte and Carl Marotte as a pair of psychologists who investigate psychic phenomena, usually when protecting people from evil forces. Recent episodes have dealt with a succubus inhabiting a woman's body and a sword-and-sorcery game that gets way out of hand. Fox's Sightings is a "reality" show hosted by newscaster Tim White. Each episode focuses on a different topic, such as ESP, big-foot or "near-death" experiences. The show grew out of Fox specials about ghosts and UFOs, which were executive-produced, as is the series, by Henry Winkler. Hmm, two shows about the occult, and they both just happen to air on Fridays at 9 P.M. ET. Coincidence? I think not.
>THE SWEET SCENT OF JAZZMEN
FRIDAY (MAY 22) IS JAZZ NIGHT. CABLE'S BRAVO HAS MILES AND FRIENDS (10 P.M. ET), which captures Miles Davis in Paris last July during his final tour. His pithy, penetrating trumpet style is still a marvel on such compositions as "All Blues" and a funky cover of Prince's "Penetration." A few of Miles's former sidemen stop by to jam, too, including Wayne Shorter, Herbie Hancock, John McLaughlin, Dave Holland, Bill Evans and Chick Corea. Jacksonville Jazz XII (PBS, 10 P.M. ET) presents another delightfully eclectic lineup from the annual Florida jazz festival. The slate includes the Rippingtons, Cuban trumpet player Arturo Sandoval, Bela Fleck and the Flecktones, the Chick Corea Elektric Band and singer Diane Schuur.
The week's must-see event is Friday's farewell to Johnny (see cover story, page 75). No announced guests, but a studio full of invited friends and who-knows-what surprises. In an unprecedented display of respect (Or is it just bowing to the inevitable?), a couple of Carson's competitors are funneling their viewers to his final show. Arsenio is scheduling a rerun, saying he'll be home watching Johnny, and he thinks everyone else should be too. And cable's Comedy Central will show a graphic recommending viewers switch over to NBC. If Comedy Central's ratings go up Friday, when the channel is essentially showing a blank screen, it may be time to reconsider its programming philosophy.
Advertisement
Today's Photos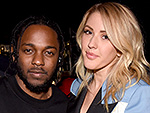 Treat Yourself! 4 Preview Issues
The most buzzed about stars this minute!