People Top 5
LAST UPDATE: Tuesday February 10, 2015 01:10PM EST
PEOPLE Top 5 are the most-viewed stories on the site over the past three days, updated every 60 minutes
A Bittersweet Goodbye
With Laughter and a Hint of Regret, Johnny Carson Swings into the Final Week of His Epic Late-Night Reign
ON OCT. 1, 1962, AT NBC'S STUDIO 6B in New York City, Groucho Marx stepped before the cameras to introduce a skinny Nebraska-bred comic with modest TV credentials who would replace Jack Paar as host of
The Tonight Show
. Then Johnny Carson, 36, appeared with that pixilated smile that seemed to say he and the viewers shared a very special and slightly naughty little secret. "Jack Paar was king of late-night television," he said. "Why don't you just consider me the prince?"
Thirty years later, on a recent April night at NBC's Burbank, Calif., studios, comedian and sitcom star Jerry Seinfeld wound up his five-minute routine on The Tonight Show, then sat down in the guest's chair next to the gray-haired prince who, at 66, was about to abdicate his particularly American throne. Suddenly, during a commercial break, Seinfeld recalls, Johnny leaned over and confessed to him that he was finding it difficult to leave. Carson seemed loose and light, but at the same time genuinely saddened, as if the reality of the Moment was finally upon him. Seinfeld adds, reflectively, "I can't imagine someone telling me that I'm not going to have a relationship with a live audience anymore. I mean, it really becomes like a marriage in your life. You have this love affair with the audience, and you work for them, and they support you."
For Carson, that late-night TV love affair finally comes to an end on May 22, when the comic, after all these years of lighthearted interviews, presidential jokes, Ed McMahon jokes, NBC jokes, Burbank jokes, mock magic shows, idiotic animal acts, project plugs and Carnac skits, swings his imaginary golf club for the last time. Then, wearing that same elfin smile, tinged with perhaps a touch of melancholy, the prince will relinquish his desk to the legitimate pretender with the punctilio wit, Jay Leno, 42.
Carson has been a lame duck since he formally announced his leave-taking last May. Immediately a countdown ensued, marked by the almost ritualistic visits of megacelebrities—Elizabeth Taylor, Warren Beatty, Steve Martin—parading past the desk to pay homage. Meanwhile, Carson has steadfastly maintained that the decision to step down was his own. Granting a rare interview last year to author Paul Rosenfield for his new book,
The Club Rules
, about Hollywood power politics, Carson said of his announced exit: "I remember when [CBS president] Jim Aubrey canned Jack Benny [in 1964]—and I made sure that it wouldn't happen to me. I always said I'll know when the time has come."
Whether Leno—or Arsenio Hall or Dennis Miller or Chevy Chase or anyone else—can gain the hold Carson had on the nation's whim and whimsy is questionable in this era of triple-digit cable channels and targeted audiences. In any event, it will scarcely seem like bedtime without Johnny, plying his illusionist's trade behind that desk, playing with a pencil, setting up the gags with sidekick McMahon and bandleader Doc Severinsen as his straight men, often playing the straight man himself to the cavalcade of stars and comedians who graced his 4,531 shows, but always, always in control. A master of comic timing that spliced Bob Hope's vaudevillian drum-and-leer with Jack Benny's beatific bafflement, Carson knew better than anyone else in the history of television how to pull an audience into the tent—was there ever a better opening monologist?—and keep 'em there, night after night.
Why? Perhaps because Carson is a genuinely funny man from the heartland who never left his Nebraska roots behind. He was hip but never bicoastal. He also mastered the extraordinary art of gaining a rapport with the stars, and sharing it with his audience, without going Hollywood himself.
His ever escalating earnings (an estimated $25 million in 1991) did, however, allow him to go Malibu, with his $11 million palace by the Pacific. He paid a personal price, of course; the job cost him three marriages, to Jody Wolcott (1949-63, mother of his three sons, Chris, 41, Cory, 38, and Rick, who died in a freakish car accident last year, at 39), Joanne Copeland (1963-72) and Joanna Holland (1972-85). As he once confessed: "If I had given as much to marriage as I gave to The Tonight Show, I'd probably have a hell of a marriage." Yet like his own failed jokes, his marital problems became grist for his comic mill, and he did for divorce what Lucille Ball did for pregnancy in I Love Lucy. Through it all, though, he remained an elusive, enigmatic figure. The only time he really let his hair down on his show came last July 17, a month after the death of Rick, a photography enthusiast, when Johnny solemnly showed his audience a series of Rick's photographs.
Now, with the final "hey-yo's" resounding in Burbank's Studio 1, McMahon, 69, will continue as host of the syndicated Star Search and Severinsen, 64, is gearing for a summer tour with his orchestra. But Carson, as ever, is silent about his future. Surely he is too intense a performer merely to retire to his estate with wife Alexis, 42. Carson is negotiating to lease an office in Santa Monica right above Arnold Schwarzenegger's new restaurant, Schatzi's on Main, and one report has it that he intends to produce and serve as host of—are you ready?—astronomy specials. That means we'd see Johnny again with Carl Sagan—but not, alas, with Jonathan Winters, Robin Williams, Don Rickles et al., or Ed and the band and the Mighty Carson Art Players. Says another competitor, Nightline host Ted Koppel, who paid his respects on Tonight April 9: "It's like missing a family member or a popular person around the office. There's a dull ache for a while, but you don't quite know what's missing. Is America going to come to a grinding halt? No. Is it sad that he's leaving? Sure it is."
Heeere's to Johnny and all those he hosted
Audience member: "What made you a star?"
Johnny Carson: "I started out in a gaseous state. Then I cooled."
"It was like coming over the crest of a roller coaster," says Jerry Seinfeld of his first
Tonight Show
gig (May 6, 1981). "Four years of click, click, click, click up, and all of a sudden you're on this show, and you're doing 60 miles an hour. It was the difference between thinking you're a comedian and really being one."
"During my routine, Johnny had to grab his desk to keep from falling over, he was laughing so hard," says Drew Carey, who first turned up on
Tonight
last November. "And then he called me over to the couch. At the [commercial] break, I started to get up, but he said, 'Now, Drew, this is the part where you just move down the couch.' I keep telling everybody it was like having the hand of God on me."
Tonight veteran (158 appearances) David Brenner says his first time on the show (1971) changed his life overnight: "I had $3 to my name at the time. Within 24 hours, I had $10,000 worth of job offers." Impressionist Rich Little used to visit Tonight 10 to 12 times a year and was a frequent guest host in the late '70s. "Then all of a sudden it came to an end; I was just a no-book," he says. "I couldn't get an answer why. You just don't know if you said something on the show that put [Carson] off. To this day, it still bothers me, because it was such a part of my life."
"In my hometown [Greeneville, Tenn.] an Academy Award doesn't rate with being on the Carson show," says Park Overall (nine appearances), who plays the feisty Nurse La Verne on NBC's
Empty Nest
. Carson's mood, she adds, "may all depend on how the monologue goes. My mommy and daddy notice that he may not be in the best disposition when it doesn't go well."
Scariest monologue (Dec. 19, 1973): Carson provokes a nationwide run on toilet paper after he reports reading about a possible shortage.
"There's a sense of danger" about Carson, says friend and former talk show rival Dick Cavett. "You don't know what he might say next. He's got that fraternity emcee, badboy quality with the Midwestern overlay that makes him acceptable to audiences. He's got a touch of Huck Finn, a touch of Groucho, and more than a touch of Benny and Hope."
Leonard Waxdeck, 59, who has brought his teenage band of birdcallers from Piedmont (Calif.) High School to
The Tonight Show
for the past 17 years, remembers: "One year we had a kid who was going to do the call of the loon. He was just experiencing puberty, and when he gave the call, his voice broke and the audience laughed. Carson quickly said, 'Don't worry, kid, it happens to all of us.' The place roared."
The San Diego Zoo's Dr. Joan Embery once brought a tarantula onto the show. Carson allowed her to take it out of its Plexiglas box and let it crawl up his arm. "I think maybe he had some inhibitions," says Embery, "but he knew if he picked up that tarantula, he'd have the audience going crazy."
"Today Walter Mondale said he's happy he's no longer the front-runner in the presidential race. And if you believe that, you believe they'll name a sandwich after Jesse Jackson at Nate 'n' Al's kosher deli."—Carson monologue, 1984
"If Johnny starts needling a politician, [the politician is] doomed," says Michael Barrie, a
Tonight Show
writer for the past 15 years. "But he also has an ability to know when to lay off. He was one of the first to stop doing Nixon jokes after he waved goodbye on the helicopter."
"Johnny's never mean-spirited," says longtime guest Orson Bean. "A lot of other people will use you to get a laugh. If Johnny gets a laugh, it feeds you. It's a nurturing thing."
Rohan Varavadekar was one day shy of turning 5 when he appeared on The Tonight Show as a 1987 spelling wiz. Now a sixth grader at Houston's Albright Middle School, Rohan remembers: "During a commercial, Johnny said, 'You're doing good.' He also did a magic trick and made a quarter disappear. Afterwards, he gave me the quarter and taught me how to do the trick."
Mr. Universe: "Don't forget, Mr. Carson: Your body is the only home you'll ever have." Carson: "Yes, my home is pretty messy. But I have a woman who comes in twice a week."
Tony Randall, who has been a Tonight Show guest 103 times, believes the secret of his host's longevity is: "He's so likable. And he's extremely sexy. Women have always been crazy about him. And, of course, they watch him when they lie in bed at night, and they have a fantasy, I'm told, that he's watching them."
Is Carson aware of women being attracted to him?
Tonight Show
director Bobby Quinn chuckles. "Yeah. He gets a kick out of it. There have been certain ladies who openly flirt with him—Angie Dickinson, Liv Ullmann. After a show, he'll say to me, 'Was she flirting with me?' And I'll say, 'Yeah!' 'I thought she was!' he'll say. He's a little surprised by it."
Angie Dickinson did more than flirt with Carson—she dated him before he married his fourth wife, Alexis Mass. They still socialize. "Recently," she says, "Dinah Shore and I joined Alexis and Johnny for dinner one night in Malibu. We were all rather giddy, and when we got back to the house, we all just went wading in the pool with our shoes on."
For Carson, it was a rare extroverted moment. "He's very, very quiet a lot of times," Angie says. "You could drive 50 miles with him, and you'd only get a few smiles." She adds: "I don't think he craves going places where he might be recognized, like Disneyland. I have a feeling that unless you marry him, he will always appear to be complex. He could simply be a wonderful, funny man from Nebraska."
"The best thing about Johnny is the way he has kept the little boy in him alive," says actress, filmmaker and friend Dyan Cannon. "One night I had a party at my house, and he played drums all night long while Dudley Moore played on the piano—till 5 in the morning."
"I saw his drums," says pal Burt Reynolds. "I was a good friend of [the late drummer] Buddy Rich. I asked Buddy one time. He said, 'He's damn good.' I can't imagine him starting to play a pair of drums in front of Buddy Rich unless he is pretty damn good. And he is."
Johnny is also "very competitive without showing any anger," notes Reynolds. "I've been to his house and watched him play tennis. He's terrific. He has kids from Pepperdine University [in Malibu] come over. He wears three of them out."
"I heard from my cat's lawyer.... My cat wants $12,000 a week for Tender Vittles."—Carson quip Judge William Hogoboom: "I was the trial judge in one of his divorces [from third wife Joanna]. I also married him to his current wife [on June 20, 1987]. He wanted to avoid publicity. There was nobody at the wedding—just his brother, Dick, my wife and me outside his home in Malibu, overlooking the Pacific Ocean. They had a speaker phone hookup, so the bride's father and mother—on the East Coast, I believe—could hear. Her father gave her away. Johnny didn't muff his lines. Oh, yes, they kissed."
"He's not very social, but he's a true friend," says Dyan Cannon. "When I was recently getting divorced [from attorney Stanley Finberg], he was the first to call and say, 'Let Alex and me take you to dinner.' "
"He was very, very kind to me when I was going through a terrible divorce [from opera singer Brenda Boozer in 1988]," says comedian Robert Klein, a regular
Tonight Show
guest. "He advised me to make sure to let my boy [Alexander, then 4] know that I love him very much, and he kept telling me this over and over."
Carson dealt with the loss of his son Rick, 39, in a car accident last year, "in a healthy way," says astronomer Carl Sagan, for years a Tonight Show regular (26 appearances). "A pathological way would have been to keep it all in. The fact that he talked about it on national TV indicates a well-integrated personality."
"We're running out of goodbyes," gibes insult sultan Don Rickles, a Carson crony for 25 years. "It's like you're standing on the highway and he's about to get in the car, and you want to say, 'Just get in the car and go, Johnny.' "
"I'm 50 now, and I am sure I won't be doing
The Tonight Show
in 10 years. I doubt if I'll be doing it at 55."—Carson, 1976
"I don't want to sit there when I'm an old man. I'm 53 now; I don't feel anywhere near 53, but I don't envision sitting there in my 60s. I think that would be wrong."—Carson, 1979
"The first week after I leave the show, could you all line up in front of my house for a couple of hours? Then come in, I'll sit at a desk, and we can talk."—Carson, 66, to the studio audience after announcing his departure last year
MICHAEL A. LIPTON
ANDREW ABRAHAMS, DORIS BACON, NANCY MATSUMOTO, ROBIN MICHELI and LYNDON STAMBLER in Los Angeles
Contributors:
Andrew Abrahams,
Doris Bacon,
Nancy Matsumoto,
Robin Micheli,
Lyndon Stambler.
Advertisement
Today's Photos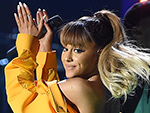 Treat Yourself! 4 Preview Issues
The most buzzed about stars this minute!