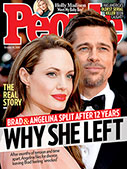 This Week's Issue!
People Top 5
LAST UPDATE: Tuesday February 10, 2015 01:10PM EST
PEOPLE Top 5 are the most-viewed stories on the site over the past three days, updated every 60 minutes
Seize the Day
A Father and Former Tennis Champion Learns to Live with Aids
Arthur Ashe still plays 36 holes of golf without getting tired. He's still writing books, still doing TV tennis commentary (next tournament: Wimbledon, June 22), still working with disadvantaged kids. Yet despite appearances, his life has changed completely. As the world found out on April 8, this most private of men has AIDS. [P] The only black man ever to win Wimbledon and the U.S. Open, Ashe, 48, acknowledged his illness at a press conference hastily called in response to inquiries by USA Today. Since then he has sought to find balance between his life at home with his wife, photographer Jeanne Moutoussamy, 40, and their daughter, Camera, 5, and what he has accepted as a new public role as an AIDS spokesman. "There are only two ways to go, "says Ashe of his illness. "You can slowly, steadily disintegrate, or you can feel emboldened and empowered. "Ashe, surrounded by Camera's drawings in the office of his Manhattan apartment, talked about his disease with correspondent Jane Sims Podesta. [P] I HAD MY FIRST INDICATION THAT SOMETHING WAS WRONG IN August 1988. My wife, Jeanne, and I were at Sagamore Resort in upstate New York. I'd just come back to my room after breakfast and started to call my answering machine for messages. But the fingers of my right hand wouldn't move. My hand had just gone dead. I kept saying, "What's going on?" [P] So I went to my doctor in Mount Kisco, N.Y., and he look a CAT scan that showed some abnormalities in the left side of the brain that he thought indicated a stroke. A few days later I had exploratory surgery at New York Hospital. Instead of a stroke, the doctors found a parasitic infection called toxoplasmosis, which is a marker for AIDS. My neurologist was very concerned about the CAT scan, and I was tested for the HIV antibody. There I was in my hospital room with Jeanne, recovering from brain surgery, and they came in and said, "You've got AIDS." [P] I took the news quietly. That's all I can say, and I'm not being self-effacing. You see, I was used to getting hit with medical maladies. Jeanne and I have been through a lot of pain together. Jeanne's father had a heart attack, and her brother died from one in 1982. I had a heart attack and a bypass in 1979, and another heart surgery in 1983. Then I'm hit with this, right after brain surgery. With all we've been through, Jeanne and I have learned to just hang on and keep going. [P] We've traced the AIDS back to a tainted blood transfusion I got in 1983, soon after my second bypass operation. I was feeling completely lousy. The doctors said they could give me a couple of units of blood to make me feel stronger. They did, and I immediately started feeling better. It was just a few days before my 40th birthday. [P] At that time I had no information that would have led me to think donated blood was unsafe. It wasn't until 1985 that all donated blood was tested for HIV. Everything points to the 1983 transfusion. From the time of infection the virus doesn't show up on antibody tests for six months; roughly five years later you typically develop the first markers for AIDS. But everyone asks, "How can you be sure you got it from a transfusion?" People are titillated by scandal. What they want to know is: "Did he get it through homosexual behavior or drugs?' Another reason, I think, that some people look for a different cause is that it I got it through a transfusion before blood was tested for AIDS, then they worry that anyone could get it that way. That makes them feel vulnerable. [P] After I got out of the hospital, we decided to tell about a dozen family members and friends that I had AIDS—some of them journalists like [Newsweek's| Frank Deford. I needed to lay off some of the burden of keeping the secret. When someone, I don't know who, called USA Today and told them, I fell violated. So what if I'm a public figure? Tell that to Camera, my daughter. But once the news was out, I was facing a no-win situation. I knew I had to make the best of it and help people become more educated about AIDS. [P] I normally move in circles where people are informed about AIDS. But there are still people out there who are skeptical of modern science. Their explanation for staying away from AIDS victims is that it doesn't hurt to be absolutely safe. These are people who are afraid to touch someone with cancer. But you can't get AIDS from shaking hands, kissing someone or sitting in a closed room full of HIV-infected people who sneeze simultaneously. [P] I want to tell people, "Look, I'm as loving a father as I possibly can be." Maybe more so because I don't know if I'll see Camera graduate from high school. I'd give my life for my daughter. I know absolutely, positively, that I am no danger to her. I can kiss her good night and good morning. I would not be doing anything dangerous to her. [P] I kiss my wife, and obviously we are very cautious with our physical relations. We think we know what we can and can't do. We have no problems. Jeanne is tested regularly for AIDS and is fine. We absolutely cannot have anything happen to my wife. Then my daughter may not have either a daddy or a mommy. [P] I take Camera with me when I get blood tests. She watches them put the tourniquet on me and put the needle in my arm. But I don't want to tell Camera anything dire right now. She can see her daddy and doesn't see me acting in any way abnormal. Realistically, barring some unforeseen magic bullet, I don't know if I'll be around here in five years. I often wonder to what degree Camera will remember my association with her. There are dozens of photographs and videotapes of all of us together. [P] Right now I feel about as normal as I ever felt. All AIDS patients get diarrhea. You feel like a wet dishrag, usually for three-or four-hour periods, but I always bounce back. I weigh about 147, only six lbs. below my playing weight. I take medicines five times a day—AZT, pyrimethamine and medication to prevent brain seizures and heart disease. A couple of times a day I sit quietly and visualize my body fighting the virus. It's the same as me sitting and seeing myself hit the perfect serve. I did that often when I was an athlete. [P] You're not going to believe this, but living with AIDS is not the greatest burden I've had in my life. Being black is. No question about it. Even now it continues to feel like an extra weight tied around me. Let me put it this way. I was born in Richmond, Va., in 1943. I went to all-black schools and had to sit behind the white line in buses. I couldn't even attend the University of Virginia, and I only played one official junior tennis tournament in my entire life in Virginia. At the time, the state of Virginia did everything it could to discourage me from thinking I could be anything but a laborer or a teacher or a doctor with black patients. Thank God that has changed. [P] But I have reconciled with Virginia. I've traveled nearly everywhere I'd ever want to go. Now I want to stay home with Jeanne and Camera. I've got stacks of mail to answer and piles of requests to speak to different groups, and books on AIDS I want to read because I want to help educate people. [P] Someone once told me that God figured that I was a pretty good juggler. I could keep a lot of balls in the air at one time. So he said, "Let's see if you can juggle another one." I'm fine, and I'll be here for a while. [P]
Advertisement
Treat Yourself! 4 Preview Issues
The most buzzed about stars this minute!