People Top 5
LAST UPDATE: Tuesday February 10, 2015 01:10PM EST
PEOPLE Top 5 are the most-viewed stories on the site over the past three days, updated every 60 minutes
Picks and Pans Main: Tube
Critic's Corner


HBO (Sat., June 20, 8 P.M. ET)

B

Sissy Spacek stars in this quietly affecting movie based on actual events (see story, page 77). In 1962 Sherri Chessen was the local host of the kiddie TV show Romper Room in Phoenix. Pregnant with her fifth child, she chose to seek an abortion when she found out that her having taken the drug thalidomide made it likely that the baby would be born deformed. Her decision, made public against Chessen's wish, led to a media fire storm.

The pace is sluggish. But the air of realism is strong, in part because of an excellent re-creation of the look and attitudes of the time. Aidan Quinn, as Chessen's husband, and Estelle Parsons, as her mother, costar capably, and Spacek is very moving as a woman struggling to make sense of what is happening while trying to follow the dictates of her conscience in the face of enormous pressure.

ABC (Saturdays, 9:30 P.M. ET)

B

From David Lynch and Mark Frost, the people who brought you Twin Peaks, comes this farcical sitcom about the chaos attending the production of a live TV variety show in 1957.

The comedy's wonderful ensemble includes Ian Buchanan, as the flappable star of The Lester Guy Show, David L. Lander, as the director with an impenetrable Slavic accent, and Marvin Kaplan, as the nervous producer.

The show's comically choreographed mayhem is a difficult premise to sustain, like trying to stage a big bumper-car pileup again and again. So be sure to watch—and tape—this week's pilot directed by Lynch. It's a doozy.

Fox (Sun., June 21, 9:30 P.M. ET)

C+

Six young adults from New York City share a New Jersey beach house on weekends. On the male side there's the nice guy (Lew Schneider), the obnoxious hunk (Louis Mandylor) and the nerdy hypochondriac (Tom McGowan). Among the women, there's the haughty ice princess (Anna Gunn), the tough cookie (Pamela Segall) and the chipper airhead (Cathryn de Prume).

With the exception of Roc, this summer fling is Fox's most mature, character-driven comedy—a notch or two above the network's usual locker-room lewdness. That's certainly laudable but, as it turns out, not awfully amusing, though Schneider brings some genial, Tom Hanks-like charm to his pivotal role. The following Sunday, the show moves into its regular slot at 10 P.M. ET.

>DATELINE NBC: ROMANCING THEIR STONE

WITH THE ADDITION OF DATELINE NBC on Tuesdays (10 P.M. ET), there are now only two nights—Saturday and Monday—without a network newsmagazine show. The proliferation isn't surprising: Ratings for such programs were up markedly this season. Recently GBS placed three—60 Minutes, 48 Hours and Street Stories—in the Nielsen Top 20 in the same week.

Viewers like such shows because they feel they're learning something without taxing their brains. TV newsmagazines not only spoon-feed you information, they tell you how to feel about it. The heroes and villains in their stories are as clearly delineated as in pro wrestling. Networks like these shows because they're relatively inexpensive (less than half of the SI million-plus cost of hourly dramas).

Dateline, NBC's 18th attempt at launching a newsmagazine, landed with a ratings splash in April, but viewership has since been eroding steadily despite a heavy promotional barrage. The show seems so immediately familiar. That's because in its style, pace and focus—in everything from the dialogue between co-anchors Stone Phillips and Jane Pauley right down to the theme music—this is a virtual clone of 20/20. Both Phillips and Dateline's executive producer, Jeff Diamond, were lured over from that successful ABC Friday newsmagazine franchise.

Dateline has problems, primarily its Frankenstein-like attempt to turn Phillips into an anchor monster. He is regularly pushed to upstage the likable Pauley in ways both subtle (camera placement) and obvious (giving him most of the high-profile lead stories). So far Phillips appears way over his head. With his Ken-doll features and resonant but mechanical game-show announcer's voice, Phillips seems like a weekend weatherman pressed into anchor service.

Another flaw has been the program's tepid story selection. (The exceptions have been the often tough investigative stories turned in by correspondent Brian "Mad Dog" Ross, the best ambush interviewer since the prime of Mike Wallace.) Too often, Dateline has concentrated on tugging at the heart with weepy segments on disabled children, dispossessed old people, blue-collar workers robbed of simple dignity, and the like. But there has been little heat to the show, a failing Dateline tried to rectify by hiring enterprising correspondent Jon Scott away from the tabloid show Inside Edition this month. That may help. What Dateline really needs is more fire, less Stone.


Look, I know television is a commercial medium, but this is getting ridiculous. In one of his colorful rooftop spots for Nike, Spike Lee pulls out two videotapes of his own movies and recommends that people go rent them. Hey, a commercial within a commercial. In the first game of the NBA championship series on NBC, Michael Jordan's father, James, was interviewed in the stands about the record-breaking game his son was playing. James responded, "Today...he's eaten his Wheaties, drank his Gatorade, and he's wearing his Hanes underwear." Wow! The elder Jordan may be a better athlete than his offspring—in one sentence he nimbly executed the rarely attempted triple endorsement. Maybe TV is missing some other obvious revenue streams. There's product placement. Have Peter Jennings sip from a strategically placed can of cola during the news. How about series sponsors? You'd have campaigns like, "Starks, the official beer of Cheers. Norm says, 'It's the one to have, burp, when you're having more than 10.' "
Advertisement
Today's Photos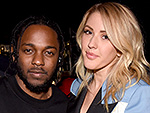 Treat Yourself! 4 Preview Issues
The most buzzed about stars this minute!