People Top 5
LAST UPDATE: Tuesday February 10, 2015 01:10PM EST
PEOPLE Top 5 are the most-viewed stories on the site over the past three days, updated every 60 minutes
This Heart of Stone's
After a Quadruple Bypass, Singer Doug Stone, 36, Knows the Meaning of An Achy Breaky Pump
In fact, it was Stone himself who was close to dying. "He was a heart attack waiting to happen," says Dr. Phillip P. Brown, who, on April 29, conducted emergency quadruple bypass surgery on the singer. Stone, who had a 1990 Top 5 country hit called "I'd Be Better Off (in a Pine Box)," not only happily avoided the latter but has also wasted little time on convalescence. Five weeks after leaving the operating room, he was back onstage in Nashville, singing at Fan Fair and plugging a new album due next month. Its title? From the Heart. (The CD was recorded and titled three months before his operation, insists Stone, who says he worries that "a lot of people are going to think this ain't cool.")
It was shortly after making that album that Stone began suffering the pains he at first attributed to heartburn. When they persisted, he sought medical help. But tests failed to locate four severe arterial blockages, including one in the main artery to his heart, which was 99 percent closed. "The doctors said, 'It's your stomach.' So I went back on the road. The guys in the band didn't even know I was hurting. I come offstage and they said, 'What a great show. You must be feeling good.' I said, 'Hell no, I'm dying.' "
Then, just before a show in Oregon one night, Stone began to feel "kind of disoriented. I didn't know if I was really here or I was dreaming about it. That scared the hell out of me. The pain, it just kept getting worse and worse." Slated to play at the Academy of Country Music Awards in L.A. a few days later, he begged off, returned to Nashville and went to Centennial Medical Center, where he was met by his wife, Carie, 29.
"When they told me a quadruple bypass, I almost fell out," she says. "My granddaddy went through that. It's not supposed to happen to my 35-year-old husband."
The night before surgery, Stone began suffering chest pains, and doctors immediately called for nitroglycerin to forestall the heart attack they feared was coming. "I wasn't worried about dying," says Stone who, until then, had been a fried-food addict and three-pack-a-day smoker. "I figured it's all in God's hands anyway. He's got the switch."
Stone, whose country musician mother, Gail, began to teach him guitar when he was 7, learned about higher powers from his father, a Newnan, Ga., mechanic. Stone was 12 when "Daddy met the Lord in a mighty way," he says. "It didn't set well with everybody. The whole family split up." His parents divorced soon after, and while his mother (now a Warm Springs, Ga., shop owner) pursued her singing career, Stone and his two older brothers moved with their father into a trailer with no running water and few comforts. By 15, he had quit school; by 23, he was married and struggling to support two children as a mechanic.
By night, however, Stone played in small clubs and began recording in a self-built home studio. But after seven years, the relentless schedule—and some occasional straying with his female fans—brought an end to both his marriage and custody of his children. A three-year depression followed, says Stone, "a feeling of being so alone, you don't care whether you're here or not."
Then in 1982 a friend introduced him to his soon-to-be second wife, Carie Cohen, a photo lab worker. At first, "it wasn't even love," Stone says candidly. "It grew into love. I married 'cause I thought God told me to. I had said the prayer a million times—'I need somebody.' God seemed to be telling me that He had already sent someone."
Soon too, Stone's career began to click. Spotted performing at a VFW function by his current comanager, Phyllis Bennett, he was signed by Sony Music in 1989 and the next year released his first album, Doug Stone, which produced five Top 5 hits.
The success has provided Stone and Carie with a 51-acre farm outside Nashville, where they now share a four-bedroom log house with their two children, son Chanse, 5, and daughter Kala, 2. (Stone keeps in contact only occasionally with his first two children, Michelle, 14, and Daniel, 12.) Near the house is a vegetable garden—testament to Stone's new, low-cholesterol diet. On the second floor, there's a stair-stepping machine and, in a corner, a new rowing machine awaits unpacking.
It may be a while, however, before Stone gets much time for either; last month he resumed a full-time touring schedule that will carry him through the summer.
"Life," concedes Carie, who admits she wails anxiously for Stone's daily calls from the road, "will never be quite the same."
STEVE DOUGHERTY
DOLLY CARLISLE in Nashville
Contributors:
Dolly Carlisle.
AFTER ALL THOSE SONGS ABOUT CHEATIN' ladies and lost loves, country crooner Doug Stone figured he knew all there was about heartache. Until this past April, anyway, when a pain in his own ticker changed his tune. "I didn't want to think I had heart problems at 35, but every time I started walking, my chest would hurt, and it would go to my arm," he says. "I performed and I couldn't hold the microphone. It was like my arm just died."
Advertisement
Today's Photos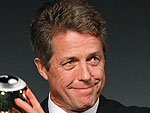 Treat Yourself! 4 Preview Issues
The most buzzed about stars this minute!