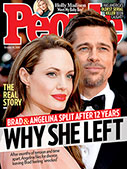 This Week's Issue!
People Top 5
LAST UPDATE: Tuesday February 10, 2015 01:10PM EST
PEOPLE Top 5 are the most-viewed stories on the site over the past three days, updated every 60 minutes
Restored to the Sea
Hundreds of Volunteers in Australia Rush to Rescue 49 Beached Whales


But it was rescue, not revelry, on the minds of the hardy souls who had braved the night's 43°F temperatures. An eerie black row of stranded false killer whales (so named because the creatures, though gentle, resemble real killer whales) lay helpless on the sand while beyond them, in the frigid surf, 16 others were held and rocked by shivering divers. The morning before, 49 of the whales had run ashore in New South Wales, and three had died by dusk. The survival of the pod now depended on the ministrations of the residents of the tiny hamlet of Seal Rocks, aided by hundreds of volunteers who had traveled as far as 500 miles.

Why the whales ran aground is a mystery. Experts can only speculate why the creatures, which can grow up to 20' long, sometimes find themselves stranded. "Along shallow beaches, it may be that their sonar doesn't work properly," says Kerrie Haynes-Lovell, a marine-mammal trainer at Sea World in Queensland, who drove 10 hours to assist in the rescue. With no echoes bouncing back from sloping shores to guide it away, a whale may mistakenly head toward land and become disoriented. Disaster may follow. "If one whale gives out distress signals," Haynes-Lovell says, "they may all come in to help."

Humans were quick to answer signals for help after the whales were discovered early on Tuesday morning, July 14, by a visitor walking on the beach. Wayne Kelly, keeper of the Sugarloaf Point Light house, which sits above the rocks and sand where they foundered, says the sight of the bloodied, wailing animals was "pretty distressing. They were writhing around, obviously very uncomfortable." The 200 or so volunteers kept the whales' delicate skin moist in the sun by dousing them continuously with seawater and draping them with soaked towels. Some rescuers, like Susan Clarke, a former registered nurse from nearby Bulahdelah, "adopted" individual whales and became their protectors. "You're a really good boy," Clarke cooed, gently stroking the whale she named Hope as it took a gasping breath from its blowhole. "Hang in there. You'll be in the water soon."

Rescue leaders eventually decided to transport the whales from the rough, open beach to a sheltered cove on the other side of Sugarloaf Point. Teams of 10 to 20 volunteers began hoisting the whales, which weighed as much as 750 lbs., by hand into a trailer. During Tuesday night, 150 volunteers took turns calming the whales in the cove and making sure their blowholes stayed above water. Four people were treated for hypothermia and many others for exhaustion. Kelly Gray, 17, broke her wrist on Tuesday when a whale rolled over on it. But as soon as it was wrapped, she was back at the beach, in the water. "I couldn't leave him," she said. "How could you, when they're so reliant on you and need you so much?"

Volunteers watched helplessly as two of the whales died on Tuesday night. The spent and emotionally drained crowd of volunteers finally had cause for rejoicing late Wednesday afternoon, when 15 of the stranded whales were led out to sea. Three of the largest, dominant bulls were towed in a wire cage a quarter mile from shore, and surfers shepherded the rest after them. Within 24 hours, they had joined another pod of whales and were spotted heading north. In the end, a total of 37 whales were saved.

Their ordeal over, the whales headed east and by midday were swimming freely 12 miles from shore. Homemaker Jenny Mervyn-Jones, who was awake for 36 hours caring for one whale, watched wistfully as they prepared her whale to head out. "You almost don't want to see it go, but you'll do anything you can to save it." she said. "I really can I wail to wave goodbye to the last one and wish it the best of luck."

ROBIN MICHELI at Seal Rocks


IN THE SOFT ORANGE-AND-PINK LIGHT OF DAWN, THE SCENE AT Seal Rocks on Australia's eastern coast looked like an all-night beach party. People in wet suits warmed themselves before bonfires, as families with small children carried buckets of water from shore to sand, where they worked diligently on what might have been huge sand castles.
Advertisement
Treat Yourself! 4 Preview Issues
The most buzzed about stars this minute!