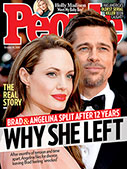 This Week's Issue!
People Top 5
LAST UPDATE: Tuesday February 10, 2015 01:10PM EST
PEOPLE Top 5 are the most-viewed stories on the site over the past three days, updated every 60 minutes
Sportswriter Lisa Olson Calls the New England Patriots Out of Bounds for Sexual Harassment


What the 26-year-old Olson got, as she attempted to talk with cornerback Maurice Hurst in the locker room after a practice last month, was allegedly sexual harassment so extreme that it has shaken the macho world of pro football. Patriots tight end Zeke Mowatt, she says, "stood [naked] in front of me and said, 'Is this what you want? Do you want to take a bite out of this?' " (Mowatt insisted he said only, "You are not writing; you are looking.") Two or three other naked players, Olson says, crowded around her making lewd gestures. "I didn't know whether to scream or break down and cry. It was a premeditated mind rape," she says. "After a few minutes, I gave up trying to interview Maurice, thanked him and walked away. I felt total, blind rage."

Yet that was only the beginning. Patriots owner Victor Kiam II seemingly decided that the best defense was to be offensive. "I can't disagree with the players' actions," he said, arguing that the Herald "asked for trouble" by assigning a female reporter to his team. The Remington magnate ("I was so impressed [by Remington shavers], I bought the company," he claims in TV ads) acquired the Patriots for $92 million in 1988. He was perhaps unaware that some 500 women work as professional sportswriters and that it has been NFL policy since 1985 to provide equal access to journalists regardless of gender. Kiam went on to falsely accuse Olson of following a player into the Indianapolis Colts' shower (he later retracted the charge) and reportedly called the writer "a classic bitch." (Kiam denies it.) Herald columnist Gerry Callahan delivered an angry riposte: "We discovered that you can make millions in the razor business and own an NFL team without possessing the class or courtesy of the average pimp."

After the Boston chapter of the National Organization for Women urged a boycott of Remington products. Kiam spent some $100,000 on full-page newspaper ads protesting his innocence and apologizing to Olson. He also met with her for more than an hour. "He expressed remorse, and I believe he is sincere, but actions are needed, not just words," Olson says. "I can't eat, I can't sleep. It's ruined my life. I want Victor Kiam to stand up publicly and admit to his lies." She also wants all the players involved to be identified and heavily fined. So far, the team has reportedly fined Mowatt about $2,000; he'll make at least $460,000 this season.

NFL Commissioner Paul Tagliabue has launched an investigation by a special counsel, Harvard Law School professor Philip B. Heymann. (Tagliabue's suddenly crowded docket now also includes disciplining Cincinnati Bengals coach Sam Wyche for barring a woman reporter from the locker room on Oct. 1.) Yet even after the uproar, many Patriots players seemed not to understand the seriousness of the Olson incident. "If she can't take a joke, she ought not be down here." running back Robert Perryman told a reporter. Running back John Stephens demanded, "What kind of a woman wants to be in a locker room?" Olson, for one, always did interviews elsewhere if possible. "You put up with a lot of crap covering the locker room," she says, "the 'Hey, baby!" and 'You wanna go out some time, baby?' stuff. You learn it's part of the job."

Olson dreamed of being a sports reporter as she grew up, the oldest of four children, in Phoenix. "I remember reading SPORTS ILLUSTRATED under the covers with a flashlight," she says. She was sports editor of her high school and college papers. With the Herald four years, Olson first covered high school sports and then some games of the Red Sox, Celtics and Bruins. "I never had any problems with any of them," she points out. "The Patriots are a different bunch. You do start asking yourself why we write about these Neanderthals, with their immature and churlish behavior."

Such behavior is not limited to the players. On Sept. 30, as the now reluctantly famous Olson walked toward the Patriots' locker room after their 37-13 loss to the New York Jets, the New England fans unleashed a torrent of abuse, chanting " Lisa sucks!" Olson pressed onward to do her job. "If I don't go back, the message will be that threatening and intimidating a woman will accomplish what they want, and I won't let that happen," she said. "I can't walk away now."

—James S. Kunen, S. Avery Brown in Foxboro


Boston Herald sports reporter Lisa Olson drove away from the New England Patriots' stadium as fast as she could, as though she could outrace the ugliness and leave it behind forever. "I must have been going 100 miles an hour." she recalls. "I was weaving in and out of traffic, banging my hand on the steering wheel, shouting, 'How dare they? How dare they?' " She shakes her head with anger and bewilderment. " 'Give her what she wants!' they yelled. What I wanted was an interview. What I wanted was to be treated as a professional."
Advertisement
Treat Yourself! 4 Preview Issues
The most buzzed about stars this minute!