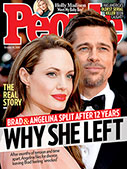 This Week's Issue!
People Top 5
LAST UPDATE: Tuesday February 10, 2015 01:10PM EST
PEOPLE Top 5 are the most-viewed stories on the site over the past three days, updated every 60 minutes
Another Tragedy for Monaco
In An Eerie Echo of Her Mother's Death, Princess Caroline Loses Her Husband in Deadly Speedboat Accident


From the yachts gently rolling at anchor in its azure harbor to the pink castle on the hill, Monaco is a geographic Fabergé egg, a sun-dappled paradise of pastel hotels, high-style casinos and glossy bathing clubs. But under the patina of wealth and privilege, a dark and dangerous beat of tragedy has lurked in the principality's exotic heart—a pulse of sudden accidents and unexpected deaths that plague the ruling family. "Monaco," announced the national media, "is in a state of shock. It has lost its Prince Charming."

Almost exactly eight years ago, on Sept. 14, 1982, the Grimaldis were devastated when Caroline's mother, Princess Grace, one of the century's most admired and magnetic princesses, died in a freak auto accident at age 52, a tragedy from which they have never fully recovered. Controversy and imbroglios have stalked the family since. Prince Rainier seemed to drift like a rudderless yacht with little of his former fire and sense of purpose. Rebellious Princess Stephanie has ricocheted from one career to another and one beau to another. Middle child Prince Albert, the quiet and unassuming heir to the throne, has been an unsettled young man, though lately he seems to have shown some interest in his future position.

On a visit to Paris when she received the awful news, Caroline, in an eerie reprise of her father's destiny, returned to Monaco, her features drawn, her Karl Lagerfeld fashions replaced by black mourning. Happily married to Stefano despite rumors to the contrary, she faces widowhood at age 33 with three young children. Caroline has enthusiastically assumed leadership of the dispirited family, becoming a stable, moral force.

Consumed now with her own grief, questions arise about what will become of her siblings, her father and the already strained family ties. "I just don't know what is more than a fair share of tragedies," says Judith Quine, author of The Bridesmaids (about her long friendship with Grace). "I feel awful for Caroline and their children."

Stefano's death capped a lifelong infatuation with velocity. As a youngster, this son of a Milanese millionaire was entranced by the speedboat races on Italy's Lake Como. After studying economics, Stefano built a real estate and construction business but devoted much of his time to racing. He set a speed record on Lake Como of 172 mph in 1984 (since broken), and in a grueling 1984 race, he drove from Lyons to Morocco with Caroline as co-driver. Their truck overturned, and the couple were rescued by the paparazzi tailing them. To relax, Stefano liked to put his Ferrari through its paces on mountain roads. He turned to offshore racing in the mid-'80s.

For lovers of life's razor edges, of course, it is the sport's hazard that is its fatal attraction. Such adrenalin-pumping stars as Don Johnson, Chuck Norris and Kurt Russell are offshore racers, despite the fact that at least 14 people have died in accidents in the last four years. According to one racer, Stefano was concerned about the safety of his craft, saying that recent rules changes forced him to use an unsafe boat. An investigation into the accident is planned. But the sportsman knew the risk. After seeing a friend die in a race three years ago, he said. "Of course my family worries, but they have never asked me to give it up."

Perhaps it was the aura of danger that attracted Caroline to Stefano when the two met in 1983 at a Monaco disco. Although no match for little sister Stephanie, Caroline has had her share of scandalous headlines. She petitioned the Vatican to annul her two-year marriage to philandering Frenchman Philippe Junot, 17 years her senior. The annulment has not been granted, and therefore her children are considered illegitimate by the Roman Catholic Church. Caroline won a civil divorce in 1980. She apparently sought solace in an intense affair with Ingrid Bergman's son, Roberto Rossellini. But after he was pictured in the tabloids cavorting with a starlet in the Greek isles, Caroline, friends say, linked up with Stefano out of revenge. The affair soon became something more. Stefano broke an engagement in order to marry Caroline, by then pregnant with their first child. He was warily welcomed into the family by Rainier, who worried that he was an Italian nouveau riche sportsman. "Stefano never pretended to be what he wasn't," says an old friend. "Besides Caroline and the kids, boats were his passion."

Beneath Stefano's sophisticated veneer was a centered personality with strong family values. He and Caroline lived a regal but domestic life, dividing their time between Monaco and Milan, with frequent trips to Saint Moritz. where his family has a home. Both were devoted to the children: Andrea, 6, Charlotte, 4, and Pierre, 3, Although not a playful father, Stefano never minded when Andrea would wake in the middle of the night and crawl into his parents' bed.

Throughout the marriage, Stefano seemed happy remaining in the background and assisting Caroline with her royal duties. She, in turn, often showed up with the children to watch her husband race, an activity that often left her fearful, "This," says a friend about the accident, "is her greatest nightmare come to life."

A private and quiet soul, Stefano seemed almost to lose his energy when not at the wheel of a powerboat. The taciturn sportsman's favorite recreation was to gather a group of buddies and go to discos, where he quietly watched the action. Nor was he much scarred by the klieg-light revelations that often burden the spouses of nobility. Photographers sent bikini-clad beauties to pose near him while they snapped away, but he did not, say friends and intimates, have a roving eye. At his death, he co-owned a Monaco construction company and was involved in major real estate dealings, including some 3,000 apartments in Monte Carlo. The nearest thing to a scandal he endured was the revelation that he avoided Italian military service by falsely claiming that he had a genital tumor which could have caused impotence.

Stefano's sudden death is strangely similar to the car accident that killed Princess Grace on the twisting roads in the French mountains above Monaco in 1982. Grace reportedly suffered a strokelike attack and lost control of her sedan, which tumbled down a ravine. Her daughter Stephanie, 17 at the time, a passenger in the car, sustained a fractured vertebra and was unable to leave her bed to attend Grace's funeral. Questions arose about whether Stephanie, who was below the legal driving age, might have been at the wheel, but nothing was ever proved. Grace became something of a European version of Eva Perón, revered in death by people of every station, Said Rainier, who has jealously guarded his wife's memory—and image—"She was once asked, 'How would you like to be remembered?' and she said, 'As a decent human being and a caring one.' I think that sums up what she was."

The death of Stefano will bring a certain season of grief and a disorienting new vision of the future for Caroline and perhaps for her siblings. She was a fun-loving teenager, fond of the nightlife and multiple boyfriends. But with marriage and motherhood, says one of her intimates, "Caroline turned her life around completely." Indeed, Rainier and Grace's eldest child has become an assured, high-visibility presence who carries out official duties with style and energy. Still, she once confided, "It wouldn't bother me at all if I weren't Princess Caroline of Monaco. I prefer to be at home with my husband and children than attacked by photographers. I'm just the sister of the future Prince, and my children come first. I work my schedule around them."

No one can predict how Caroline will fare, Says Nadia Lacoste, a former Palace spokesman now a public relations executive with the high-powered Société des Bains de Mer in Monte Carlo: "Losing her mother was a tragedy that we all face, but losing a husband that young is really devastating."

Nor can anyone foretell how Albert and Stephanie, for whom Caroline has been a steadying influence, will now cope. Amherst-educated Albert, 32, an Olympic bobsled racer and yachtsman, needs an injection of Caroline's businesslike approach to royal life. The retiring and tepid man once said, "Although I am not here by choice, I expect to enjoy the challenge of my future job."

For Stephanie, 25, Caroline has been a sorely needed brake to youthful passions. In just the past few months, Stephanie has fed a tabloid frenzy by breaking off her engagement to French businessman Jean-Yves Le Fur and last month vamping on the beach in a faux erotic embrace with a girlfriend.

For now, however, such contretemps have been overshadowed as all attention focuses on the young widow. "Caroline has become very much like Princess Grace," says society columnist William Norwich, "and she's done it with such enthusiasm because she was very happy in her marriage. This is going to be very painful for her." Perhaps, in her mourning, she can take comfort from some of Stefano's last words about his passion. "There are more dangerous sports." he said, "and I believe one should live life to the fullest."

—J.D. Reed, Joel Stratte-McClure in Monaco and Logan Bentley in Rome


Advertisement
Treat Yourself! 4 Preview Issues
The most buzzed about stars this minute!