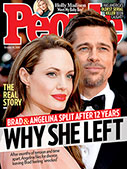 This Week's Issue!
People Top 5
LAST UPDATE: Tuesday February 10, 2015 01:10PM EST
PEOPLE Top 5 are the most-viewed stories on the site over the past three days, updated every 60 minutes
Dumped by Michael Jackson, Former Manager Frank Dileo Bounces Back as One of Hollywood's Goodfellas


Dileo, 42, looks like the kind of man who's more at home making deals than mending fences. And small wonder. As Michael Jackson's manager for five years, he had done just that, shepherding the singer through two hit albums (Thriller, still the biggest-selling LP in history, and Bad), two world tours and into enough endorsements to make them both rich for life. Then, 20 months ago—without warning, Dileo says—he was sacked.

The reason, some speculate, may have been his failure to secure theatrical release for Jackson's feature-length film, Moonwalker, which was eventually released in Europe. "I brought in a $7-or $8-million offer," retorts Dileo, insisting that others had then counseled Jackson against that deal. In February 1989, when he and the singer spoke by phone, Dileo says, it was business as usual, and "everything was hunky-dory." Three days later Jackson's attorney called. "Michael doesn't want to work with you anymore," was all Dileo was told.

Although the dismissal still "hurts plenty," the ex-manager says, any would-be fiscal woes were tempered by a severance package estimated to be worth more than $5 million. As for psychic scars, they were salved by friends like director Martin Scorsese, who called to offer Dileo a part in his gangster film GoodFellas. And so it was that when the movie opened last month, there was Frank Dileo, novice actor, playing the part of a heavy with all the pinkie-ring panache of a Mafia capo.

"I remember reading the script and telling Marty, 'Geez, you gotta give Frank the part of Tuddy. He's perfect,' " recalls actor Joe Pesci, one of the film's stars (along with Robert De Niro and Ray Liotta). "There wasn't much dialogue at first, but it grew when Frank showed he could handle it. The guy's a natural."

Dileo, however, says that moving to the big screen wasn't all that easy. As an old friend of both Pesci and De Niro (Dileo is a partner in De Niro's Tribeca Grill in Manhattan), "I certainly didn't want to fail, the job or their friendship," he says. "It made things a little more intense." He also learned that "when you see yourself for the first time on a movie screen, all you see are the imperfections. I thought, 'God, am I that fat?' But the second time I enjoyed it."

For most of Dileo's life, of course, music, not movies, has provided the enjoyment. The son of a Pittsburgh tavern owner and his wife, Dileo was working as kitchen manager in an Italian restaurant in 1968 when a customer asked him if he would be interested in the record business. "He said, 'You stay up late, eat at nice restaurants and leave big tips.' " Dileo recalls. "It was like they custom-made it for me."

Starting as a record rack jobber—or salesman—he moved quickly into promotion and eventually to Nashville. Then in 1976, feeling burned out, he quit the business, returned home and married Linda Laughlin, a lab technician he had been dating for seven years. Two years later Dileo got himself into trouble and was fined for misdemeanor bookmaking. In 1979 trouble found him: A fire gutted his home, destroying everything. "I sold my Cadillac for $2,000, then bought two blue suits, three white shirts and a plane ticket to New York," he says. Hired by Epic, a subsidiary of CBS Records, he became vice president of promotion within three years, then in 1984 was hired away by Jackson, CBS's biggest star.

Soon, Dileo became the singer's closest confidant in business and his constant companion on the road. Jackson called him Uncle Tookie and, in a 1987 letter to PEOPLE, wrote: "He's loyal. He's competent.... And also my shield of armor. He's my other half. We dream together and achieve together."

Dileo suggests, however, that he didn't always get credit for his marketing savvy. "Don't get me wrong; I think Michael's a tremendous performer," he says. But "whether it was money, record sales or trophies, Michael wanted to be the one who claimed it. He used to wonder, 'Why do they call Elvis the King? Why don't they call me the King?" I'd have to explain."

Now, with his Jackson days behind him, Dileo has had a chance to be a father again to son Dominic, 12, and daughter Belinda, 9. "Before, I was just a guy who was coming home late at night and then, when on tour, once in a while on weekends," he says. "I've had to ease myself back into their lives."

But gradually, it seems. Although Dileo now rides daily through the picturesque hills of Tookarosa—a hybrid of Tookie, a childhood nickname, and Ponderosa—and hangs out with the locals, his five-bedroom ranch house has 24 phones and two fax machines. In a single morning recently, he closed sales on a Nashville recording studio and a music-publishing company he owned. "Most people look at Frank and wonder how anybody like him could be on a ranch," says Linda, wise to her husband's ways. "But he hasn't changed. Not too long ago he was thinking about making a deal to buy the feed store."

Todd Gold in Los Angeles


It's 9 A.M. and rancher Frank Dileo is padding through his eight-stall horse barn, bidding good morning to his Tennessee walking horses. It's part of his routine since settling in 14 months ago at the Tookarosa Ranch, his 40-acre spread in Ojai, Calif. Not that Dileo is any ordinary rancher. Five-feet-two and a muffin-soft 240 lbs., he is wrapped in sweats and powder blue loafers and tickling a horse's nose with a fat cigar.
Advertisement
Treat Yourself! 4 Preview Issues
The most buzzed about stars this minute!