People Top 5
LAST UPDATE: Tuesday February 10, 2015 01:10PM EST
PEOPLE Top 5 are the most-viewed stories on the site over the past three days, updated every 60 minutes
Emerging from Behind the Iron Curtain, Armin Mueller-Stahl Finds Freedom-and Stardom in Avalon


"As I stood there, transfixedly looking at the skies, someone touched my elbow," recalls Mueller-Stahl, who wasn't needed on the set that evening because a younger version of his character, Sam Krichinsky, was being played by Michael Krauss. "A nice couple stood next to me. 'Say, mister,' the man asked, 'what's going on here?' "

"Sam Krichinsky has arrived in the U.S.," Mueller-Stahl replied.

"You mean Brzezinski [the national security adviser to President Carter]?" asked the confused spectator.

" 'No,' I said. 'It is me,' " Mueller-Stahl recounts. "They looked at me incredulously, but then I explained. I still don't know whether they believed me."

Believe him. After nearly four decades as Germany's best-kept acting secret, Armin Mueller-Stahl has arrived in the U.S. and—as what producer Mark Johnson calls Avalon 's "magical" Russian immigrant grandfather—is charming his way into the hearts of moviegoers. "Avalon was the herzstuck, the heart-piece, of my acting life," says Mueller-Stahl. "It was the embodiment of what I express best: the blending of the truly comic with the truly tragic."

If Sam Krichinsky's craggy face, cerulean eyes and wispy gray hair in Avalon seem familiar but his genial demeanor does not, it's because in last year's Music Box, Mueller-Stahl's first American movie, he portrayed Krichinsky's evil counterpart—Mike Laszlo, a pro-Nazi war criminal who had buried his sadistic past under a lifetime of solid American deeds. Observes Mueller-Stahl: "If Krichinsky had ever met Laszlo, the former would have never survived."

Surviving in war-torn Europe and its aftermath is something Mueller-Stahl knows a lot about. Caught on the wrong side when the Berlin Wall went up in 1961, he was an East German matinee idol until he was first blacklisted because of his political activities and then encouraged to leave the country. A virtual unknown outside East Germany, Mueller-Stahl was forced to begin his career again at age 50. "I come from a broken world," he says. Still, he managed to piece together a career not only as an actor but as a musician and writer as well.

Mueller-Stahl was born in 1930 in Tilsit, a dour East Prussian city that is now part of the Soviet Union. His father, Alfred Müller, a bank teller, changed his name to the more aristocratic-sounding Mueller-Stahl after he married Armin's mother, Editta, a handsome woman from an upper-class family. "With that name, he sounded at least like the son of a Prussian general," says Mueller-Stahl.

The military became a reality when Mueller-Stahl Sr. was sent to the Russian front. While he was fighting, Editta moved her five children to Berlin. Alfred was to join the family there, but in 1945, only two days before the fighting ended, he was killed 20 miles outside the capital. Although the fatherless family was crammed into a one-room flat. Mueller-Stahl remembers those times with affection: "Everyone then was full of hope that from the ashes a new, better, culturally alive world would emerge."

Mueller-Stahl's first cultural foray was as a violinist, but he soon found himself drawn into the city's simmering dramatic circles and enrolled in acting school in 1952. "It was an unmitigated catastrophe." he says, chuckling. "The school—not even politely—asked me to leave."

But the Berliner Ensemble, directed by Bertolt Brecht, invited Mueller-Stahl to join its company. Soon he was enjoying all the perks the Communist East German government had to offer—a Volvo limousine, a villa in Köpenick and an annual salary of 300,000 East German marks ($70,000). He became so popular in the German Democratic Republic that a 1965 newspaper poll selected him "the man most East Germans would like to have a beer with."

Though nudged to join the Communist party, Mueller-Stahl refused and even wrote some moderate protest songs that the GDR let him take on the road to its so-called cultural institutes in France, Africa and South America. 'Those performances provided me with the opportunity to temporarily escape the bad odor of the regime." he recalls.

By the mid-"70s that odor had become unbearable. When the regime clamped down on protest singer Wolf Biermann in 1976,26 members of the artistic community, including Mueller-Stahl, issued a protest. As a result he was blacklisted from show business. Mueller-Stahl could have left the country, but by then he had a wife and son to think about. Several years earlier he had given up his "rakish" ways when he fell hard for Gabriele Scholz, a medical student 18 years his junior. They married in 1973, the same year that their son, Christian, was born. Says Gabriele: "We went together through the good, through the bad and through the good."

Waiting for more of the good, Mueller-Stahl stayed in East Berlin writing Verlorener Sonntag ("Lost Sunday"), a political thriller that became a best-seller. In 1980 the family was permitted to emigrate to West Germany, "I didn't leave for material reasons." says Mueller-Stahl. "I had everything there was to be had. Except freedom."

In exchange for that freedom, the Mueller-Stahls gave up their East German villa and moved into a small flat in West Berlin's Zehlendorf district with a view of the railroad tracks. "Christian was ostracized in school because our car still bore East German license plates," says Mueller-Stahl. "We had no friends and no work."

In the West, Gabriele quickly resumed her dermatology practice, and Mueller-Stahl broke into movies. That year Rainer Werner Fassbinder cast him in Lola, a political riff on postwar Germany. Other roles soon followed, including various parts on German television. It wasn't too long before Hollywood began to take notice. When Music Box director Costa-Gavras went looking for a little-known European actor to play Mike Laszlo, he chose Mueller-Stahl even though he hadn't wanted to cast a German in the role: Not only did Mueller-Stahl have to learn English, he had to speak it with a Hungarian accent. That exercise prepared him for his turn as Avalon 's Krichinsky, whose English is tinged with Yiddish.

Despite his American sojourn, Mueller-Stahl hasn't gone Hollywood. "We were making the film when the Berlin Wall came down," recalls Joan Plowright, who plays Krichinsky"s wife, Eva, in Avalon. "He had been fighting against it for years. He's a rebel, but he had tears in his eyes."

Germany's reunification has enabled Mueller-Stahl to reclaim his former East German home on Lake Havel, and the family expects to return there soon. Today the Mueller-Stahls live in Sierksdorf, a hamlet on the shore of the Baltic Sea in what was West Germany. Armin and Christian, 17, often sail their catamaran on the sea or play music together, with Christian on the piano and Armin on the violin.

Before he left for Prague last week to film Kafka with director Steven (sex, lies and videotape) Soderbergh and actors Alec Guinness and Jeremy Irons, Mueller-Stahl finished two scripts that he hopes will become movies. "Both are comedies. In one I envision Shirley MacLaine as my partner; the other ought to be Jack Lemmon," he says, laughing. "I must confess, though, that both of them—both idols for many years—do not know as yet about their luck."

—Mary H.J. Farrell, Franz Spelman in Hamburg


On a tepid spring night in downtown Baltimore, Armin Mueller-Stahl was taking his evening constitutional around the Tremont Hotel when a blaze of fireworks suddenly lit up the sky. For a moment the 60-year-old German actor thought he had stumbled on to an early celebration of the Fourth of July—until he realized that the light show was being engineered by Avalon director Barry Levinson.
Advertisement
Today's Photos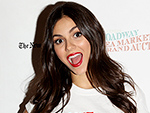 Treat Yourself! 4 Preview Issues
The most buzzed about stars this minute!