People Top 5
LAST UPDATE: Tuesday February 10, 2015 01:10PM EST
PEOPLE Top 5 are the most-viewed stories on the site over the past three days, updated every 60 minutes
A Neighbor Says Axl Rose Hit Her with a Wine Bottle, and He Says She's Got a Corkscrew Loose


And so the rap seems to beat on against Rose, one of rock's brashest bad boys, a man who attracts trouble both onstage (his songs have been attacked as, among other things, racist and homophobic) and off (he has been arrested for disorderly conduct and public drunkenness). But this time, Rose insists, the charge is not only false, but ridiculous. "Frankly," he says, "if I was going to hit her with a wine bottle, she wouldn't have gotten up. I would have become a criminal at that point, wondering what I was going to do next to not get busted over the quivering body in my hallway."

Rose, who has been Kantor's neighbor for nearly two years in the condo, which is just up the hill from the Spago restaurant, says the merchandiser and aspiring photographer has become a fanatical fan, indulging in such eccentricities as calling his friends and family back home in Indiana "and telling them I'm shooting kids up with heroin and stuff like that. I don't know what I represent to her. Gabby wants a big place in my life, and she can't take the rejection."

"I'm not fanatical about anything" says Kantor, who says she is suffering from "postconcussive syndrome." Kantor complains that she has had to listen a long time to her neighbor's racket. The bottle incident started, she says, when Rose stopped her in the hallway outside her one-bedroom unit (he and his wife, Erin, 25, occupy a similar unit) and confronted her for calling the cops in August to complain about his loud music. According to Kantor, Rose threw a piece of chicken at her, hit her on the head with the Chardonnay and tossed her keys off his 12th-floor balcony.

Rose maintains that he was spending a quiet evening at home with two friends. His wife was asleep, he says, "and I didn't want her disturbed because she had just had a miscarriage." While watching TV, Rose says, he heard Kantor yelling loudly in the hallway. "I went out and just said, 'Shut up—you're wasted. Just go in, go to sleep.' And she came flying at me, yelling, 'Who do you think you are? Come on—hit me, hit me.' And she's coming at me with this wine bottle, and when she got about arm's distance, I took it from her. Then she threw her keys at me into my apartment, so I went to shut my door, picked up her keys, went over to the balcony and threw them off." After Kantor called the police, six Los Angeles County sheriff's deputies arrested Rose and charged him with assault. A few hours later he was released on $5,000 bail.

A few days earlier, it was anger that was released when Rose—frustrated over Erin's miscarriage and ongoing problems with Kantor, as well as strained relations with his family—visited the two-bedroom home he and Erin have been preparing in the Hollywood Hills.

"I had a piano, which I bought for $38,000," he says, "and there's a $12,000 statue in there and a $20,000 fireplace, and I stood there and I just snapped. I'm standing in this house going, 'This house doesn't mean anything to me. This is not what I wanted. I didn't work forever to have this lonely house on the hill that I live in because I'm a rich rock star. So I shoved the piano right though the side of the house. Then I proceeded to destroy the fireplace, knock all the windows out and trash the statue and everything. The damages were about $100,000. What's wild," he adds, "is that the next day Erin went to the house and she trashed the three rooms I didn't." ("I had my own different reasons," says Erin.)

At least the recent incidents seemed to have helped the Roses' six-month marriage. "Erin and I hadn't been on the best of terms during the pregnancy," says Axl, who has briefly separated from his wife several times. "The miscarriage brought us closer together." Erin, daughter of rocker Don Everly, says the arrest was "the last thing we needed. I was going through total pain. I'm physically and mentally sick right now."

Whatever the outcome of the assault charge—Rose, who will be arraigned later this month, says he will file a civil suit against his neighbor—Kantor has made a positive contribution to the next Guns N' Roses album, Use Your Illusions, due in the spring. One song, Rose says, "has a verse about life in L.A., and the chorus came when I was at home and couldn't figure one out. All of a sudden Gabby started beating on the walls and had her television cranked on 10 to bother me, and I just wrote this chorus called 'Right Next Door to Hell.' It works really well."

—Tom Gliatto, Peter Castro and David Craig in Los Angeles


The title of Guns N' Roses' platinum album, Appetite for Destruction, might spring to mind when describing its lead singer's latest imbroglio with the law. But Axl Rose, 28, recently arrested for assaulting his next-door neighbor in a West Hollywood condominium complex, opts for another title. "Fatal Attraction" he says. "She's an obsessed fan"—referring to Gabriella Kantor, 37, the woman who claims Rose hit her over the head with a wine bottle. To be exact, "It was a Chardonnay, a really good bottle," says Kantor, who further claims she now suffers headaches from the alleged bonking.
Advertisement
Today's Photos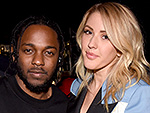 Treat Yourself! 4 Preview Issues
The most buzzed about stars this minute!