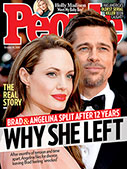 This Week's Issue!
People Top 5
LAST UPDATE: Tuesday February 10, 2015 01:10PM EST
PEOPLE Top 5 are the most-viewed stories on the site over the past three days, updated every 60 minutes
A Boy's Tragic Death Comes to Light After the Friends Who Witnessed It Break a Long Conspiracy of Silence


Only that wasn't it for Steve Rodriguez. While Miguel and his friends (aged 13, 14 and 17) went on with their lives, their silence plunged Rodriguez, a 34-year-old single father from Chicago's largely blue-collar Southeast Side, into months of uncertainty and anguish. On the afternoon during Easter break when Ricky disappeared, Steve at first dismissed his tardiness as spring fever. But his son was not the type to stay out late without calling, Steve says, so as evening approached, he became frightened. By midnight he was in a police patrol car searching for Ricky. "Something told me he was dead," he says. Distraught, he went to the home of Ricky's mother, Phyllis, 34, who had given Steve custody of the boy several years earlier while she battled her addiction to cocaine. The two of them sat up all night, waiting for news. When none came, Steve returned home and wandered the neighborhood, at first chasing rumors, then chasing ghosts.

In the days that followed he ran down alleys, across railroad viaducts, anywhere he saw a child who might have been Ricky. He distributed 500 photographs in the Chicago area and offered a $5,000 reward for information. A national missing-children's organization worked with a direct mail company to put Ricky's face on millions of mailers, and America's Most Wanted put his picture on television. The leads that followed proved not merely false, but deeply disturbing. "Ricky was supposedly sighted next to the Philadelphia Museum of Art, being forced into sex acts with three men," says Steve. "Another time a kid fitting Ricky's description was seen being made to pick up glass at a carnival with his bare hands. I couldn't sleep. It tore my heart out."

The authorities could provide little solace. Acting on an anonymous tip received just days after Ricky's disappearance, the police searched the silos at the old Falstaff malting plant on Lake Michigan just blocks from the Rodriguez home. Steve stood by as a German shepherd sniffed the grounds for the scent of decomposed flesh. "It was impossible to find anything," says Chicago police officer Eileen Guest. "We'd have had to open up the bottoms of a hundred silos." Later, Coast Guard helicopters circled the plant and cruisers combed the lake, all to no avail.

In the end, had it been left to the boys who saw him fall, Ricky's body might never have been found. "I just forgot about it," Miguel later told TV's Inside Edition. "I got it out of my head. I don't know, I just forgot easy." But what his conscious mind could dismiss, his subconscious could not. Nightmares plagued Miguel, and by mid-September, nearly five months after Ricky's fall, the guilt-stricken boy finally confessed to his 12-year-old girlfriend. Two days later the girlfriend's mother was sitting on a friend's porch, when she overheard Miguel talking with some other neighborhood kids about being with Ricky the night he disappeared. When Miguel came to visit his girlfriend the next day after school, a youth officer was waiting. A short time later Miguel led police to one of the old Falstaff silos, where they smashed through a metal plate in the wall and found Ricky's crumpled body.

In a small white casket ("white because he was pure," says his father), Ricky was finally laid to rest four days later. Not one of the four boys who had been with him—who now claim they kept quiet out of fear of Steve, Ricky's 17-year-old stepbrother, Michael, and gang members rumored to be friends of another stepbrother, Gerardo, 13—attended Ricky's funeral. (Although the case remains technically open, none of the boys has ever been charged with a crime.) Two weeks later, three of the boys arrived at Steve's home to express their sorrow. Only Miguel, to Steve's dismay, stayed away. "I'm sorry about your brother," Miguel managed to tell Ricky's 9-year-old brother, Stevie, as the boy waited for his father outside their home on the day before the funeral. But when Steve approached, Miguel paled and walked away. "I could tell him I'm sorry," he explains, "but what is he going to think?"

Not even Steve can answer that question. "I still have doubts," he says. He wonders whether Ricky died immediately, if his life could have been saved had the boys gone for help—even if his death was really an accident. "Something happened up there that terrified them," says Steve. Whatever went on, Rodriguez believes that, "as a parent I have to forgive, to let the anger go." But as a father, he cannot rid himself of the pain. "An emptiness is setting in that is unnerving," he says. "A great love of my life has gone."

—Karen S. Schneider, Grant Pick in Chicago


When 10-year-old Ricky Rodriguez fell through a hole in the floor of an abandoned Chicago grain elevator and plummeted 150 feet to his death last April 26, he did not scream. A few feet away, the four boys with whom he'd been goofing off heard only a thud as their friend's body hit the concrete floor below. They peered down the dark hole, but saw nothing. They shouted Ricky's name, but heard nothing. So they ran down the silo's 15 flights of stairs, jumped a fence, crossed some railroad tracks and went home—and they said nothing. Not to family, to friends or to Ricky's father, Steve, whom they saw later that night, frantically searching the neighborhood for his son. "We were afraid he'd be pissed off at us for not taking care of Ricky, so we kept quiet," says 12-year-old Miguel. (The name is fictitious; he, like the other three boys, has never been publicly identified.) "Then he left, and that was it."
Advertisement
Treat Yourself! 4 Preview Issues
The most buzzed about stars this minute!