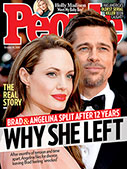 This Week's Issue!
People Top 5
LAST UPDATE: Tuesday February 10, 2015 01:10PM EST
PEOPLE Top 5 are the most-viewed stories on the site over the past three days, updated every 60 minutes
After Hiding Under a Blanket of Tall Tales, Vanilla Ice Wakes Up as Rap's Van Winkle


Well, maybe, but at the moment the question seems to be, is Vanilla Ice who he says he is? For instance, what about his storied knife fights with black gangs? Ice pulls down his baggy Bermuda shorts and points to a red line on his right buttock. "See that?" he says. "I got stabbed five times one night. Lost half the blood in my body." He holds out his palm. "See that scar? That's where I grabbed the knife and the skin peeled back to my bone."

So his body has been battered. But what's taking a beating now is Ice's image, crafted as carefully as his sculpted fade haircut. It's bad enough that Milli Vanilli, another musical flavor of the month, gets exposed for outright fakery (see page 197). Now the Iceman is under attack for phonying up chunks of his bio. And such bad timing. In just nine weeks, his album To the Extreme, full of peppy raps about girls, parties and gangs, sold 3.3 million copies. His single "Ice Ice Baby" (its chorus borrowed from the David Bowie—Queen song "Under Pressure") became the first rap song ever to hit No. 1 on Billboard's pop chart. Touring (until Dec. 18) as the opening act for M.C. Hammer, Ice still loses his cool when critics suggest that his fast success has more to do with pale skin than cool raps. "It's not about skin color," he insists. "Rap is from the streets and I'm from the streets. That's why a lot of people accept me."

Well, that's the gospel according to Ice, who has said that he was a poor street kid, won three pro motocross titles, went to the same Miami high school as 2 Live Crew's Luther Campbell and nearly died after that knife fight in ritzy Coral Gables, Fla. Others who know him, however, tell of a well-off kid named Robby Van Winkle who spent many of his teen years in Texas, won motocross trophies only on the amateur circuit and drove a white IROC Camaro Z28 in high school. Will the real Vanilla Ice please chill out?

In an interview with PEOPLE, his mom, Beth Mino, a music teacher and classical pianist, tried to separate the real Ice from the bio snow job. "The lies were a smoke screen to protect the privacy of the family," says Mino. "But a lot is true. Economically, we weren't able to live in an elite part of Miami. He was raised predominantly with blacks, and he definitely was in a lot of trouble. When he was stabbed, I nearly died. But things were better for a while in high school." '

Heather Hightower, 21, remembers Ice as Van Winkle, a classmate at R.L. Turner High School in Carrollton, a middle-class suburb of Dallas. "He was flamboyant and liked to be the center of attention," she says. "He and his buddies formed the Pep Busters. They would do goofy yells at games." Albert Raggio, 21, who roomed with Van Winkle after they met on the Dallas club circuit in 1986, says, "Robby has a problem with exaggerating. But he did like to hang with the brothers. Robby is, you could say, a white black man."

Caught with his pants at least partly down, as it were, Ice tells of plans for a book that will reveal "the whole straight-up," then grudgingly dishes out some in advance. His mother backs up the basic facts. Born in Miami, he lived for several years in a tough section with his older brother and younger sister. "I will not say anything about my father. Period," he says. "I don't have a dad. Print that." He skated back and forth between Texas and Florida, living with friends and relatives, including his stepfather, Byron Mino, a Dallas car salesman who was divorced several years ago from Van Winkle's mother. He spent a couple of years at school in Paris, Texas, then two years at R.L. Turner before dropping out. He earned cash building custom stereos and spent free time at motocross races, winning a fourth-place title at the 1985 Florida Winter National Olympics in Gainesville. He got his battle wounds in Dallas; friends say it happened outside a club in 1986.

Ice's deejay Earthquake recalls a 1987 talent show at City Lights, a mostly black Dallas night spot. "He didn't really stand out as a rapper," says Earthquake (Floyd Brown), who writes much of Ice's music. "Everybody knew him for his feet. He would demolish other dancers." Tommy Quon, former owner of the now-defunct club, decided to manage Van Winkle, but found it tough to clinch a deal. "I have some letters I'm going to frame," says Quon, 42. "Top people at record companies said he wasn't pop enough."

After a Columbus. Ga., radio station began playing "Ice Ice Baby" last spring, other stations followed suit, and the album, released on Quon's Ultrax label, sold 40,000 copies. This July, while the singer was still working as a lot attendant at a car dealership in Carrollton, he was signed to SBK records, and two months later the Ice Age began. Within weeks he had filmed a concert scene for the sequel to Teenage Mutant Ninja Turtles; he begins his solo tour in January.

Still, if rap is Ice's business these days, there's some of the precelebrity boy there to tend to as well. At one moment he shows off his $490 Cazal sunglasses, two diamond-studded rings, a video Watchman and a photo of an Acura NSX sports-car, which cost him $90,000. But a remote-control Toyota toy truck sits next to his bed. "That thing can go 30 mph!," he boasts.

So who is he, really—fibber or phenom, street kid or star—or maybe a little bit of all of them? "I've never met anybody in this world like me," says Ice. And that much, at least, is probably true.

—Michael Small, Carlton Stowers in Dallas


In a luxurious hotel room 45 floors above Manhattan, the rap star Vanilla Ice, 22, who is white, is battling an identity crisis. "I sit back in bed and think, 'Why am I Vanilla Ice?' " he says. " 'Why did I get into rap music? Why didn't I go to college and become a lawyer?' I guess it's the way I grew up."
Advertisement
Treat Yourself! 4 Preview Issues
The most buzzed about stars this minute!