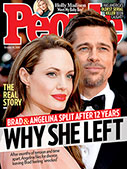 This Week's Issue!
People Top 5
LAST UPDATE: Tuesday February 10, 2015 01:10PM EST
PEOPLE Top 5 are the most-viewed stories on the site over the past three days, updated every 60 minutes
David Merrick
After a Long Absence, the Barnum of Broadway Is Back with a New Musical, and as Usual He's Upstaging His Own Show
He wanted girls in feathers. He wanted hot colors, a big dance, different songs. They appeared. When he fumed about a wrinkle in a red velvet drop, an unpaintcd screw, a crooked doorknob, they were fixed in a flash. After a decade away, haunted impresario David Merrick, the most prolific producer in Broadway history (88 shows), has revived the 1926 Gershwin musical Oh, Kay! with an all-black cast. The Abominable Showman is back. [P] As drama critic Clive Barnes puts it, "Without Merrick's shows, the last 40 years on Broadway would be a sorry picture." Merrick, 79, has won 12 Tony awards (and more than 100 nominations) for a grand list of hits including Hello, Dolly, Gypsy, Carnival, Cactus Flower, Marat/Sade and Irma La Douce. Yet to the theater he has been a shadow man since 1983, when a massive stroke nearly killed him. [P] "He was totally paralyzed," says Willard Shaffar, an electrician who has worked on every Merrick show since 1958. "But it never affected his mind. It was amazing to see him go from total paralysis—at first all he could do was move his eyes—to getting his speech back. He did it with this grim determination. He was getting speech therapy 16 hours a day. But then he had two smaller strokes, and it all went again.' " [P] No wonder the theater community viewed his last show, the 1980 international smash 42nd Street, as a sort of exuberant Irish wake for David Merrick. But somebody forgot to tell the corpse. Today, Merrick may drag a leg and often speak in a garble. But he's got a new show on the boards. He's feuding again with the New York Times. It's a lot like the good old days. [P] In his prime Merrick conducted business out of a disorienting bloodred office over the St. James Theater. He spent lavishly to develop shows. "He would polish them to an incredible sheen," says one drama critic. "Sometimes he got away with things that weren't all that wonderful out of sheer show-business expertise." Yet Merrick could also be a miserly paymaster, and he lived most of the time in a blizzard of litigation and feuds. More than once, his prop man Leo Herbert recalls, Merrick would visit a balky actor in his dressing room and "the walls would go blue" with the sounds of the producers rage. Jerry Orbach, a star of three Merrick musicals, recalls Merrick's sending the leading lady in Carnival, Anna Maria Alberghetti, a dozen dead roses when he thought she was feigning illness. The star of two other Merrick shows, Anthony Newley, once observed acidly, "Hitler didn't die at the end of World War II. He went into show business." [P] But then Merrick is obsessed by theater, to the exclusion of all else. Once Tammy Grimes, who was starring in a Merrick musical trying out in Washington, D.C., ran into him in the lobby of their hotel. Together they headed toward the theater through an underground parking garage. " 'Do you know.' Merrick said, 'you can walk all the way to the theater underground. This garage goes on for blocks." I said, 'But why do you want to? It's spring. You could be out walking in the fresh air with the birds and the apple blossoms.' And Merrick said, 'I hate nature.' " [P] But Willard Shaffar calls Merrick's public image "studied evil." In fact, Shaffar says, "he's extraordinarily, painfully shy. I've never met anybody that shy. Unless it's a negotiation or business thing—there's absolutely nothing shy about him then—he is extremely uncomfortable meeting new people." Carol Channing, star o[LB] Hello, Dolly! (a show Merrick conceived), finds him "loyal and terribly sentimental. I le has been wonderful to me. But I know he can get awfully mean sometimes." Displays of warmth can agitate him. "Some years ago I had cancer." says Shaffar. "After I was cured, I owed about $30,000. Lo and behold, he paid my bill. When I tried to thank him, he started screaming at me about a problem with one of the shows." [P] Merrick's baroque behavior may stem from his upbringing in St. Louis. Born Nov. 27, 1911, he grew up the youngest of seven children of an impoverished grocer. Home was bitterly unhappy; his parents divorced when he was 7. (Merrick would later describe his mother as "a Blanche DuBois" who reportedly went on to die in a mental institution.) Passed around by his older siblings—"in one house." a relative said, "he played second fiddle to the family dog"—Merrick eventually won a scholarship to Washington University in St. Louis. Later he went to St. Louis University Law School "for mental discipline." But as soon as he had a grubstake from lawyering, he lit out for Broadway in 1939. [P] He arrived with a bleeding ulcer and a loner's distrust ("I have the soul of an alleycat," he would later say), and at once, while maintaining a law practice, he set about learning the theater business. First shrewdly investing $5,000 in James Thurber's The Male Animal 'in 1940, Merrick became a top-line producer in 1954, with a circusy musical called Fanny. Although he swiftly grew famous on Broadway, this glowering, richly dressed nail biter never forgot St. Louis. For years he refused to take certain airline flights simply because they flew over it. [P] His attempts at family life since have fared poorly: Merrick has been married five times, to four different women (Etan Aronson Merrick, a Swedish interior decorator, was Nos. 3 and 5). His 23-year first marriage to Lenore Beck of St. Louis became a casualty of the high-rolling Broadway life (Merrick had reportedly grown fond of a chorus girl). Second wife Jeanne Gilbert, whom he wed in 1963, bore a mentally retarded daughter, Cecilia Ann; now 27, she is institutionalized in New Jersey. He married Etan the first time in 1969; they were quickly divorced but continued to live together through the early '70s. Wife No. 4 was an actress Merrick hired in 1980 for 42nd Street, Karen Prunczik. There are Merrick intimates who believe she loved him. but all that's certain is she looked bad in the press ("To me," she said, "the most important things in life money can't buy—flowers in the springtime and bunnies hopping across the grass") and was gone in a hurry with a six-figure settlement. He remarried Etan in 1983 but is now trying to extricate himself. Little wonder Merrick once declared, "A woman's place is in the oven.' " [P] The family member he seems to have been closest to is Marguerita, his daughter by Etan. "That was a beautiful relationship." says Carol Channing. "Marguerita never left him alone. If he was sitting on the sofa, she'd stand behind it with her arms around his neck." ' These days, Etan and Merrick are estranged, and the mother has custody. [P] Merrick has saved most of his joie de vivre for something else entirely: cooking up publicity. He is far and away the most imaginative stuntmeister in Broadway history. For Fanny, his first musical, he contracted with a Chinese fortune cookie company to have every slip in their cookies ask, "Have you seen Fanny?" The beau monde at Grace Kelly's 1956 wedding in Monaco looked up to see a plane trailing a streamer inquiring. "Have you seen Fanny?" Back home, Merrick was spiriting a bronze nude statue of Fanny's belly dancer into Central Park in the middle of the night. Fanny ran 888 performances. [P] Merrick has since shown a fondness for publicity gags involving live animals, including a chimpanzee driving a taxi to advertise The Matchmaker. Leo Herbert tells of the time Merrick and a publicist were driving a van into Manhattan "with an ostrich and a great horned owl in the back. for some stunt or other" and were pulled over on the highway by a cop. Talking fast, the publicist managed to pacify the policeman after he had been assaulted by the ostrich, and the van was waved on its way. "When Merrick realized what had happened." says Herbert, "he was steamed. He said. "Why didn't you tell that cop to go—himself? We would have gotten some publicity out of it.' " [P] In 1980 Merrick scored his biggest publicity coup—and showed off his cold side—on the opening night of 42nd Street. Gower Champion, the show's much-loved director, had died that afternoon of cancer; having kept the news from both the cast and the audience, Merrick stepped onstage at the curtain call and announced it. In an instant he shocked the cheering crowd into silence and made front pages around the world. "I had dinner with him two weeks later." Tammy Grimes recalls, "and I asked him, 'Why on earth did you handle it that way?' He told me, 'As a producer, I couldn't resist.' " [P] Merrick has also whipped up lots of attention by warring with the critics, especially those at the throne of power, the New York Times. When former Timesman Stanley Kauffmann appeared one evening to review a Merrick show, he found included with his tickets a cryptic threat: "At your peril." it said. "Sincerely, David Merrick." When Clive Barnes was the Times critic, Merrick wrote in Esquire that he was staying around Broadway simply "for the pleasure of throwing [Barnes's[RB] fat Limey posterior out in the street." Once, Merrick tried to take out an ad in the Times soliciting arsonists to burn the paper down. [P] The obvious question then is, What will he do to the current Times critic, Frank Rich? [P] Actually, Merrick heaved his first pie just last month, right after Rich panned Oh, Kay! While most reviews of the musical were fairly positive, Rich blistered it as "a chintzy, innocuous slab of stock" and "a minstrel show." For most producers, a notice like that from the Times is like taking a spear in the chest. For Merrick, the slam was an invitation to counterattack. [P] As it happened, Rich had attended the show with the Times's new theater columnist, a woman named Alex Witchel—with whom, as Merrick noted in a roar of complaint sent to the newspaper's publisher, Rich has been "romantically linked." Goosed as well by an unflattering item about Oh, Kay! that appeared in Witchel's column the same day as Rich's review. Merrick accused her of obstreperous behavior during the performance and suggested that it might have affected Rich's professional judgment. Then the Merry Prankster placed in the Times an aspish ad headed "AT LAST! PEOPLE ARE HOLDING HANDS IN THE THEATER AGAIN!" with a big heart beneath it, within which were tucked negative quotes about his show from both Witchel and Rich. After one edition the ad vanished—because, according to sources at the paper, Rich threatened to quit if it did not. [P] It is unclear how much Merrick's mooning the Times has helped Oh, Kay!'s ticket sales. Still, many on Broadway were delighted to see him attacking the widely feared Rich, and the producer vows the fight isn't over. "This is war," he said, But then, when it comes to David Merrick, what isn't? His private life (though he won't discuss it) is equally action packed. Perched atop a fortune estimated at anywhere from $20 million to $75 million, he had to endure some elbowing among his inner circle after he fell ill—wolves, it appeared, creeping closer as the fire died. But now the balance of power has shifted, ever since a woman named Natalie Lloyd suddenly moved into Merrick's midtown apartment in 1989. [P] Lloyd, 36, prim and guarded, says she met Merrick a couple of years ago when he was ceremonially installed in the offices of his former attorney, where she was working as a receptionist. Before long she saw "other people were taking advantage of him. I do not want to be specific." What drew her to Merrick personally? "If I see people keep on lying to you and trying to make you depressed and isolated, I feel sorry for you." Merrick's money, she says, is "absolutely immaterial" to her; she has no plans for the future except "to do something meaningful. To help people. To bring justice. To be good to the good people. To be bad to the bad people." [P] Meanwhile, Merrick plots his next musical—he is negotiating now for a property he has eyed for five years—while fighting the usual skirmishes. Among other things, he is involved in a nasty wrangle with Actors Equity for refusing to allow one of the performers in Oh, Kay! to take a curtain call with the rest of the cast. The actor, who plays a heavy, is puzzled and upset, but Merrick has said he does not want the villain onstage for the curtain call. "This is an old-fashioned romance," he says. "The good people live happily ever after. The bad people are never heard from again." [P] As quirky—i.e., Merrick-like—as that sounds, it's not the real story. According to a source close to the show, "The trouble is, the guy's too tall. Merrick likes him as an actor, but those final bows arc staged very carefully, and to Merrick, the guy's head ruins that final stage picture. Rational or no, that's his reason. The man is a perfectionist." [P]
Advertisement
Treat Yourself! 4 Preview Issues
The most buzzed about stars this minute!