People Top 5
LAST UPDATE: Tuesday February 10, 2015 01:10PM EST
PEOPLE Top 5 are the most-viewed stories on the site over the past three days, updated every 60 minutes
A Different Drummer Stakes Out a New Beat in Green Card
On the ground floor Wright reaches the hallway where his mother was shot and killed last August. "Why should I be scared?" he says. "That's what they want you to be. Scared. You gotta have heart. And when you been through the things I been through, you have heart."
All his life Wright's will has been tested. Until two months ago. he didn't own real drums; instead, he played on the bottom of a plastic bucket, earning change from passersby on the streets of Times Square. Even so, he is a five-time winner at the Apollo Theater's celebrated Amateur Nights, and his skills have started bringing him jobs. Last year Spike Lee hired him for a Levi's TV commercial, and
Mariah Carey
, Fine Young Cannibals and Jane Child have put him in their rock videos. Wright even drummed himself all the way from Harlem to Germany, where he opened for jazz saxophonist John Lurie on New Year's 1990. "There's something phenomenal in his playing," says Lurie, founder of the avant-garde band the Lounge Lizards. "It's totally raw. He does this thing with subdividing beats that I've never heard before." This April, Wright's talents will be honored again at a New York City benefit concert sponsored by the family of the late drummer Buddy Rich. They will present him with the Buddy Rich Memorial Scholarship, given annually to the nation's most promising young drummer.
Yet for Wright, those triumphs haven't softened his life's hard terrain. Last summer his mother, Marilyn, 35, walked in on a drug-related robbery in their building and was fatally shot. Though Wright denies it, friends say that she herself was a drug addict who relied on her son for financial support. "Can't get over her." Wright says sadly, fingers drumming on his thigh. "She was a sweet, kindhearted lady." Ari Marcopoulos, who made a 1989 documentary about Wright that ran on PBS. saw a tight bond between mother and son: "Larry's mother wanted all good for him. She was trying to turn around whatever was going wrong."
Marilyn Wright had raised her son alone since his infancy, when she and his father had separated. When he was 5. a fire destroyed their Bronx apartment, and the two shuttled through homeless shelters and temporary housing before finally settling in Harlem a few years ago. From his earliest days. Wright found the special rhythms of life. "I drummed with toothbrushes on the sink, on pots, anywhere," he says. At 6, he began playing a metal barrel on the streets for money, and a year later he joined an R&B band for which his mother sang. Then, at 10. Wright grabbed his first plastic bucket from a construction site near Times Square. "I hit the rim to sound like cymbals." he says. "In the middle it's a snare, and when I lift it with my feet, that's for the bass. Basically it's a whole drum set."
The bucket remains Wright's instrument of choice, and despite his movie and video gigs, he still drums on the streets to make money. He says he has saved his checks from professional jobs, but he has no bank account and channels considerable cash into his wardrobe. ("He has more sneakers than Imelda Marcos had shoes," says Wright's uncle Bernard Mercer.) After his mother's death, Wright lived with another uncle in the Bronx, but when he began skipping school, he was told to leave. Now he sleeps where he chooses, often avoiding the grimy, three-room Harlem apartment shared with his grandmother and guardian, Margaret Cook, and her two grown sons. In December, Wright's wanderings took him to a Brooklyn party where toughs, jealous of his fame, hit him on the head with a gun butt. "He's a typical child." shrugs Cook, 56, when asked about her grandson. "There's nobody gonna make him do anything he don't want to do."
It is a lesson that others have also learned. A friend tried to open a trust fund for Wright, but the youngster wouldn't cooperate. His former manager, Ken Thurlbeck, offered health insurance and steady concerts, but he gave up after nine months. "I really like him," says Thurlbeck, who took Wright into his own apartment for awhile. "But he was like a wild animal. We had to live with him for the week before each appointment to make sure that he'd show up." Wright's high school grade adviser, Carla Palandrani, has had similar troubles. "He's a lovely, polite young man," she says. "But in two years he's been here about 20 days. He has a learning disability and reads at the second-grade level. He should wear glasses but he doesn't."
For all the dangers and dead ends in his life. Wright remains hopeful about his own prospects. He talks of a stable life, an album, a TV show, a house in a safe part of the Bronx. "Life is hard," he says. "But it won't be hard forever. You just got to hang in there."
He's playing on the big screen these days, jolting moviegoers with his jackhammer drum licks in the opening scene of Green Card. Yet for Larry Wright, the 16-year-old drummer whom director Peter Weir had spotted on the street and cast for the film, those heady moments of glory seem far away right now. Wright is making his way downstairs through the Harlem tenement where he lives. He steps over chicken bones and cigarette butts, past graffiti-scrawled walls and men who glare at him threateningly as they transact business in the shadows.
Advertisement
Today's Photos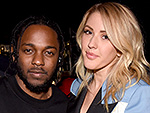 Treat Yourself! 4 Preview Issues
The most buzzed about stars this minute!