People Top 5
LAST UPDATE: Tuesday February 10, 2015 01:10PM EST
PEOPLE Top 5 are the most-viewed stories on the site over the past three days, updated every 60 minutes
With Fan Clubs Lifting Off Like Patriot Missiles, NBC's Arthur of Arabia Is the New Rising Star in the Gulf


"Two years ago I was a tramp on the fringes of NBC," muses Kent. "Now here I am, with 40 people backing me up, the subject of quite extraordinary and undue attention. I've always regarded myself as kind of awkward—I don't enjoy watching myself on TV." Stateside women obviously do; the fan clubs they're forming from Boston to San Francisco to honor their "Scud Stud" have led to talk of a postwar gig on the ailing Today show. (Deborah Norville, for one, wouldn't mind any colleague who also "gets letters written by people in their underwear.") The notoriety, frets Kent, "is a mind blower. I'll pay for it down the line. Even within our own happy little community, there will be a backlash."

Of more immediate concern, though, are the frustrations of trying to describe the war from the end of an extremely short leash. Until Jan. 16—day one of the air war—Kent and other reporters filed often from the field; since then, he says, it has been all pools and briefings. "I find it bizarre to be on bended knee, begging for the rights guaranteed us by the U.S. Constitution and by previously accepted standards of press-government relations," he says. "We want all correspondents here to do what the troops and their parents want us to do—tell them directly and truthfully what is going on."

Such impatience may be in his bloodlines, since reporting, he proudly notes, "is the family craft." Born in Medicine Hat, Alberta, and raised in the Calgary area, Kent is the son of the late Arthur Parker Kent, a newspaper editor; his brother, Peter, 47, formerly with NBC, now reports for the Christian Science World Monitor cable news program; and sister Norma, 39, is a host of Market Place, a top-rated 60 Minutes-style consumer program on the Canadian Broadcasting Corporation. His other two sisters are equally accomplished: Susan, 45, is an editor in Toronto, and Adele, 42, a corporate litigator in Calgary.

At 18, Arthur signed on as a cub reporter at the Calgary Herald but soon went electronic, working his way through Carleton University as a reporter for Ottawa's CJOH-TV—the station that also launched Peter Jennings. In 1976 Kent became the CBC's youngest network news correspondent. Three years later he put together an independent half-hour documentary on Afghanistan; having learned to tap tax-shelter dollars, he raised the money to produce "a pretty exploitative package called The Class of 1984." One reviewer of the Michael J. Fox-Roddy McDowall youth flick labeled it "Blackboard Jungle with herpes."

In 1983, following a brief marriage to an American model and hairdresser, Kent returned to Afghanistan as a free-lance journalist. "I had started to have serious cravings to do reporting again," he said. He spent the next five years chronicling, in both print and video, the mujahedin's fight against the Soviet-backed regime. That work, along with a film piece done with brother Peter, caught Tom Brokaw's eye and resulted in an offer to join NBC full-time. Working from his base in Rome since mid-1989, Kent covered Romanian dictator Nicolae Ceausescu's downfall (roaming war-torn Bucharest in a commandeered meat truck), the toppling of the Berlin Wall and the massacre in Beijing's Tiananmen Square.

"The last two years have aged me a lot," Kent acknowledges. "I've stood by an Afghan grave, 10,000 feet up in the Hindu Kush, as people from the Stone Age buried one of their own who was blown away by a visitor from the Jet Age. The cruelty in Beijing was horrifying and close-range—a soldier raising his rifle at the guy standing next to you. The basic motivator in reporting is curiosity, but a lot of us are OD'ing on adventure and travel. Being an electronic nomad is not a good way to live. I don't think people are meant to be teleported and transported, shipped, fed, beamed, transmitted, edited and presented."

Yet he accepted the Saudi posting. Kent concedes that "the thought of Saddam Hussein's empire crumbling is a very satisfying one"—last February the dictator ordered Iranian-born British journalist Farzad Bazoft, a colleague of Kent's, hanged on charges of espionage—but he is more intent on bearing electronic witness to the gulf war. "It isn't merely seeing pictures on television that will make war so distasteful as to be obsolete," he explains. "It will be the knowledge in every human soul that your family could be destroyed, your son or daughter killed, your house knocked down, that instruments of mass destruction—finely tuned to tear flesh and blood—could be used against you."

In Dhahran, Kent snatches what sleep he can during daylight hours so that, as a gauzy desert moon crests in the black Arabian night, he can report to a prime-time audience eight time zones to the west. Kent has little time to himself; two of the things on hold are his social life and an unfinished novel about war correspondents (one hopes it will include an edited version of the time he was cornered in snowbound Tashkent by a 250-lb. Russian prostitute). His hotel room is cluttered with books (from fables by Italo Calvino to contemporary political analysis by Thomas Friedman) and CDs (from B.B. King to Santana to Neil Young).

Adding to the disarray is the growing stack of purple heartthrob faxes. Sister Norma is much amused: "Friends say my brother's handsome, and I say, 'Oh, puhleeze.' " And back in Alberta, Kent's mother, Aileen, 77, hears of his newly earned sex symbol status and thinks "this worship stuff is awfully silly. Arthur has been on television for years without any of it." Nor does she let her youngest feel self-important on their thrice-weekly phone calls. "She reminded me," Kent says sheepishly, "that when she and Dad were in London during World War II, they didn't have Patriots." Yet those billets-doux are hard to ignore. On his first night off in almost four weeks, Kent perused some light verse—not by a Middle Eastern poet like Omar Khayyam but by "an eager babe from Boston" who wrote, in part, "I see your face across the sands/ Your eyes as black as frying pans.... Your sleepy smile, your sexy hair/ Disarm a Scud up in the air."

Hey, in a war zone where 30,000 U.S. troops are women, why shouldn't Desert Storm's Betty Grable be a guy?

Maria Wilhelm in Dhahran


Aren't war correspondents supposed to be safari suit-rumpled, like CNN's Peter Arnett, rather than bomber jacket-rakish, like NBC's Arthur Kent? Aren't they supposed to be wooed by hot tips from informed sources rather than passionate faxes from faraway fans? Welcome to Operation Desert Storm, which has transformed Kent—at 37, a network no-name despite back-to-back Emmys for his reporting in Romania and China—into a thirtysomething idol. The reason? His live accounts from Saudi Arabia's Dhahran International Hotel, delivered with an understandable shakiness that suggested a beguiling vulnerability. "This is not a drill," he said one night, pausing suddenly to wrestle on a gas mask.
Advertisement
Today's Photos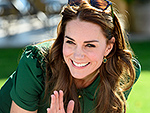 Treat Yourself! 4 Preview Issues
The most buzzed about stars this minute!