People Top 5
LAST UPDATE: Tuesday February 10, 2015 01:10PM EST
PEOPLE Top 5 are the most-viewed stories on the site over the past three days, updated every 60 minutes
Picks and Pans Main: Tube
Natural Highs
Fox (Thurs., March 7, 8:30 P.M. ET)
C
The planned six episodes of this documentary series will follow students at Glenbard West High School in the Chicago suburb of Glen Ellyn through the shortest months of their lives: those of their senior year.
It's a fascinating, volatile period. As you watch these kids deal with family, friendship, romance and school matters, you see how mature and self-contained they are most of the time and how flustered and erratic they can be at other times. The adults seem more affected in the presence of the camera than the teens do.
The shows focus on the school's most colorful characters: a female ice-hockey goalie, a recovering teenage alcoholic, the football quarterback, a former gang member, the homecoming queen, etc. Even so, each half hour contains more tedium than it does high drama. (Two nights later, at the same time on Saturday, the show moves into its regular slot.)
For kids, Yearbook is an intriguing opportunity to compare and contrast their own experiences. For the rest of us...
PBS (Check local listings)
B
It has been a very good year for the Chairman of the Board. His music has been repackaged on two outstanding anthologies from Reprise and Capitol records. He has captured headlines by admonishing two musical upstarts, Sinead O'Connor and George Michael. The Disney Channel has been showing his old TV specials. And to top it off, there's this glowing tribute, with Mel Tormé as narrator.
In recording studios, onstage, onscreen and on the tube, we watch Sinatra turn from a skinny Hoboken kid to a pop-culture potentate. But at 65 minutes, this is hardly the definitive Sinatra bio. It steers clear of all his personal controversies and ends in 1965 with Frank celebrating his 50th birthday. Even as hagiography, it's flawed. There's too much emphasis put on his acting career, and only tantalizing snatches of music are included.
Just tracking the development of his talent and craft, though, is fascinating. This is, after all, an entertainer whose status as an American icon has been approached only by Elvis Presley.
TNT (Mon., March 11, 8 P.M. ET)
D
Historical costume dramas are the stock-in-trade of Ted Turner's superstations. But the Civil War era has been a graveyard for them. Following last year's abysmal The Rose and the Jackal comes this amateurish story of the 1862 naval battle between the first metal-clad warships, the Merrimack and the Monitor.
The plot is silly, the dialogue hokey. ("Yes, yes," says the Secretary of the Navy. "Johnny Reb is more effective with the cloak-and-dagger than we are. Granted.") The acting is rigor mortis stiff, especially by Reed Edward Diamond as a Union spy.
Even the leads, Alex Hyde-White and Virginia Madsen, are hardly likely to list this insipid project on their résumés when they get to the big audition in the sky. At least Fritz Weaver as the Monitor's designer gets to hide behind the thickest Swedish accent in prime time since Inger Stevens starred in The Farmer's Daughter.
ABC (Mon., March 11, 9 P.M. ET)
B+
Chloe (China Beach) Webb plays a mentally retarded woman who wins the state lottery. Her older sister and caretaker, Amy (Field of Dreams) Madigan, is furious that this stroke of good fortune causes their mother, Olympia (Moonstruck) Dukakis, a recovering alcoholic, to get reinvolved in their lives as Webb's legal conservator. For most of the film, mother and daughter wage a bitter emotional battle, with Webb as the uncomprehending hostage in the middle.
The dramatic dice are somewhat overloaded with the twin issues of emotional dysfunction and retardation. But director Donald Wrye keeps this study of responsibility and resentment from getting too maudlin with a simple, honest, if sometimes stagy approach. The overamped scene in which Webb wins the lottery, for instance, rings jarringly false.
Terence (Tour of Duty) Knox shows unexpected sensitivity as Madigan's art teacher—lover. But then, the cast is uniformly good, especially Madigan, who can call upon more reserves of anger and pain than most actresses. She gives an Emmy-caliber performance here as an adult who cannot forget the pain her mother has caused her.
PBS (Check local listings)
B+
The Sesame Street crew gets to stay up late for a prime-time celebration of the "hatch-day" of that fabulous feathered fellow. Helping oversee the song-filled festivities arc Robin Williams and Whoopi Goldberg.
There are a few small clouds on the horizon: Snuffy doesn't know how to roller-skate, and Cookie Monster gets a catastrophic case of the munchies. But it all works out and time really flies, even if Big Bird doesn't.
Lifetime (Tues., March 12, 9 P.M. ET)
B-
In a divisive child-custody case that dredges up charges of mental instability and sexual molestation, a father hires Lindsay (Mancuso, F.B.I) Frost, a former DEA operative, to protect his daughter. On her side, the mother has Veronica (Hill Street Blues) Hamel, a renegade feminist who wants to kidnap the child and send her and the mother into hiding. Robert (People Like Us) Desiderio is the cop in the middle.
CBS handled a similar theme last season with greater economy and authority in its In the Best Interest of the Child. Still, it's refreshing to see female action film (pistols, car chases, the whole nine yards).
While the story unfolds slowly and there are some unconvincing performances, Hamel is brisk and believable, and Frost has evolved into one of the most charming and compelling TV actresses, able to inject conviction into even simpleminded scripts like this.
>The crucial contributions of black artists to popular music are recognized in two programs this week. In Going Home to Gospel on PBS (check local listings), Patti LaBelle leads a rousing celebration filmed at Chicago's Quinn Chapel. Listen to such steamy singers as the New Generation Chorale and Debra Henry, and you'll understand why gospel-oriented congregations often bring fans to church. LaBelle also hosts the syndicated Soul Train Music Awards (check local listings) along with Luther Vandross and Dionne Warwick; nominees range from
Janet Jackson
to Branford Marsalis.
>Sunday is a good day to contemplate God's splendor—even on TV. PBS's Nature series (March 10, 8 P.M. ET) presents Grand Teton Wilderness, filmmaker Wolfgang Bayer's splendid study of this rugged region in Wyoming. The Urban Gorilla, an episode of National Geographies Explorer series on TBS (9 P.M. ET) considers the more than 600 gorillas currently in man-made habitats. The animals are receiving good care so the outlook is upbeat—except for the depressing spectacle of a silverback that has been on display for 24 years in cramped isolation in a Tacoma, Wash., shopping mall.
You often hear film actresses bemoaning the lack of decent female parts. You rarely get that complaint from TV actresses. That's because they know their medium has reached absolute parity. Their male counterparts have to wade through exactly the same mediocrity they do. Well, this isn't a particularly good week for TV (except on PBS, which is baiting the trap for another pledge period). But it does contain two movies with unusually strong roles for women—three in the emotional family drama Lucky Day and two in the child-abuse actioner Stop at Nothing.
Advertisement
Today's Photos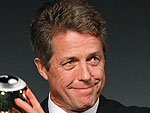 Treat Yourself! 4 Preview Issues
The most buzzed about stars this minute!