People Top 5
LAST UPDATE: Tuesday February 10, 2015 01:10PM EST
PEOPLE Top 5 are the most-viewed stories on the site over the past three days, updated every 60 minutes
Two Years After Sarah Aicher Was Killed on Pan Am 103, the Curtain Rises on Her First Play, Heaven
The young couple had giddily fantasized about a dream cast for the play—headed by Albert Finney, no less—and looked forward to a staged reading by the Bristol Express after the holidays, directed by Freeman.
But they were never to see the reading. Their flight to the States was the doomed Pan Am 103, which was blown up by a terrorist bomb over Lockerbie, Scotland, killing all 259 aboard. Andy Jordan, director of the Bristol Express, remembers feeling a stunned sense of "total disbelief" at the news. "They were both so attractive, so charming and vital and talented," he says.
The tragedy only deepened Jordan's commitment to Aicher's play, which portrays three homeless men living on the street outside Heaven, a popular gay nightclub in London. "Heaven is enormously poetic and very lyrical," he says. "It is truthful, painful at times, very questioning, powerful and dramatic." For two years Jordan worked to raise most of the necessary $100,000, and now a full-scale production has opened at London's small (202-seat) Lilian Baylis Theatre. Any profits from the play's month-long run will be divided between the social-care unit of London's St. Martin-in-the-Fields church, which serves the city's homeless, and a trust fund, set up in memory of Aicher and Freeman, to aid people and projects connected with the arts.
In the audience the first week were Aicher's parents, Joyce and Paul, who flew over for the occasion and dined with cast members after the performance. "There were many sides to Sarah's conscience, and she put a lot of herself into that play," says her mother. "It was startling for us," her father adds. "We didn't know, as it was Sarah's first play, if her voice would be a struggling one."
What did not surprise them were the religious overtones in Heaven and the anger the play expresses over the plight of the homeless. Deeply religious throughout her life. Aicher had become an evangelical Christian in the Church of England and an energetic volunteer in programs to help the disenfranchised.
"She got involved, and that's where that comes from in the play," says her father, a successful industrialist who sold his company in 1982 and set up the Tops-field Foundation, which funds programs for the homeless and adult education on social issues. "She sees people in a way that's not an abstraction; they're not cardboard figures or statistics."
That compassion sometimes caused Sarah pain, her parents say, a pain reflected in her notes on the play. "It is our incompleteness, rawness, that makes us exposed; our need allows us to be destroyed or loved." she wrote. "It is our need for others that makes us open to destruction."
But the Aichers also remember a less somber Sarah. The youngest of four children, Aicher was headstrong and flamboyant—so much so, her parents say, that her two brothers nicknamed her Sarah Bernhardt. "She was so much fun, always very curious with a lot of questions, and very determined when she settled on something." says Joyce. "She wanted to know about things—about life and religion, and she kept at it."
After graduating from the University of New Hampshire in 1981 with a degree in youth drama, Aicher went to England to study acting, supporting herself with jobs as an au pair, a model, a secretary and a receptionist. She met Freeman through her church in 1986, and they started dating a year later. "He encouraged her enormously," says Jordan, who worked with Freeman in the Bristol Express group. "I don't believe the play would have been written without his support."
London critics have given Heaven mixed reviews, praising the play's passionate earnestness but pointing out flaws that betray a beginner's awkwardness. On the basis of this one effort, wrote the reviewer for the Independent on Sunday newspaper, "it is hard to tell whether the world has lost a hopeful talent as well as a young life."
Aicher's parents and director Jordan take a different view. "The play believes implicitly in the miraculous, in the metaphysical, in the afterlife." says Jordan. "The irony of the play—of its beliefs and its title and their dying so young—the tragedy of all that was unbearable and still is."
The Aichers remember their daughter's satisfaction when she completed Heaven—how she seemed to have reached a balance between the part of her that sought fame as an actress and the part that wanted to be a good Christian. "You could tell in the phone calls that it was a different Sarah in a way, that she had worked through some things." her father says. "One doesn't know whether that means that she had the good fortune of seeing life at its best at the end—or whether the tragedy was that she had so short a time to have the opportunity."
—Cynthia Sanz, Laura Sanderson Healy in London
Contributors:
Laura Sanderson Healy.
The 1988 Christmas season was an exciting time for 29-year-old Sarah Aicher. An aspiring American actress and playwright living in London, she was planning a trip to her parents' home in Pomfret, Conn., accompanied by her Canadian actor-boyfriend, Paul Freeman. She and Freeman, 25, were bearing two pieces of good news: They were about to become engaged, and Sarah's first script, Heaven, had attracted the attention of the Bristol Express Theatre Company, a London-based troupe that specialized in new dramatists.
Advertisement
Today's Photos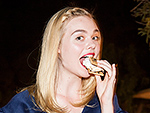 Treat Yourself! 4 Preview Issues
The most buzzed about stars this minute!