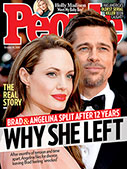 This Week's Issue!
People Top 5
LAST UPDATE: Tuesday February 10, 2015 01:10PM EST
PEOPLE Top 5 are the most-viewed stories on the site over the past three days, updated every 60 minutes


THE DUCHESS OF YORK
As I read your article about the supposed antics and indiscretions of the Duchess of York, I couldn't help but think, "What's the problem here?" Even though you tried to show an indecent Fergie, it just didn't work. There simply wasn't enough evidence of scathing behavior to warrant such trite and snobby tattle-taling. So she parties—and her friends aren't quite "cricket." Andrew doesn't seem to have a problem with any of this. Sarah doesn't deserve the kind of judgmental, raised-eyebrow, negative media coverage she is getting. I say lighten up and give her a break.
Stacy Madden
Agoura, Calif.

If the Duchess of York wants to party with a Texas millionaire, let it be under the covers—not on one!
Martha Haake
Leaburg, Oreg.

Well! You did it this time! You should all be fired! How could you put that ditzy redhead on the cover when you had Stormin' Norman Schwarzkopf?
Charlene Wills
Stillman Valley, Ill.

GEN. H. NORMAN SCHWARZKOPF
It's been a long time since I have admired and respected anyone as much as General Schwarzkopf. He is handsome, intelligent, fair, humorous and, above all, articulate. Truthfully, I'd vote for a "Bear" over a "Quayle" any day.
Louise Zimmerman
Union, N.J.

You can have Arthur Kent. The real "Scud Stud" of Desert Storm is Gen. H. Norman Schwarzkopf. What a man!
Holli D. Jones
Midland, Texas

PICKS & PANS
Shame, shame! for allowing Ralph Novak to discredit himself in his review of The Doors. Mr. Novak attempts to lambaste Jim Morrison by saying that Morrison's poetry consists of "rhymes-r-us couplets" matching "wallow in the mire" with "our love becomes a funeral pyre." If Mr. Novak knew anything about Jim Morrison or had paid attention to the movie itself, he would realize that Robby Krieger (the Doors guitarist) actually wrote those lyrics.
Scott Bracy
Philadelphia

Not one to gloat, Ralph Novak nevertheless points out that "Light My Fire" is credited to the entire band, not just Morrison or Krieger, in drummer John Densmore's recent book about his years with the Doors.—ED.

After reading Ralph Novak's review of The Doors, I couldn't get to the theater fast enough. He has been off the mark so many times that I now consider his opinions the exact opposite of my own.
Susan S. Sweet
Griswold, Conn.

ASPEN
Help! I plan to visit Aspen and urgently need Terry Butler's criteria for the "right people" she likes to attract to her town. Do I submit my body-fat analysis, net worth, social calendar or family tree? I worry deeply, as I do not turn letters or publish newspapers and only love to ski, have fun, spend some money and respect the law. Will Ms. Butler allow me in or banish me "down valley"—or, worst of all, to Vail?
Nora Brandt-Smith
Palm Springs, Calif.

KELLY EMBERG & ROD STEWART
I hope Kelly gets all she is entitled to from that insatiable repeat offender Rod Stewart. As for Rachel Hunter, she better be taking notes; she'll be needing them.
B.J. Sullivan
Ojai, Calif.

Kelly Emberg sounds like a jealous and resentful woman who didn't prepare herself for the ripe old age of 31.
D. Spencer
Los Angeles

Concerning Arnold Stiefel's remark about rock stars dating models rather than "that sweet secretary down the hall with the thick arse." Well, I don't have a "fat arse," but I'm the secretary down the hall, and maybe if rock stars had enough sense to ask one of us out, their relationships would last longer and perhaps not cost them millions in the end. Then again, maybe we would have enough sense not to date middle-age rockers trying to be 20!
Judi Fisher-Miller
Plainville, Mass.

LYNN & VANESSA REDGRAVE
Instead of being "pissed off" with her sister for voicing her opinions. Lynn Redgrave should be "pissed off" with an industry that discriminates against people for being of what it considers the "wrong" political inclination. Whatever happened to free speech? Clearly, Lynn Redgrave's motivations for speaking up are selfish, and that is one adjective that cannot be used to describe her sister.
Randa Seifeldin
Pontiac, Mich.

HERMIT CRAB JEWELRY
Hore's the deal. I get big hooks and chains and hang some kids from the eaves of my house for decoration. What fun! They can sleep if they want or crawl around on the clapboards. Don't get me wrong, I'm pro-human. The hooks will go through their clothes, not their bodies. I'll use common sense and bring them in when I decide it's too cold. C'mon guys, buy a clue. Our fellow creatures are not here for our convenience or our jewelry.
Kim Lauritsen
Mapleton, Maine


Readers were not pleased that following the end of the Persian Gulf war (PEOPLE, March 11), we chose Fergie for our cover and not General Norman Schwarzkopf. Others were annoyed by movie critic Ralph Novak's review of The Doors.
Advertisement
Treat Yourself! 4 Preview Issues
The most buzzed about stars this minute!