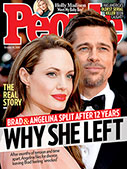 This Week's Issue!
People Top 5
LAST UPDATE: Tuesday February 10, 2015 01:10PM EST
PEOPLE Top 5 are the most-viewed stories on the site over the past three days, updated every 60 minutes
Picks and Pans Main: Tube
Crime Time


PBS (Sat., March 30, 9 P.M. ET)

A-

If you want some good old-fashioned rock and roll, don't miss this week's hour-long ACL, when the attraction is a still-potent Little Feat. The reformed lineup, with Pure Prairie League's Craig Fuller taking the place of the late Lowell George at the microphone, rips through a repertoire that takes in the old ("Fat Man") as well as the new ("Texas Twister").

The Feat's greasy New Orleans-style musical gumbo is fueled by slide guitarist Paul Barrere, keyboardist Bill Payne and the most in-the-pocket rhythm section outside the Neville Brothers.

(If your appetite for pop music is whetted, be advised that Whitney Houston will again display her patriotic streak with a live concert for returning servicemen on Easter night-HBO, March 31.9 P.M. ET. That's a tempting proposition because Whitney recently showed on Saturday Night Live that her skills as a performer are beginning to catch up with her vocal talent.)

CBS (Sun., March 31, 9 P.M. ET)

C-

Daniel J. Travanti plays a brusque businessman who goes to Kenya to talk his doctor daughter (Dirty Dancing's Jennifer Grey) into giving up her research on a strain of sleeping sickness afflicting the Masai tribe.

His offensive manner ("Why don't you just butt out, bwana," he tells one new acquaintance) means he doesn't have many sympathizers when he's falsely accused of murdering a local official.

Pursuing that leaden premise, this bore in the bush follows a predictable path as Travanti's efforts to clear his name coincide with his passage from conceit to compassion. From ugly American to tribal champion—sheesh, even Ebenezeer Scrooge didn't undergo a transformation this drastic.

NBC (Mon., April 1, 9 P.M. ET)

C

While the men retire to the den for cigars, brandy and the NCAA basketball final on CBS, the women of the house will want to adjourn to the living room for some video romance. That would seem to be NBC's idea, anyway. Once again, as during the World Series, the network is counterpro-gramming against a big sports event with a Danielle Steel potboiler.

Cheryl Ladd plays a single mother with teenage twins who chucks her career as a network morning-show host to marry a hunky heart doctor (Michael Nouri) in L.A., a widower with three children of his own. Consequent contentious events make this anything but The Brady Bunch.

Steel's plot installs and presses all the requisite buttons: glamour professions, affluence, passion. But it's all skin-deep and event-driven; none of the characters has an inner life.

The moral is that if you're an unappreciated wife and mom, just pack a bag and get out. Your family will realize the error of its ways, beg you to come back and. from that day forward, treat you like a queen. Uh, guys, maybe you'd better come out of that den before it's too late.

CBS (Tues., April 2, 9 P.M. ET)

B

This is a dramatization of the friendship between football star Ricky Bell and handicapped youngster Ryan Blankenship. "Mario Van Peebles, director of New Jack I City, plays Bell, who developed a rare muscle disease during his career as a pro running back in the early '80s. Lynn (The Josephine Baker Story) Whitfield plays his wife. I Lane Davis portrays the boy, Susan (L.A. Law) Ruttan his mother, and Polly (Alice) Holliday his grandmother. There are cameos by three real-life running backs. Marcus Allen, Anthony Davis and Charles White, who, like Bell, starred at USC as collegians.

As you might surmise from the title, you're in for a tearjerker. And as onion dicers go, this is rather unimaginative. But Van Peebles's completely charming performance and uncommonly good on-field and I locker-room footage make this the most moving TV movie about football since James Caan and Billy Dee Williams starred in Brian's Song.

>Here's more lazy competition for Johnny and Jay. On Tuesday (April 2), CBS rolls out its wheel of new action series that will air weeknights (11:30 P.M. ET). In The Exile, Jeffrey (Search for Tomorrow) Meek stars as a renegade U.S. agent in Paris, equally lethal to the ladies and the bad guys. Grade: C

It's premature to assign a grade to Scene of the Crime (Wednesdays), a mystery anthology hosted by prolific TV producer Stephen J. Cannell, but it needs serious remedial work.

Cheesy as all get-out. Fly by Night (Thursdays) stars ex-Playboy model Shannon Tweed as the scam-happy head of an air-charter company. Grade: D-

In Dark Justice (Fridays), Rainy Zada portrays a bespectacled judge by day. a leather-and-denim-clad vigilante by night. Grade: C-

Sweating Bullets (Mondays) stars Rob Stewart as a ponytailed Florida P.I., a glib beachcomber who is catnip to the babes. Grade: B-


TV series usually don't change much over time. Good ones stay good and the bad are irretrievable. Yet some shows do fluctuate. This season, for instance, Davis Rules, Designing Women, The Fanelli Boys, Wings and Babes have all been sliding downhill. Law and Order and Seinfeld have consistently exceeded expectations. I'm also looking forward to the return next week of CBS's Northern Exposure; its loopy humor held up very well over last summer's trial run.
Advertisement
Treat Yourself! 4 Preview Issues
The most buzzed about stars this minute!