People Top 5
LAST UPDATE: Tuesday February 10, 2015 01:10PM EST
PEOPLE Top 5 are the most-viewed stories on the site over the past three days, updated every 60 minutes
Picks and Pans Main: Song
Alone with Three Giants
The late—and let us say without equivocation—great Sammy Davis Jr. was not exactly known for simplicity of dress, demeanor or delivery. He was usually all energy and snapping fingers, briskly tapping toes, lavish production values and large orchestras. But this reissue of an album recorded 25 years ago tunes into a very different side of Mr. Entertainment, that of a reflective balladeer with a direct line to the heart. His sole backup is a guitar, that of the sensitive Brazilian Almeida. It is enough. (Only on "The Folks Who Live on the Hill," which is brushed with the sound of flamenco, is it too much.)
Most of the songs—"Here's That Rainy Day," "Where Is Love?" "Every Time We Say Goodbye," "The Shadow of Your Smile"—deal with love lost or love never found, and Davis imbues them with a lovely wistfulness. Best are "Joey, Joey, Joey," the confession of a man who loves and leaves, from Frank Loesser's The Most Happy Fella, and Kurt Weill's classic "Speak Low."
This is just plain Sammy and simply fine. (DCC Compact Classics)
Various artists
Okay, let's put politics aside for a minute. Forget that this album is a benefit for People for the Ethical Treatment of Animals. Just listen to the music and enjoy a first-rate collection of 14 new pop songs. With the exception of the sappy opening number by Howard Jones, both old-timers and newcomers (including actor River Phoenix's band, Aleka's Attic) contribute fine performances. K.d. lang's twangy rendition of Maggie Roche's "Damned Old Dog" is both funny and touching; Chrissie Hynde and the Pretenders bring true grit to the reggae number "Born for a Purpose." Freed from the jangle of his band, R.E.M., Michael Stipe sings a beautiful trio with the Indigo Girls, "I'll Give You My Skin."
While last year's best anthology, Red, Hot + Blue, zigzagged from smooth jazz to messy rock, Tame Yourself sticks to pop-rock. Anyone who likes one song will probably like them all.
And now for the politics: Unlike the Red, Hot + Blue collaborators, who raised money for AIDS by singing Cole Porter songs, the PETA posse, mixing original and old tunes, sometimes lets the message drown out the music. Though the album's best lyrics subtly express compassion for animals, others deliver what feels like a lecture.
It's tough to keep from thinking that these pro-animal performers put the cart before the horse. Expressing outrage about fur-wearing and meat-eating seems like a secondary priority at a time when so many poor human beings face horrific living conditions. (It's probably not a coincidence that Tame Yourself mainly includes white artists. There are certainly no black rappers, who tend to focus on crimes against people.)
There's nothing wrong with performers using their talents to stop cruelty to animals. It's just too bad that no one puts out an album as lively as this one to raise money for such unfashionable causes as protecting the health and hides of the people who live down the street. (RNA)
Daniel Ash
The underground British rock trio Love and Rockets got a jolt in 1989 when the grinding single "I'm Alive" hit No. 3 on the American pop charts. Surprised by sudden success, the band members faced pressures that pushed them apart. They went on hiatus, and then they seemed to go kaput.
The group has still not formally disbanded, but it is sure in the independent-project phase. Now, after L&R guitarist David J. released a disappointing 1990 album, comes Ash's solo debut, which is fueled by the same ingenious style that won fame for their erstwhile band.
Ash writes melodic pop songs and presents them with such variety that he seems to have multiple personalities. His voice shifts from a gravelly, early-morning drone to a high-pitched whisper. Sometimes he mixes rock with an element of vaudeville, electronically distorting his voice to sound as if he's singing through an old radio.
Ash labored two years on his new songs, arranging them with precision, paring away the accompaniment so that every note has a purpose. At times he gets along singing above only a simple bass line, with light percussion by his Love and Rockets mate Kevin Haskins. The absence of lead guitar on some tunes, for instance, builds tension that breaks when the guitar finally enters with a few bars of planned mayhem.
Ash's musical talents also are apparent on a smattering of cover tunes. He and sweet-voiced harmonizer Natacha Atlas deliver a sexy and spacey rendition of the Beatles' "Day Tripper."
Only in one respect arc Ash's solo efforts inferior to those of his group. His own songs, mostly written after he separated from his wife last winter, stick a little too close to the well-worn topic of failed love. He could benefit from some of the rich language of his band mate David J. Otherwise Ash does fine on his own. (RCA)
The Ringling Sisters
Remember how boring high school English would get every time you had to study poetry? Well, teachers may find an instant class wake-up by popping 60 Wall Reality into the CD player. The album's combination of well-crafted, intimately descriptive lyrics and bluesy rock and roll demonstrates both that poetry can move and that rock can be about more than girls, cars and more girls.
This Los Angeles band began as a poetry group, its four female leaders fronting their own bands and getting together to write, read and publish their written work. A member of one of those other bands put two of the women's poems, "56 Reasons" and "Kimberly Rose," to music. The first is a haunting, first-person justification of drug addiction, the second a folkish ballad about a runaway girl. "56 Reasons" ended up on an underground compilation that landed the Ringling Sisters—Debbie "Dexter" Shaffer, Pleasant Gehman, Debbie Patino and Annette Zilinskas (no relation, actually)—their shot at this terrific debut album. (A&M)
Marcus Roberts
Three giants? There are at least four here, maybe five.
The title's triple titans are Jelly Roll Morton, Duke Ellington and Thelonious Monk. Giant No. 4 is a piano—from which Roberts summons a sweeping palette of tones and timbres, from misty shimmers to ice-pick treble accents and (in Ellington's "Black and Tan Fantasy") thunderous clusters crisp enough to make Arthur Rubinstein sit up in his grave and shout, "Holy Mazurkas!"
But back to Jelly Roll, Duke and Monk (tabling the question of a fifth giant). Why group them, apart from their originality and genius as pianists and composers?
"Each of them knew how to create a mood and how to develop the theme so well that the composition never disappeared," Roberts says. The same applies to the 25-year-old pianist's bold, intimate and astonishingly clarifying renditions. In his hands, the idiosyncratic architecture of Monk harkens back to the elegant meshings of Morton. The impressionistic poetry of Ellington points forward to Monk's tendernesses and lurching poignancies. With a song positioned at the beginning, middle and end of the 62-minute, 15-song set, Morton is literally and figuratively pivotal. He comes across as a kind of jazz Bach—a fundament, trenchant and crystalline.
Yet Roberts never gets stuffy, even if he is pictured on the album in white tie and tails. The guy can swing. And the blues flows from his fingertips as oil from a well. Raising another point. "Nobody has ever understood blues better," Roberts says, "than Jelly Roll, Duke and Monk." Coaxing great sound from two superb instruments—a Steinway Concert Grand and a Young Chang 52-inch Upright—Roberts demonstrates the inexhaustibility of the blues in the work of those three giants. That's four so far, remember.
The fifth? The cat at the keyboard is looking like a contender. (RCA/Novus)
Contributors:
Joanne Kaufman,
Michael Small,
Craig Tomashoff,
Eric Levin.
SAMMY DAVIS JR. SINGS; LAURINDO ALMEIDA PLAYS
Advertisement
Today's Photos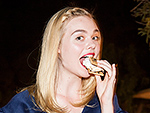 Treat Yourself! 4 Preview Issues
The most buzzed about stars this minute!