People Top 5
LAST UPDATE: Tuesday February 10, 2015 01:10PM EST
PEOPLE Top 5 are the most-viewed stories on the site over the past three days, updated every 60 minutes
Inside Iraq, G.i.s Bring Life Where They Once Dealt Death
Ever since the victory over Saddam Hussein's legions, ministering to the war-ravaged residents of southern Iraq has become a full-time occupation for U.S. medical units. In the past week, the burdens have only increased as a growing number of Iraqi refugees have fled south to American positions to escape the civil war raging elsewhere in their country. When the victorious allied troops first rolled into the area, they didn't know what to expect. Iraqi government officials had spread rumors that the occupation forces would rape and pillage, with the result that local inhabitants were initially wary of the GIs. But quickly, through the compassionate efforts of people like Knisley, who commands a medical platoon of 22, the strange foreigners in camouflage uniforms came to be seen as saviors. Practicing their "tailgate medicine," they have brought rudimentary care to people who, despite often severe ailments and afflictions, had in many cases never received medical treatment. "I've seen children with cerebral palsy, parents who tell me their child can't walk or see," says Dr. De Clue. "I tell them to go to the hospital. They say, 'Where?' "
Indeed, Knisley and her colleagues have been moved by the misery they encounter as they make their daily rounds of villages southwest of Basra. At a collection of shacks in a tomato field, a woman in soiled black robes, her arms full of milk and apples she has just received from the Americans, motions Knisley to take her small daughter away with her. "A mother has to have an awful lot of love in her heart to be willing to part with her child," says Knisley. "We hear the same words over and over again: 'For a better life.' If only we could do something more."
It is hard to see how Knisley could do much more. The 14 women and 8 men in her outfit refer to her as Mom, a sign of affection and respect for her formidable energy and personality. Each day she dispatches two-person teams of medics, often accompanied by a doctor, to canvass the area throughout southern Iraq. With Knisley, duty, and getting the job done properly, leaves no time for relaxation. "She can be tough, quite the bitch, in fact," says Sgt. Diana Litle, 25, a medics squad leader. "But she's good people. Instead of getting mad, she'll laugh and make you laugh. It keeps her from killing us."
The rigors of life in the field are a favorite topic for Knisley. She acknowledges that the combination of desert grit and wind and rain is rough. "You go to bed in the dirt, wake up in the dirt, sleep whenever you can for as long as you can. You look like hell," she says. "You sweat and stink." Even going to the bathroom became a chore during the days of actual ground combat. "The convoy would stop only a couple of times," she says. "We'd take casualty blankets, wrap ourselves up and sit by the side of the road." Knisley says she hasn't had a real bath since early January, just a series of quick rinse-offs out of a bucket. "When your head starts to itch, you know it's time," she says.
And yet Knisley wouldn't trade her experiences for anything. "The Army is my first love," she says. Raised in Lake City, Fla., she enlisted when she was 18. Since then she has never ducked a challenge, including airborne training. She has 25 jumps to her credit. Twice divorced, Knisley has a 17-year-old son, Stephen, who plans to join the Marines this fall. "He reminds me to keep my head down," she says, fingering a small gold cross that belongs to her son. She believes that sharing the dangers of the front lines with men will help change old stereotypes. "The military is still an all-boys club," she says. "But like planting a tree and watching it grow, women are taking root."
Despite her flinty professionalism, it isn't easy for Knisley to deal with the suffering she has witnessed driving around the back country of Iraq. In recent weeks medics have treated a boy with a month-old gunshot wound to the foot, a 16-year-old hit by artillery whose leg was amputated below the knee, and a baby who had fallen into a fire. So terrible were the baby's burns that Sergeant to retreat for a moment to her truck. "I put on my headphones and cranked the music up loud to drown out the child's screams," she says. Now, with the flood of refugees increasing, the sounds of pain and anguish will grow only louder. "The whole thing breaks my heart," says Knisley. "Seeing children suffer, that's a hurt that cuts to the core. You go to bed with it, and when you wake up, it's still there."
—Bill Hewitt, Maria Wilhelm in southern Iraq
Contributors:
Maria Wilhelm.
Bumping along in a sand-color Army ambulance inside occupied Iraq, 20 miles southwest of Basra, SFC Sylvia Jo Knisley spots a group of skinny children along the side of the road. "Look at those faces," she says to the driver. As the vehicle stops, Knisley bounds out and strikes up a conversation with the kids. "Tell me your names," she says in halting Arabic as she empties her pockets of M&Ms, Life Savers, fruit Skittles and multicolored Charms for the 10 children, who smile gratefully. She picks up a squirming 2-year-old in a filthy red dress to allow Dr. John De Clue, an Army major who is assigned to the three-car medical convoy, to examine the child's ears. Suddenly the little girl urinates all over the front of Knisley, who only laughs and passes out more caramels and Tootsie Rolls. "Who wouldn't want to do this for a while," says Knisley, 36, "pass out treats and fix boo-boos?"
Advertisement
Today's Photos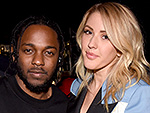 Treat Yourself! 4 Preview Issues
The most buzzed about stars this minute!