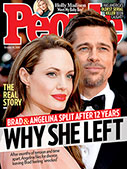 This Week's Issue!
People Top 5
LAST UPDATE: Tuesday February 10, 2015 01:10PM EST
PEOPLE Top 5 are the most-viewed stories on the site over the past three days, updated every 60 minutes
No One Calls Her a Dangerous Woman, but Mary Mcgarry Morris Makes Her Mark with Tales That End in Violence


"I'm a quiet person, and I live a quiet, pleasant, ordinary, simple life," says Morris, sipping tea in the kitchen of her tastefully appointed Andover, Mass., home. Dark, soft-eyed, clad in a sensible navy cardigan, Morris indeed looks the part of a suburban wife and mother. "I don't even use profanity when I'm angry," she says. "I think people expected I'd have written a nice romance or something."

Her recently published second novel, A Dangerous Woman (which, like Vanished, has been optioned for the movies), is anything but. Protagonist Martha Horgan, a small-town social outcast, is as disturbed as Aubrey Wallace of Vanished—and as doomed. "Behind her thick smudged glasses, her eyes, with their slow-moving myopia, cast a watchful intensity that was unnerving..." Morris writes. "She watched people, hoping to discover what it was that made her so different from them."

Amid brisk sales and renewed praise ("One of the most skillful new writers at work in America today," declared Michiko Kakutani of the New York Times) Morris, now 48, still hears puzzled queries from her neighbors in affluent Andover. "Some people ask me, 'Do you know people like that?' " Morris says. "I say, 'Yes, I grew up with them. Don't you know people like that? They're out there. They're here. They're all around us.' "

They are the world's shunned denizens—what one reviewer referred to as "the functional mentally ill"—and Morris finds them fascinating. "I don't think of them as case studies," she says, her voice almost too hushed to hear. "I'm just interested in people. With Martha, who is intelligent enough to understand that she is ostracized, I wanted to explore what an awful awareness that must be."

Not that she doesn't identify with her characters. As a child in Rutland. Vt., Morris, the daughter of an alcoholic sometime-salesman and a store clerk—they separated when she was 8—often felt "set apart." Says Morris: "My parents were divorced when parents weren't divorced—it just didn't happen. That made me feel different about myself."

It was her mother who made Morris and her three brothers aware of people who were profoundly different. "She and my stepfather opened a restaurant, and she hired young men from the local training school for the retarded and emotionally disturbed," Morris says. "She believed everyone deserved a chance."

Morris turned her powers of observation and empathy to writing early on. Her mother wrote poetry for fun, her father had cowritten a WPA history of Vermont, and by the time she was in grade school, Mary Joan (as she still is called) was secretly looking forward to writing assignments. "I'd sit there with the same frown everyone else had," she says, "but inside I was thinking, 'Now's my chance!' "

At the University of Vermont she aimed for a career in journalism, but meeting Michael Morris, a witty history major two years her senior, changed her plan. Mary Joan married Morris at 19, dropped out of school and had four of her five children before she was 25. (Mary Margaret, 28, is a bank officer; Sarah, 27, a mother; Melissa. 25, an attorney; Michael, 23, a college senior; and Amy, 17, a high school student.) For years, writing was relegated to free moments between diaper changes.

"There'd be days when I'd feel that I was wasting myself." Morris says. "Yet I'd look down at these beautiful children, and they'd seem to make up for everything—until the other feelings came back." She persevered, sending stories off regularly to women's magazines and literary journals, only to be rejected each time.

Vanished began to take shape in 1978, and for years it too found no home with publishers. Discouraged, Morris took a job as a social worker, but it wasn't long before she was back at her desk. "Mary Joan doesn't let herself get distracted easily," says her husband, who has a general law practice near their home.

Finally, suddenly, Morris's dedication paid off, and she found both an agent and a publisher. She was thrilled of course, and she continues to be. But she is also wary of letting success alter the rhythm of her life. Book tours and the like will not, she says, keep her from the laundry, from running her daily mile or, as she has done this afternoon, from dispensing advice to her kids by phone. ("Yes, Michael, you marinate the chicken in white wine....")

Morris has already started her next novel. This time, she says, she's moving away from the misfit theme. "The book is about a family," she explains. "The characters are much more rooted in normalcy." Then she thinks a moment, and smiles. "Of course," she adds, "there are those offbeat Menka twins...."

—Kim Hubbard in Andover


In 1988, when 45-year-old Mary McGarry Morris's debut novel, Vanished, was published to dazzling reviews and a National Book Award nomination, even her closest friends were shocked. There was, first of all, the fact that Morris had kept her writing a secret: Only her family knew she had been turning out stories and novel chapters behind closed study doors for 25 years. And then there was her book's subject. It is the tale of a mentally impaired laborer who falls in with a pretty drifter, kidnaps a baby, spends five impoverished years on the road and meets with a bloody end.
Advertisement
Treat Yourself! 4 Preview Issues
The most buzzed about stars this minute!