People Top 5
LAST UPDATE: Tuesday February 10, 2015 01:10PM EST
PEOPLE Top 5 are the most-viewed stories on the site over the past three days, updated every 60 minutes
Picks and Pans Main: Screen
New on Video
Andie MacDowell, John Malkovich, Rudi Davies
Every once in a while you get the impression that maybe the British still haven't quite forgiven us for the events of the '80s—the 1780s, that is.
Directed and written by the British-trained Michael Lindsay-Hogg, this made-in-England him is a vicious national character assassination in the form of an oblique light comedy—and it's often fascinating in an unorthodox way. MacDowell and Malkovich play an American couple who have long since overstayed their welcome, as well as their ability to pay their bill, at a posh London hotel. She is a former model with no abilities or common sense; her aesthetic bent is displayed when she gushes over a small sculpture given her by her estranged husband: "I love my little Henry Moore."
Malkovich is a wuss of the first order, an irresponsible wheeler-dealer who keeps wheeling and dealing himself further into debt, most recently in a cocoa investment gone bust because of a dock strike in Sierra Leone. He has gotten so desperate that he wants MacDowell to sell the Moore sculpture: she counters with the suggestion that they pretend the statue has been stolen so that they can make an insurance claim.
Between them, the Malkovich and MacDowell characters don't have a thimbleful of integrity. The only other American parts of any consequence belong to Peter (Local Hero) Riegert, MacDowell's colorless husband, and Lolita (Blaze) Davidovich, who casually sleeps with Malkovich even though she is MacDowell's best friend.
By contrast, Davies, as a deaf-mute hotel chambermaid, practically oozes nobility. When she ends up stealing the Moore sculpture, it's not for profit but because she appreciates its beauty. (Davies turns in a masterful performance as a wide-eyed innocent who is capable of fierce outbursts.)
Lindsay-Hogg treats MacDowell less like a poster and more like an actress than director Peter Weir did in Green Card. She handles the role of vapid hanger-on with some finesse. And the enterprising Malkovich, much less churlish and broody than he was in an essentially similar role in The Sheltering Sky, makes his unlikable character more pitiable than hateful.
The search for the lost sculpture and the troubled Malkovich-MacDowell romance are resolved at the same time, leaving the two Yanks to go off in further pursuit of their enduring obsessions: sex and money.
Well, okay, if that's the way you want it, Lord Lindsay-Hogg. Nobody can say your story doesn't hold the attention. Remember the Battle of Yorktown, though. (R)
Demi Moore
, Glenne Headly
As compact and focused a suspense thriller as you're likely to see, this is a classic who-did-what-to-whom crime movie that will keep you guessing up to the last minute.
Actually, it will keep you guessing even after the last minute, since a couple of crucial questions are left unanswered, to no apparent purpose. But up to then, Moore and Headly, directed by Alan (The Moderns) Rudolph with fewer quirks than usual and ably bolstered by
Bruce Willis
and Harvey Keitel, embroil themselves in a thoroughly absorbing tale.
Moore and Headly are partners in a Bayonne, N.J., beauty shop. Headly is married to the brutish Willis, who abuses her physically and emotionally and never works—unless you can consider emptying the beauty shop's cash register work.
Make that was married. Most of the movie is told in flashback as Moore sits at a police-station table being interviewed by homicide detective Keitel about the circumstances of Willis's death.
Headly's motivation for choosing Willis in the first place, let alone staying with him, is never convincing. But he sure sells the abusive part; he is ugly and so coarse that you can almost smell his foul breath.
Moore and Headly are effective too, juggling the long-standing affection between them with the tension generated by Willis's increasingly repugnant behavior and then his death. At one point after the killing, Moore counsels Headly, "Nobody's gonna get caught. You have to look optimistic. Grieving, but optimistic."
John (Talk Radio) Pankow imbues his role as Moore's initially sympathetic husband with an intriguingly limited devotion. And Rudolph stages the police-station scenes cleverly too, contrasting the surroundings' banality with the mortal matters under discussion. The Keitel-Moore exchanges are models of telling dialogue.
When an incredulous Keitel asks her if she didn't take the squabbles between Willis and Headly seriously, for instance, Moore answers indignantly, "I watch The Honeymooners. I don't take that seriously."
The film was written by Claude Kerven and William Reilly. While they and Rudolph should have lost the busywork twist at the end, they do succeed roundly at their main objective—not only do they make you wonder who did it, they make you hope that whoever it is won't get caught. (R)
Alec Baldwin, Kim Basinger
The boy-meets-girl, boy-loses-girl cliché is overwrought exponentially in this Neil Simon story of a man and woman who marry each other four times. By the end, Simon appears to have grown desperate for reasons for the couple to argue. You're ready to see Baldwin and Basinger break up again over an issue like whether the toilet seat should be left up or down.
Simon's storied gift for at least glibly funny dialogue is only working part-time too. At one point, a narrator (comic Paul Reiser) says that after meeting Basinger, as mobster Bugsy Siegel's girlfriend, the womanizing Baldwin "was about to break the two golden rules: (1) Never fool around with a gangster's girl, and (2) Never fool around with a gangster's girl." In addition to going lame, Simon also lapses into a particularly heartless bit of bad taste, making jokes about an old man who has had a stroke: "He had a very nice face. So gentle." "Well, he was in a coma."
There are occasional brighter moments. Trying to win Basinger over after he meets her while she's singing in a Vegas lounge in 1948, the playboy Baldwin tells her, "You're good at singing. I'm good at inheriting money. I may be the best in my field."
Simon and first-time feature director Jerry Rees also get comedy mileage out of the four actors playing Baldwin's lifelong best friends—Reiser, Fisher Stevens, Peter Dobson and Steve Hytner. Robert Loggia, as the movie-producer father of the woman Baldwin jilts for Basinger, and especially Armand Assante, in a subtle turn as Siegel, lend character to the movie too.
Whatever their off-camera behavior (see page 38), Baldwin and Basinger do a professional job onscreen, given what they have to work with. Basinger moves in a clunky, arrhythmic way, and her lip-syncing is badly coordinated with the sound track. But she does her own singing and handles such standards as "Let's Do It" and "Why Can't You Behave" more than creditably. (The swinging, first-rate orchestrations are by David Newman; tenor sax star Stan Getz is among the musicians.)
Simon, however, lost track of a major requisite of the boy-meets-girl movie business: The audience has to like the romantic acquaintances enough to root for them to overcome their obstacles. Here, Baldwin and Basinger are so given to foolish tantrums and self-indulgent whining, you don't want them to live happily ever after; you want them to get a life. (R)
Anne Parillaud, Tcheky Karyo
Imagine a jigsaw puzzle in which about half the pieces have been crammed into the wrong spots. The result might be semicoherent and abstractly interesting, but you wouldn't be likely to learn much from it.
The parts of this French film that make much sense suggest that it is a feminist spy movie—James Bond as he might be played by Gloria Steinem.
Parillaud plays a ruthless, 19-year-old junkie punk who gratuitously kills a cop during a drugstore robbery aimed at securing narcotics; she is pardoned by a government intelligence agency that thinks she will make a good assassin.
But her training, which involves lessons in makeup, manners and smiling, also starts to bring out her more womanly side. And in what seems to be a crucial moment—a piece that really fits—she is told by the agency's fashion mentor, femme fatale emerita Jeanne Moreau, "There are two things that have no limit: femininity and the means of taking advantage of it."
So Parillaud goes off into her double life, wasting the occasional enemy of the state and maintaining a parallel normal life, complete with more-average-than-thou boyfriend, grocery-store clerk Jean-Hugues Anglade. There are also occasional visits from Bob, her agency contact, who has a crush on her that the audience knows about but she doesn't.
Parillaud makes a miraculous transformation from obscenity-screeching, delinquent harridan to poised, serene beauty (albeit one who packs a small arsenal with her wherever she goes).
Was this supposed to have something to do with the way men treat women—that is, turn them into creatures whose charm is a killer in more ways than one? While hints to that effect get dropped along the way, there's certainly no continuity to the notion.
Despite a few wry asides—Parillaud hides a sniper's rifle from Anglade in a bathtub of sudsy water—this movie isn't funny enough to be a comedy, and the notion of France needing a full-time spy these days doesn't sustain much of a plot either.
Writer-director Luc (Subway) Besson may have had an idea what was happening, but he's sure not telling. In the end. a typical bargain is struck: Parillaud doesn't know where she's going and, despite some enjoyable scenery, we don't know where we've been. (In French with subtitles) (R)
>HIGH COMEDY: THE TALL GUY
Time again to thank goodness (and Japanese technology too) for VCRs. Here's a second chance to catch this undersold English comedy, with Jeff Goldblum as a struggling American actor in London. Goldblum's gangly body and ganglier style fit the role exactly. He and Emma Thompson have a sweet-sexy-funny love scene. And the musical Elephant!, a send-up based on The Elephant Man, includes the tunes "Ain't Gonna Follow the Herd" and "He's Got the Kind of Face You Don't Forget." (RCA/Columbia)
The brattiness of the Alec Baldwin-Kim Basinger couple in The Marrying Man and the fecklessness of Andie MacDowell and John Malkovich in The Object of Beauty are reminders of the scarcity of old-style movie romance, where you wanted the man and woman to live happily after. Even the fact that the Swayze-Moore matchup in Ghost and the similar, after-the-fact passion between Meryl Streep and Albert Brooks in Defending Your Life were so successful has an ominous side: The message may be that the only good relationship is a dead relationship.
Advertisement
Today's Photos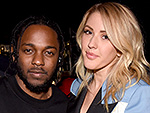 Treat Yourself! 4 Preview Issues
The most buzzed about stars this minute!