People Top 5
LAST UPDATE: Tuesday February 10, 2015 01:10PM EST
PEOPLE Top 5 are the most-viewed stories on the site over the past three days, updated every 60 minutes
Picks and Pans Main: Song
Laughter and Lust
It has been 14 years since Elvis Costello's first record, and by now, you'd figure he'd be mellowing. Instead, as his first album in two years demonstrates, the angry young man has become the angry middle-aged man.
Which is exactly what you want from Costello: memorable pop tunes with the sort of bad attitude that gets kids kicked out of school. What cynic can resist an album with such titles as "How to Be Dumb" and "Hurry Down Doomsday (The Bugs Are Taking Over)," two of the nastiest songs Costello has ever spit out?
Musically, Mighty Like a Rose, which uses such composing talent as Paul McCartney and such performers as the Dirty Dozen Brass Band, is every bit as well-crafted and diverse as Costello's 1989 album, Spike. Lyrically, it seems more rancorous. As is his custom, however, Costello gives each bitter lyrical pill a tasty sugarcoating.
From the Beach Boy-esque hook of "The Other Side of Summer" to the ghostly dirge of "So Like Candy" to the Tom Waits—like primal stomp of "Hurry Down Doomsday," he continues to write memorable melodies that make it easier to swallow words like "Are you ready to take your place/In the modern museum of mistakes?"
But just when you get the urge to buy the guy a beer and tell him things will be okay, he slows the album down with two odes to true love—"Sweet Pear" and "Broken" (written by wife Cait O'Riordan). As good as the rest of Mighty Like a Rose is, these are the tunes that really strike you.
CRAIG TOMASHOFF
Tanita Tikaram
At her best, Tikaram exudes an air of striking maturity for a 21-year-old. Starting with her Dietrich-meets—Joan Armatrading vocal delivery, the German-born singer (of Fijian-Malaysian descent) shades her songs with dark, evocative tones and lets the listener try to derive their private meaning out of her lyrics. But over the course of 45 minutes or so, her deeply earnest and ponderous approach can start to sound self-important, and you begin to wonder if she's having any fun at all. So her soulful third album may sound best taken in small doses.
Tikaram must have dipped into her Van Morrison collection for inspiration. She adopts Van the Man's crisp horn sound on a few tracks and keeps the arrangements simple and taut on such songs as "This Story in Me." The cut "Only the Ones We Love" starts off on a lush mournful note, then Tikaram turns the moody composition into a pop song, à la Sinéad O'Connor.
Tikaram is on shakier ground when she tries her hand at light jazz on the Rickie Lee Jones—ish "Hot Pork Sandwiches." She also overuses the brass supplied by the studio group the Section.
So give Tikaram a couple more years. If her young adult angst eases over time, maybe she'll loosen up. (Reprise)
Material Issue
The only bad thing you can say about Material Issue is that the band can make you feel awfully old. Anybody who survived a '70s Ramones-Undertones fixation will feel a second adolescence coming on after hearing International Pop Overthrow.
This record is power pop at its peak, precisely the sort of stuff that was kicking some disco booty a dozen years ago. What it lacks in chords it more than makes up for in hooks.
Each tune on the Chicago trio's debut album has an irresistible little riff guaranteed to be sung again and again in showers all across this country. To keep from turning into the Knack, however, Material Issue makes sure those riffs are cleverly roughed up with its garage-band approach to playing. Anything goes as long as the songs are over within three minutes. (Mercury)
Brownie Ford
This is a debut album with a difference—mainly, cowboy balladeer Brownie Ford didn't even set foot in a recording studio until he was 84 years old.
The man isn't a procrastinator; he has just been kind of busy. Thomas Edison Ford was born in Oklahoma's Indian Territory in 1904, the son of a sharecropper and a Comanche woman. Over the years, he has worked as a ranch hand, cowboy and bayou storekeeper, and traveled the South and Southwest with wild West shows, circuses, medicine shows and rodeos. You sure can't tell his age by listening to this unique collection, especially on "Don't Lei the Deal Go Down," where he sounds coltishly frisky—remarkably like the whippersnapper Neil Young, in fact.
At times he dips down into a spelunking baritone on songs like "Dusty Skies" and "Only a Hangman." Mostly, though, there's a deeper, more smoke-cured country pitch to Ford's voice, as on "Code of the Mountains," a tale of deadly retribution.
His voice occasionally gets a little ragged, and he has trouble holding a tune. But this new kid on the block has an undeniable style and a wonderful repertoire of old-fashioned songs. (Flying Fish)"
Joe Jackson
Jackson has long been one of the more adventurous and unpredictable of contemporary singer-songwriters. His latest release finds him working primarily in a pop vein bill in an unattractively prickly fashion.
At his worst, as on the preachy "Obvious Song" ("So we starve all the teachers/And recruit more Marines/How come we don't even know what that means/It's obvious"), he comes across as a swollen, whiny Billy Joel.
On more approachable songs, such as the beboppy "Goin' Downtown," the salsa-spiced "Jamie G." and "My House," and the post-Mersey beat spoof "Hit Single," Jackson's explorations of familiar styles sound condescending. "The Other Me" is gently arranged, but it brings out the adenoidal, wormy aspects of Jackson's voice.
The record isn't a total washout. There is, for instance, the cynical take on romance, "Fiction." There is also a robust, tropical reading of the old Fleetwood Mac rumble "Oh Well."
Too much of the time, however, Joe Jax just sounds jaundiced. (Virgin)
Contributors:
Craig Tomashoff,
Andrew Abrahams,
David Hiltbrand.
Elvis Costello
Advertisement
Today's Photos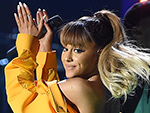 Treat Yourself! 4 Preview Issues
The most buzzed about stars this minute!