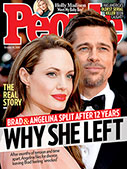 This Week's Issue!
People Top 5
LAST UPDATE: Tuesday February 10, 2015 01:10PM EST
PEOPLE Top 5 are the most-viewed stories on the site over the past three days, updated every 60 minutes
A Heartbeat Away
George Bush Experiences Fibrillation, and America Catches Its Breath at the Thought That Dan Quayle Could Be President


Last week, after Bush's brief but anxiety-provoking stay at Bethesda Naval Hospital for an atrial fibrillation, the hiding was over, and Quayle, 44, found himself at center stage—or, as the wags put it, an irregular heartbeat from the Presidency. Needless to say, the late-night political pundits had a field day. David Letterman proposed a Top 10 list of Ways Quayle Can Build Up Public Confidence. Among them: "Get Bush to stop wearing I'M WITH STUPID T-shirt." Jay Leno weighed in too: "Quayle said that when he heard about the President's condition, the first thing he did was pray. Hey," Leno added, "welcome to the club." Da-dum.

But beneath the humor, there seemed a very real apprehension among the electorate. Fair or not, the popular image of Dan Quayle as a man bright of smile and dim of wit remains strong. In a poll for PEOPLE conducted by the Gallup Organization, among 500 randomly selected adults 41 percent said they felt a "moment of apprehension" when they learned that Quayle "might inherit the reins of power" (49 percent didn't; 10 percent did not respond). "I can't think of any previous Vice President whose ability to perform was seriously questioned by the public," says conservative political analyst Kevin Phillips.

Certainly in his first year or so in office Quayle did little to reassure voters. Some of his mishaps have already become part of the Quayle folklore. In April 1989, while visiting Pago Pago in American Samoa, he announced how delighted he was to be in "Pogo Pogo" and then bewildered local residents by praising them as "happy campers." Soon after, in Alaska, touring the devastation of the Exxon Valdez oil spill, the Vice President cheerfully exhorted emergency workers to "have a great day...." During a speech several days later to the United Negro College Fund, whose motto is "A mind is a terrible thing to waste," Quayle declared, "What a waste it is to lose one's mind or not to have a mind...." Inevitably, every time the hapless Quayle blundered, a lynch mob of gag writers would come after him. "There's a new poll that says 19 percent of American adults believe that Dan Quayle is smart enough to be President," said Johnny Carson. "They told Dan, and he said, 'Great, that's over half!' "

Quayle's tenure, however, has gone more smoothly—if rather uneventfully—of late. For the most part Bush has given him straightforward, low-profile tasks, such as dealing with the issues of business deregulation and the country's space program, which he has handled without incident. Politically, he has made no missteps. Quayle was an early supporter of the use of force against Saddam Hussein. His numerous trips on behalf of the President have enabled him to network with other Republicans around the country and thus build up his political chits. Most encouraging to his handlers, his speeches have been relatively free of gaffes, if only because his aides have coached him to "stay inside the box"—Washington-speak for toeing the White House party line. His most notable recent blooper came in early April when he hailed America's triumph in the gulf as "a stirring victory for the forces of aggression...."

Bumbling as Quayle may appear in public, his friends and close associates insist that away from the spotlight he is impressively smooth and hardworking. "People who spend time with him come away with a sense that this guy really is somebody who has substance," says John Vardaman, a Washington lawyer who has known Quayle for 15 years. "That he is a person of some judgment, who is a terrific guy, who has all the personal values and characteristics we would want in a leader."

At the very least, Quayle appears to be genuinely affable and unassuming. Since becoming Vice President, he has been known to walk into Erol's video in Washington—he once named Ferris Bueller's Day Off as his favorite movie—and stand patiently in line to rent a cassette, despite entreaties from the store manager to step right up front. A light drinker who favors a single Chivas Regal on the rocks, Quayle's only known indulgence is his passion for golf. (His Secret Service code name is Scorecard.) On one occasion his obsession proved his salvation: During the 1988 campaign, reports surfaced that back in 1980 Quayle had taken a golfing trip to Florida with a group of pols, plus sexy lobbyist Paula Parkinson. She later alleged he made a pass at her on the trip. He denied it. Quayle's wife, Marilyn, backed him and deflated what could have been a damaging scandal. "Anyone who knows Dan Quayle," she said, "knows that given a choice between golf and sex he'd choose golf every time."

Quayle good-humoredly shrugs off most of the jokes and vitriol leveled against him, probably because he considers them without foundation. "He has no self-doubt," says Roger Simon, a syndicated columnist who observed Quayle up close during the 1988 campaign. "He doesn't see himself as inadequate.... And the inability to see your own shortcomings can be a tremendous plus in politics."

One undeniable political strength is the brainy and capable Marilyn, 41. The two met as law students at Indiana University. He was the underachieving (C average), golf-playing heir to the $600 million Pulliam newspaper fortune; she the ambitious daughter of a pair of physicians. Ten weeks after their first date, they were married. Marilyn has helped write his speeches, raise funds and also raise their children, Tucker, 16, Ben, 14, and Corinne, 12.

As for Quayle's political future, it remains unsettled. After his medical emergency, Bush declared that the Vice President was "doing a first-class job," but it's a long way to the 1992 elections, and if the nice then were to seem closer than it now appears likely to be, the President could find himself under pressure to make a change. Some Republicans hope that Quayle can rehabilitate his image before that happens. "He needs another demeanor," says conservative fund-raiser Richard Viguerie, who believes Quayle should counterattack against his tormentors in the media. "You can be hated in politics, but if you're laughed at, you're dead." Other pundits feel rehab, at this point, is unlikely. "It's very hard for him to demonstrate what he can do," says Washington columnist Jules Witcover, "because a Vice President has nothing to do."

But it could be a mistake to underestimate Quayle, as he himself likes to suggest. "I'm a classic late bloomer," he once told a reporter. No one close to Quayle doubts that he wants to be President some day. And as Kent Cayce, a golf pro at Congressional Country Club in Bethesda, Md., will attest, once Quayle has a goal, he can be very determined. During their regular rounds, says Cayce, the Vice President never stops trying to improve his game. More to the point, Quayle is a fierce competitor. "He can be losing by three holes with three holes to play, but he keeps on grinding," says Cayce. "If you let up just for a second, he'll beat you. He never gives up."

BILL HEWITT with bureau reports


ON ELECTION NIGHT IN NOVEMBER 1988, George Bush was in Houston, celebrating his landslide victory with his family, friends and senior political allies. The key campaigners were there, except one. Vice President-elect J. Danforth Quayle was presiding over a less star-studded gala in Washington, D.C. The symbolism did not go unnoticed. Then as now, the GOP brain trust was worried about giving too much exposure to the handsome young politician with the slender credentials and tortured syntax. "God save us all if he inherits the Republican Party when Bush rides into the sunset," says one former Bush campaign official. "But the party can only hide him for so long."
Advertisement
Treat Yourself! 4 Preview Issues
The most buzzed about stars this minute!