People Top 5
LAST UPDATE: Tuesday February 10, 2015 01:10PM EST
PEOPLE Top 5 are the most-viewed stories on the site over the past three days, updated every 60 minutes
Picks and Pans Main: Screen
New on Video
Kathleen Turner, Angela Goethals
Few modern actresses carry enough weight—in terms of talent, prestige or pounds—to play a tough gal private-eye role. But in this old-fashioned, good-time-at-the-movies B picture, Turner shows she can deliver seductive looks, swift kicks and acerbic insults with equal conviction.
Her character, a Chicagoan whose father was a cop, is taken from the novels of Sara Paretsky, who consistently manages to turn the genre's prejudices around. And while it's still a mark against producer Jeffrey Lurie that he couldn't find at least one woman writer to work on this gender-specific script, its three male writers, Edward Taylor, David Aaron Cohen and Nick Thiel, do some decent cross-thinking.
Turner, for instance, is looking into the death, in a mysterious explosion, of a man she had met in a club hours before. She has also become the de facto partner of Goethals, the man's 13-year-old daughter, who is estranged from her mom. As the two investigate the case, Turner's advice includes, "Never underestimate a man's ability to underestimate a woman."
Later, when Turner tosses a gun to a reporter boyfriend, Jay O. Sanders, he cringes and says in the time-honored fashion of private eyes' dolls, "God! I hate these things."
Since the setting is Chicago, there are plenty of Cub jokes too. "I just don't want to die without seeing the Cubs win a pennant," one character tells Charles Durning, playing a cop. "You should be happy to be alive," Durning replies. "Now you're asking for immortality."
Merely routine performances by Sanders and much of the supporting cast (in underwritten parts) keep the film from reaching the level of, say, Chinatown. Compare Sanders's laconic line readings with the zest shown by Durning or Goethals's energy.
The script is right for Turner though. She does some slamming around, is a slammee at times and maximizes such exchanges as: "What does it take to hire you?" "Money—and a just cause." "How much money?" "How just is your cause?"
And when one thug boasts to her that he has slept with more than 500 women, she sneers back, "Can't get the hang of it, eh?"
Jeff (Tough Guys) Kanew directed unobtrusively. He knew a star vehicle when he saw one, and this isn't a bad occasion to go along for the ride. (R)
Christian Slater, Anthony Quinn
It would be tough under the best circumstances to tolerate the moral bankruptcy shown by a film that makes heroes of the reprehensible gangsters "Lucky" Luciano, Frank Costello, "Bugsy" Siegel and Meyer Lansky. No doubt the next project for the creators of this movie—producer Steve Roth, director Michael Karbelnikoff and writers Mike Mahern and Nicholas Kazan—will be equally tasteful. Something on the camaraderie among Hitler and his boys, maybe.
Compunctions aside, though, this movie is so choppily edited, droningly paced and, in many cases, wretchedly acted that it never seems more than The Godfather's Boys Auxiliary.
Patrick Dempsey
and Richard Grieco—flyweight actors on their good days—play young Lansky and Siegel. (Hearing Dempsey say, "We gotta get tough," brings to mind Huntz Hall in the Bowery Boys films.) The marginally stronger Slater is Luciano. Costas Mandylor, whose main trait is looking like Aidan Quinn, is Costello.
"At first we was penny-ante," says Slater in a voice-over. "Then we grew." That's all the explication there is as the quartet make a dizzyingly instantaneous transition from New York City street punks into ambitious gangsters. Then they sashay through a tedious series of negotiations with their elders in crime, F. Murray Abraham as Arnold Rothstein, and Anthony Quinn and Michael Gambon (PBS's The Singing Detective) as fictional crooks. Abraham and Quinn offer some substance, anyway—helped by Twin Peaks' Lara Flynn Boyle as Slater's girlfriend.
Gambon, though, has problems with his Italian accent. Worse is Nicholas Sadler as hitman "Mad Dog" Coll; he cackles hysterically and goes mega-psycho every five seconds or so.
The violence is plentiful, graphic and dumb. After a movieful of quadruple crosses, one supposedly savvy mobster is rubbed out as he sits unguarded in a restaurant while one of his archrivals goes to the men's room.
Karbelnikoff, whose previous experience has been in commercials and whose attention span shows it, goes from one confrontation to another, tossing in gangland-activity montages that could have been lifted from The Untouchables TV series.
To say that production designer Richard Sylbert, costume designer Ellen Mirojnick and cinematographer Lajos Koltai give the settings a handsome, authentic look is like saying that the Titanic had nice chandeliers. (R)
Bryan Brown, Sokyu Fujita
One theme of this Australian film about a 1945 war-crimes trial—individual conscience vs. social duty—would seem to have been fairly well covered by this time.
Another subtext—a vague combination of anti-American and anti-Japanese sentiments—may make some sense in Australia but isn't likely to win too many advocates here.
Yet, burdens aside, the movie's human drama, concise direction by Stephen Wallace and extraordinary acting make it an absorbing experience.
The story is based on a real massacre of Australian prisoners at a Japanese camp in Indonesia. Brown is an Australian Army lawyer charged in December 1945 with prosecuting the Japanese soldiers responsible.
Brown confronts obstacles on all sides. The Australian prisoners are either dead or too sick to testify. The Japanese stonewall is led by Star Trek's George Takei as a naval officer. American observer Terry O'Quinn is around to protect Takei, who is going to be in the U.S. puppet government ruling Japan.
Brown also has to contend with Fujita, a Japanese lawyer who has been called in to defend Takei and his men. In a remarkably shaded performance, Fujita embodies the shame, pride, fear, dignity and confusion of a man torn by a sense of duty to himself, his country and his profession.
John Polson, as an enfeebled former POW, and Toshi Shioya, as a Japanese officer who seems a model of innocence, are among the trial witnesses. The anguish they personify is more moving than the increasingly stilted dialogue Brown has to wrestle with toward the end: "The future of the world isn't worked out on a grand scale. It's worked out by ordinary bloody people doing ordinary bloody jobs."
With all the Big Statement summations, the movie's eloquence lies in depicting the individual tragedies that are the result of war and cruelty.
John Bach, as Brown's superior, might be speaking of the film itself when he says, "There are many questions that cannot be resolved. Not in this court." (R)
>MISERY: ULTIMATE WRITER'S BLOCK
THE PREMISE—A romance novelist held captive by a fan—has potential. But the longer the Rob Reiner—directed film (from a Stephen King story) lasts, the more plot holes gape. Kathy Bates, the obsessed reader, is a good actor in a wrong role; a star name would relieve the escalating silliness—you could think, "How could Cher do this?" James Caan, as the writer, is too helpless. This couple deserves to live tormentedly ever after. (Nelson)
Nothing says justices of the Supreme Court have to be lawyers. So why doesn't any President ever nominate a movie reviewer? What group of people is more judgmental, sensitive to precedent or fond of putting its prejudices in print? And think of the punchy opinions: "Phenomenal! The best legislation since Magna Charta!" "If you have to obey only one law this year, this is the one!" "Among the year's Top 10 statutes!" "Six thumbs up, three down!" "Tort! Tort! Tort!" "I wiped away so many tears, my robe got soaked!" Or, for a dissent, "Judge Reinhold could have made a better decision!"
Advertisement
Today's Photos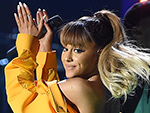 Treat Yourself! 4 Preview Issues
The most buzzed about stars this minute!