People Top 5
LAST UPDATE: Tuesday February 10, 2015 01:10PM EST
PEOPLE Top 5 are the most-viewed stories on the site over the past three days, updated every 60 minutes
Picks and Pans Main: Song
Prime Cuts
Queen not only of Soul but of Questionable Musical Decisions, Franklin goes from great to worse on this album.
It includes two more tunes for the spilling-off-the-shelves library of classic Aretha: One is a double-funked version of Sly Stone's "Everyday People" that's kinetic enough to knock down a building. The other is "Mary Goes Round," an Oliver Leiber—Elliot Wolff play on Mary of the lambs—"Everywhere she went the men were sure to go"—with a chunky solo by Dutch saxophonist Candy Dulfer and an arrangement that could make Ed McMahon get up and dance.
The album, though, also contains two schmaltzified Burt Bacharach—Carole Bayer Sager tunes. One, "Ever Changing Times," is a duet with Michael McDonald. Now Franklin is, among other things, a marvelous duet singer, as she proves with Luther Van-dross on this album's satisfying "Doctor's Orders." But Michael McDonald? His singing only makes you think of the people who'd make great partners for Franklin—Joe Cocker, Bruce Springsteen, Prince, John Hiatt.
The denatured tracks dilute the album to an unhappy degree. Franklin does, however, sound in amazingly strong voice, even for her. (Her own ballad, "What Did You Give," makes a pleasant change of pace.) Anyway, divine rights probably include an allowance for monarchs to cut a bad track once or twice in a while. (Arista)
Van Halen
Welcome to Now You're, like, Cooking, the world's only rock and roll cooking show. Today, we're going to make a new version of that old favorite, Metal Casserole à la Van Halen. Follow the recipe closely; don't experiment and clean up as you go along.
For flavor, toss in a large helping of screeching lead vocals. Sammy Hagar can supply this ingredient, along with plenty of dumb lyrics about sex, girls and, well, more sex and more girls. It's imperative that Hagar not see the humor in his macho lyrical posings; otherwise you might not get that familiar metal taste in your mouth.
For texture, add a few quarts of jarring guitar chords, the sort that attack the ears like a power drill. Eddie Van Halen's guitar work is like flour: Sprinkled heavily throughout, it holds every Van Halen recipe together.
Now, fold these ingredients in to 11 separate songs. Most should be overly long and bland, with such names as "Runaround" or "In 'N' Out." Make sure a couple are lively, catchy rockers like "Poundcake" and "Top of the World." Half-bake for an hour and serve as an appetizer. This is a dish that's easy to swallow because it tastes familiar, but it will never fill you up.
Tomorrow, we'll learn to make Ozzy's Bat Under Glass. (Warner Bros.)
Big Daddy
For the most part, novelty records have the lasting appeal of the lambada. The first time you play them is also the last, because the joke, whatever it might be, gets old very quickly. Let's face it. When was the last time you put on a "Weird Al" Yankovic tape?
That's what makes Big Daddy a novel novelty. This album is something you won't be embarrassed to listen to six months after you buy it. The conceit here, as it was on the band's previous two records, is that Big Daddy was a band taken hostage in Laos 30 years ago. When rescued in 1989, they found modern artists doing versions of their songs. To redress their grievances, they began recording '50s-style versions of today's pop hits.
This description isn't particularly funny. What Big Daddy does is, though. On Cutting Their Own Groove, Vanilla Ice's "Ice Ice Baby" is sung to a tune that sounds suspiciously like "Johnny B. Goode." Guns N' Roses' "Welcome to the Jungle" becomes "The Lion Sleeps Tonight."
Madonna
's "Like a Virgin" turns into "Venus." Best of all, the band transforms the Prince-penned Sinéad O'Connor hit, "Nothing Compares 2 U," into an uncanny Little Richard imitation.
The joke here works for two reasons. First, Big Daddy knows irony, rendering a song in a way that is the opposite of what the artist intended. George Michael's tedious dance number "I Want Your Sex," for example, becomes a slow-dance tune that exposes how dumb the song really is.
Second, the music is good. It's like turning on an oldies station whose signal overlaps with a Top 40 outlet. Try the album in small doses for a taste of rock and roll in its purest, most enjoyable form. The music would work even without the jokes. (Rhino)
Alan Jackson
Following his strong 1990 debut album, this country singer—songwriter delivers another set of tunes marked by his friendly tenor, untricky lyrics and tuneful melodies. While the relaxed mood can make Jackson's music sound merely easy—listen to the clichéd "Working Class Hero"—it helps him create such moving ballads as "Someday" and "From a Distance" (a tune that pal Randy Travis helped him write, not Julie Gold's song).
Also in the subset of soulful tunes is "Midnight in Montgomery," where Jackson conjures up country forefather Hank Williams: "It's midnight in Montgomery/ Just hear that whippoorwill/ See the stars light up the purple sky/ Feel that lonesome chill/ When the wind is right you'll hear a song/...Hank's always singing there."
Helping Jackson on the playful "Just Playin' Possum" is another, albeit living hero of his: the wily George Jones. (Jones gets a reciprocal plug from Jackson on the feel-good title song: "Don't rock the jukebox/ I wanna hear some Jones.") And the swinging "Walkin' the Floor over Me" is a nice turnabout on the Ernest Tubb classic.
Backed beautifully by his Nashville-based road band, the Strayhorns, plus such other solid players as steel guitarist Paul Franklin, Jackson has a knack for making middle-of-the-country-road music that never sounds self-satisfied or slick. (Arista)
>"BOTH SIDES NOW" Paul Young and Clannad
Heavenly harmonies light up this collaboration, a seraphically pure cover of Joni Mitchell's song. From the Switch sound track (MCA)
"I KNEW ENOUGH TO FALL IN LOVE WITH YOU" Jann Browne
Hang up those crying towels. Tear up that nasty letter. Unpack the suitcase. Think it over as country music's undervalued Browne sings an optimistic Gary Nicholson-Hank DeVito tune: "I didn't know what love could bring/ I didn't know anything/ But I knew enough to fall in love with you." From It Only Hurts When I Laugh (Curb)
Contributors:
Ralph Novak,
Craig Tomashoff,
Lisa Shea.
Aretha Franklin
Advertisement
Today's Photos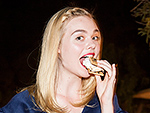 Treat Yourself! 4 Preview Issues
The most buzzed about stars this minute!