People Top 5
LAST UPDATE: Tuesday February 10, 2015 01:10PM EST
PEOPLE Top 5 are the most-viewed stories on the site over the past three days, updated every 60 minutes
Picks and Pans: Pages
Auspicious Beginnings
When in 1916 photographer-gallery owner Alfred Stieglitz first saw Georgia O'Keeffe's drawings, he supposedly said, "Finally a woman on paper." Two years later, the two moved in together; in 1924 they married. He was 60 and she was 37.
For the next 21 years, until Stieglitz' death in 1946, they were the Liz and Dick of the art world. Complex and sometimes rancorous, their marriage was mutually beneficial, both artistically and commercially. O'Keeffe, through her talent and Stieglitz' promotional zeal, became during her life America's best-known—and highest-priced—woman painter. Stieglitz, already considered the father of modern photography, found his ultimate model in O'Keeffe, taking memorable clothed and nude portraits of her.
Their time together is carefully, comprehensively chronicled in this dual biography by Eisler, author of Private Lives: Men and Women of the Fifties. She makes it clear that, though she considers both O'Keeffe and Stieglitz artists of lasting influence, to know these two is not to love them.
Stieglitz was an egocentric mess, "the father figure who remained a child." Georgia was a cold fish, lacking "that human connectedness that allows most people to imagine themselves in another's skin." Both cheated on each other, he in a public affair with a woman younger than Georgia, she with both men and women.
Among O'Keeffe's papers at the Yale library, Eisler found an envelope that O'Keeffe had instructed was not to be opened until five years after her death (she died in 1986). It contained drafts of vengeful letters Stieglitz had written to his estranged first wife, brother-in-law and teenage daughter at the time he was setting up housekeeping with O'Keeffe.
"To Kitty [his daughter, who later would suffer a massive breakdown], her father's letters hold out the seductive promise that...he will give her the love she has never received from him if she will repudiate her mother and accept Georgia as her friend," writes Eisler. On the envelope holding the letters, O'Keeffe had written, "Art is a wicked thing. It is what we are." (Doubleday, $29.50)
by Darcy O'Brien
About 30 pages into this predictable but enjoyable novel by the author of Murder in Little Egypt you start expecting to hear Judy Garland burst into a reprise of "Born in a Trunk."
O'Brien's heroine is just that kind of character: A Kansas-born daughter of a charming, if not too successful, vaudeville impresario, she wants to be a serious thespian. But when the impresario dies young, the girl is sent to work as a model-actress by her stage mother.
O'Brien, son of old film stars George O'Brien and Marguerite Churchill, clearly knows Hollywood's early days, and his take on show folk has bite: "Actors were regarded as low-class, unreliable folk, mainly because their incomes were irregular and because they tried to entertain people instead of cheating on their taxes, bribing public officials, and exploiting the poor. And they showed their emotions."
But the real strength of this book is that heroine Margaret is hardly the typical, goody-two-shoes naïf thrust into the studio system against her will. Both witty and wily, she's given to sarcasm—"The company included 20 or 30 prostitutes—real ones, I mean, not just ordinary actresses." Yet she also maintains a touching friendship with an old-time vaudevillian—once her father's friend—even after he's been brought up on morals charges.
Never mind that O'Brien's prose is at times anachronistic—people "split from" each other long before the expression existed. He's created a Hollywood actress you aren't embarrassed to love. (Morrow, $20.95)
by Jeffrey Archer
Early in this saga of Charlie Trumper's rise from a working-class striver in London's East End to a commercial prince with a seat in the House of Lords, there comes a moment when Archer (Kane & Abel) really starts to deliver the goods.
The hero is a true-blue soldier in World War I—a grunt who does his duty, charging into murderous fire, suffering wounds bravely—when who turns up as his commanding officer but the odious villain who will shadow his life like a cloud, Guy Trentham.
Trentham, an officer and a coward, is the secret father of an illegitimate son whom Charlie will end up raising. The swine Trentham even gets the Military Cross for heroic deeds done by others.
It is enough to make anyone bitter, and Trumper has just buried his best pal. "Charlie listened to the chaplain intone the words, 'Ashes to ashes, dust to dust,' before the last post was played yet again.... A hundred thousand men sacrificed their lives on the Marne. Charlie could no longer accept that any victory was worth such a price."
But, and here's the key, Trumper does not give up. He knows how life works—that idle brutes are given credit for others' heroism, that sorrow falls undeservedly to the virtuous—yet he goes on. In other words, he chooses life. Knowing the odds are against him, he fights the good fight, bolstered by the wisdom of his grandfather, who sold produce from a barrow and took pride in being an "honest trader."
As he confronts all the obstacles life throws at him, Charlie remains a good sport and conquers all, eventually acquiring a department-store empire.
So, too, must Archer be a stout fellow. He doesn't possess the prose skills of a Fitzgerald or the thundering moral outrage of Dostoevsky. But he tells a nice story. And he keeps alive here a thread of the high-minded myths and sturdy morality plays that are passed down, one generation to another, as stone truth. This novel, a reassurance that a virtuous life is possible, is like a long, languid, comforting soak in a warm tub. (HarperCollins, $22.95)
by Mike Helm
From the grandstand to the paddock, Thoroughbred horse racing has always attracted a remarkably motley crew. In this diverting, though at times dense, book, Helm examines that fascinating subsociety.
A confirmed amateur handicapper and contributor to the Utne Reader, Helm goes behind the scenes to find out what makes a track thrum by spending a season at Golden Gate Fields near San Francisco.
That was the setting for Bill Barich's excellent 1980 book, Laughing in the Hills. But Helm's work is more reportorial, less introspective than Barich's handicapper's odyssey. Helm interviews trainers, jockeys, veterinarians, grounds keepers, stewards and owners, as well as his own $2 exacta friends.
The book is often too detailed. (Who wants to read 10 pages on blinkers and other equipment?) But you do learn many things about how horse racing operates, including the fact that jockeys are almost universally bulimic.
You are also informed that betting on horses is always a crapshoot. Of course, no self-respecting railbird had to put down his Racing Form and pick this book up to ferret out that conclusion. The size of the print in this case, however, is considerably larger. (Holt, $22.50)"
by Lorene Cary
Cary was a sophomore at a Philadelphia public high school, working at a dime store to make extra money, when she learned the exclusive all-male prep school St. Paul's was expanding its population, recruiting blacks and girls, offering scholarships.
"I had to go to St. Paul's," Cary writes in this brave, moving account of her years at the Concord, N.H., school, 1972-74. "I had been raised for it. Why else had my mother personally petitioned the principal of Lea School so that I could attend the integrated showcase public grade school.... Why else had I learned to hold myself to standards that were always just beyond my reach, if not to learn early and indelibly that we'd have to do twice the work to get half the credit?"
It is always hard to be an adolescent; to be black and female in an antagonistic environment, this book suggests, is traumatic. Cary feels she must run faster, jump higher, find a role in the "integration, the moral transformation, no less, of America."
Yet she resents having to have those feelings. When white housemates say, " 'It doesn't matter to me if somebody's white or black or green or purple. I mean, people are just people,' " Cary is not reassured. "I didn't know why they always chose green and purple to dramatize their indifference, but my ethnicity seemed diminished when the talk turned to Muppets."
During Cary's stay at St. Paul's—she would return as a teacher—she fails calculus, is the victim of an alleged date rape (she tells no one), steals small sums of money from housemates, is elected class vice president and tries, with touching fervor, to figure out her role. Cary's is an exhilarating, disquieting journey that readers will find provocative. (Knopf, $20)
Compiled by John Bendel
Reconfirming that truth is not only stranger than fiction but usually funnier, this is a most perusable collection of photographs, ads, clippings and miscellany that readers have sent in to National Lampoon.
A store's marquee ad proclaims "Semi-auto rifles and pianos on sale." A headline from the Macon (Mo.) Chronicle-Herald says, MISSOURI GAS CHAMBER IS UNSAFE. A classified ad from Yankee magazine reads "Will swap tire ashtray collection for land in Maine, Vermont or New Hampshire."
Since most of the items stand on their own, Bendel's little headlines are extraneous, dull and/or annoying. Over a sign saying DISABLED FISHING, he writes, EVEN WITH A BUSTED FIN THEY STILL BITE. Over a traffic sign in which the arrow points the same way for north, south, east and west, Bendel's head is LITTLE ENIGMAS.
Make that: Truth is not only stranger than fiction but usually funnier, and one picture is worth 979 or so words, at least in National Lampoon. (Contemporary, paper, $7.95)
>From the novel Who P-P-P-Plugged Roger Rabbit, by Gary Wolf (Villard, $15):
I KNOCKED ON THE RABBIT'S DOOR.
A curtain shivered in a second-floor window, and I caught a flash of ears. The window flew open.
A word balloon sailed out.
It turned edge-on, slicing the air like the business end of a guillotine, and shattered on the stoop. Six inches farther left, and I'd own one less private eye.
I jigsawed the pieces together with my toe. "Eddie Valiant," it said, followed by a single exclamation point the size of a major leaguer's bat and ball.
I looked up. There he stood in the open doorway. Six feet tall and change, counting his eighteen-inch ears. His carroty cowlick flopped forwards to the tops of his blue lagoon eyes. Cotton candy ear canals, marshmallow fur, and lemon drop mittens put him next in line to replace Shirley Temple as First Mate on the Good Ship Lollipop. His red corduroy overalls fit him the way spiderwebs drape the Headless Horseman's hat rack.
Contributors:
Leah Rozen,
Sara Nelson,
Ken Gross,
David Hiltbrand,
Joanne Kaufman,
Ralph Novak.
by Benita Eisler
Advertisement
Today's Photos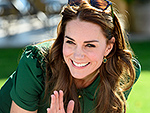 Treat Yourself! 4 Preview Issues
The most buzzed about stars this minute!