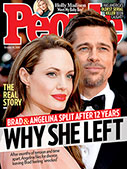 This Week's Issue!
People Top 5
LAST UPDATE: Tuesday February 10, 2015 01:10PM EST
PEOPLE Top 5 are the most-viewed stories on the site over the past three days, updated every 60 minutes
He's as Old as He Acts
Keith Szarabajka Goes from 70 Golden Years to 30


Given that his latest role is as a 70-year-old janitor in the CBS summer series Stephen King's Gulden Years, Szarabajka might more logically have prepared with a rousing game of bridge followed by a sodium-free supper. In the show's seven episodes, his character, Harlan Williams, is contaminated in a nuclear accident and begins aging—backward. He goes from his 70s to his 30s, gaining hair, losing wrinkles and acquiring a manner youthful enough to, well, climb waterfalls. Some of Harlan's mannerisms, says the actor, were lifted from his 73-year-old father, Edward. "He's a gentle, active man, and that's how I wanted to make Harlan."

Best known for his role as Mickey on CBS's The Equalizer, Szarabajka logged solid credits in film (Missing and Marie) and stage (the baseball play Bleacher Bums in Chicago and Doonesbury on Broadway) before winning the lead in Golden Years. The part almost went to six separate actors, each assigned to an age range, but in the end the versatile 38-year-old with a tumbling last name (pronounced sarabike-a) proved believable as a geriatric. "Even without makeup," recalls producer Richard Rubenstein of Szarabajka's reading, "Keith convinced us that he was 70." For Szarabajka, aging 30-plus years (and back again) was a simple exercise. "As I got younger, I was moving freer," he says. "But as an older man, I had to think hard about each move I made."

Off-camera, Szarabajka's life has been just as considered. He was raised in Summitt, Ill., the eldest of six children. When the savings and loan that Szarabajka's father owned failed (Keith was 14), the family lost its home and, as Szarabajka says, its "country-club life." With his father and mother, Jackie—a former schoolteacher—no longer able to afford his private boarding school, Keith was enrolled in Thomas Hersey High in Arlington Heights, Ill., where the family had moved. "It was a bad time," says Szarabajka. "My dad ended up working as a bartender. My mom also worked, as a waitress." But, he adds, "we came through everything stronger." As Jackie Szarabajka says, "It made them [the kids] more responsible."

The upheaval had long-term effects though. "I decided that all life is financially risky," Szarabajka says. "I had to rely on my own talent, something that I could always count on." That his talent included acting wasn't something he discovered until wandering into his high school's drama department. "I found I had this thing I could do, that I could be someone else," he recalls. The discovery soon became an obsession. "It would be 2 and 3 in the morning," recalls Edward Szarabajka, "and we'd hear him in his room practicing his roles."

Keith didn't have to play to his bedroom very long; at 19, he was hired into Chicago's Organic Theater, the youngest member of a company that included John Heard, Meshach (Designing Women) Taylor and Joe Mantegna. "We always felt like old men around Keith," says Mantegna. "He'd be doing chin-ups on the heating pipes in the dressing rooms."

After studying for six years at the Organic, Szarabajka moved to New York City and landed the Equalizer role as well as commercial voice-overs for Mounds, Pepsi, Goodrich and Jeep. His career ascending, Szarabajka paid sister Diedre's premedical school tuition, aided brothers Kevin, Kent and Kerry with their Chicago-area restaurant, Pasta Lovers, and, finally, bought his parents a condominium in Chicago.

And while he hasn't yet begun his own family, he does live with Jennifer Jay Stewart, 27, an actress he met two years ago at a summer theater workshop. Their Upper West Side apartment overflows with baseball paraphernalia and messy folders of Szarabajka's writing (he coauthored Bleacher Burns) as well as the detritus of his hobbies: scuba diving, rock climbing or "anything else that he can risk his life at," Stewart jokingly says. In fact, should Golden Years be renewed for the '91—'92 season, there will inevitably come a time when the ever younger Szarahajka will have to take his biggest risk yet. "Eventually," he says, "I'm going to have to become Macaulay Culkin."

JOHN TAYMAN in New York City


KEITH SZARABAJKA IS AN ODD-METHOD actor. Before undertaking each role, he travels to an upstate New York waterfall, then climbs the stone face flanking it. "I figure if I live through the free climb," he says, "I was meant to do the play."
Advertisement
Treat Yourself! 4 Preview Issues
The most buzzed about stars this minute!